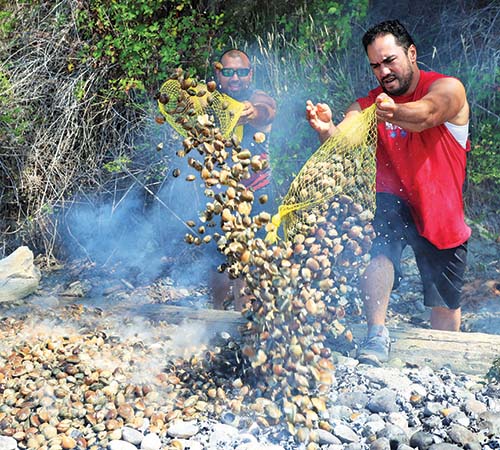 By Micheal Rios, Tulalip News
Once a year, in the middle of summer, the Tulalip membership flocks in droves to an always enjoyable and spirit nourishing community event, Spee-Bi-Dah.
As the temperature continued to rise on Saturday, July 20, so too did the sense of community and shared purpose alongside a mile stretch of the Salish Sea. A significant location traditionally known as a prime fishing area and gracious host to the annual community beach seine. Throughout the day tribal members of all ages excitedly utilized seine nets to capture salmon, shrimp, crab and clams for a true seafood feast.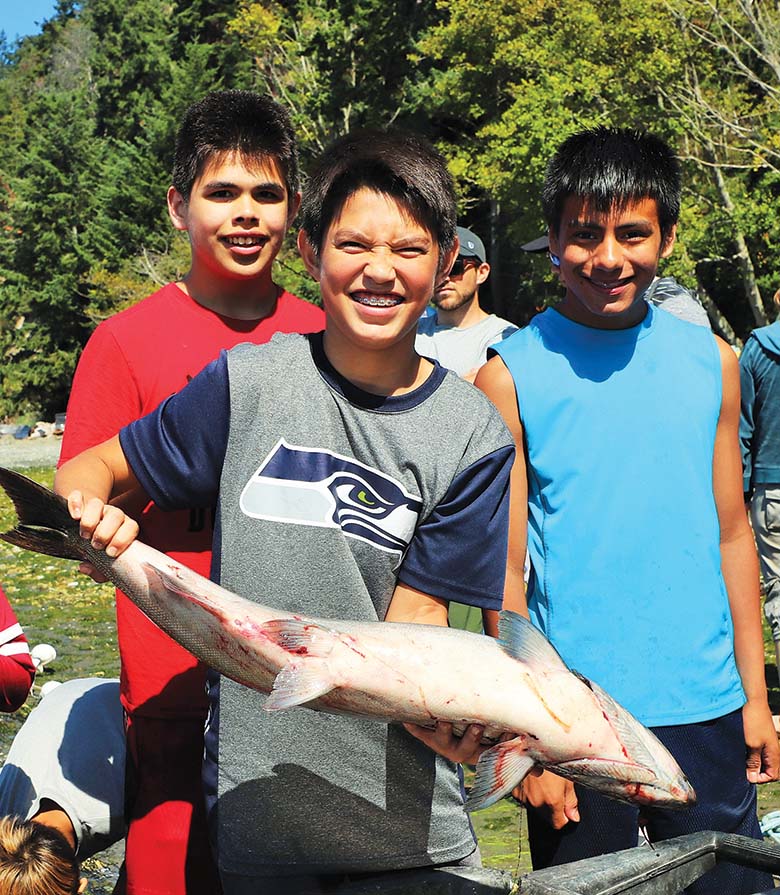 "Spee-Bi-Dah is a lifetime of memories," reflected longtime fisherman, Board of Director Glen Gobin. "This is how we used to fish all the time. It's just amazing to see all the people that come out to partake and enjoy the day. Spee-Bi-Dah is a great community event. Like it was for our past generations, today is a shared community experience."
Hundreds and hundreds of tribal members enjoyed the many sights, sounds, and delicious tastes that have made the annual beach seine a highly anticipated and coveted event. The freshest seafood-filled meals were enjoyed, while friends and families reminisced about old times.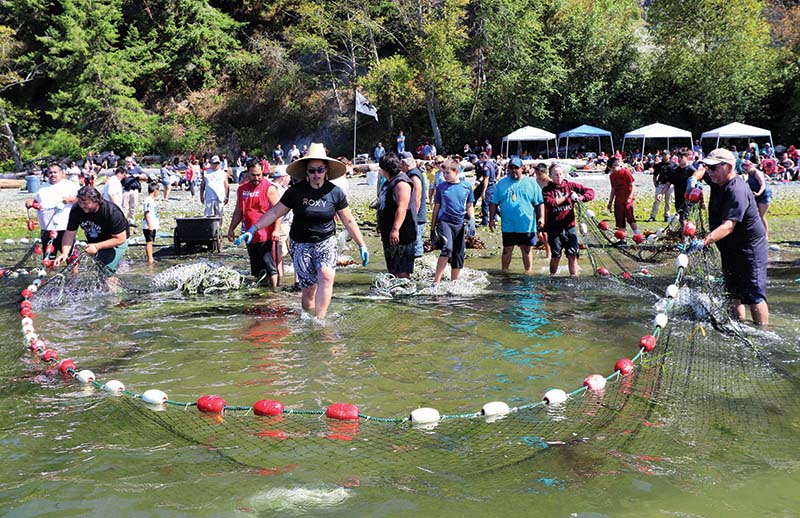 "It's a great get together that happens every year," said Cy Fryberg, Sr. His family shared in the prized role of preparing and smoking the salmon. "Our family used to come down here long before I was born and camp on these banks right here. It's good reminiscing. My favorite thing about Spee-Bi-Dah is seeing all the kids having fun in the mud. It's pure joy."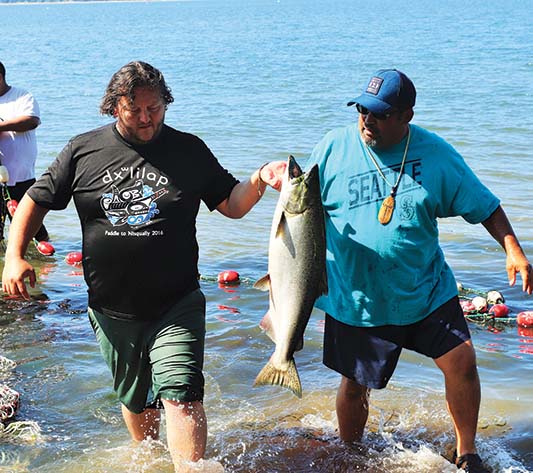 "It's a blast!" added Cy's grandson, Bradley Fryberg, while seasoning the freshly smoked fish. "We couldn't have asked for a better day weather-wise. Some of my earliest memories are of being down here on this beach and learning to walk in the sand. My grandfather has taught us all from a young age that we need to continue our teachings because it's up to the younger generations to continue to embrace our culture."
While team Fryberg saw to the many stages of the salmon bake, Tony Hatch and his crew manned the traditional clambake. Onlookers watched as thousands of clams were tossed over a radiating beach pit before being covered, allowing the clams and supplemental jumbo shrimp and crab to cook thoroughly.
"From the beginning of our Spee-Bi-Dah gatherings, we've been trying to do it as traditional as possible by serving up traditional foods the best that we can," said Tony. "The clam pit has been a huge success every year. We've been fortunate to add shrimp, Dungeness crab, and oysters over the last few years. It's a real exciting process that we need to pass on to our kids. The next generation has stepped up, they are learning, and doing a really good job with it."
Among the many beach gatherers were tribal members from neighboring reservations who came to Tulalip to witness the canoe landing happening the next day. Invited by their Tulalip family members, they added to the sense of community and took in a one-of-a-kind experience.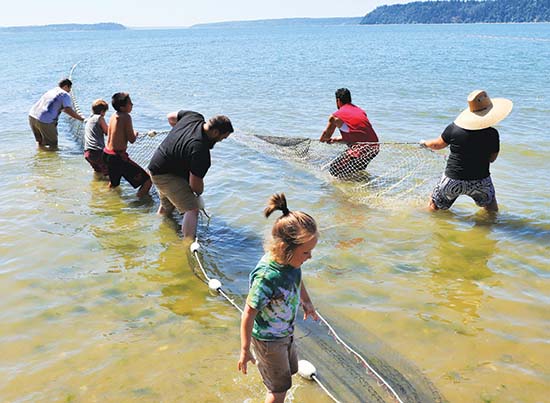 "This is our first time being here, so it's all a new experience, but very awesome," remarked Patty Kelly (Lummi) as she watched the many sets of beach seining.
"I'm so glad to be here," added Sadie Kelly (Colville). "Seeing everything that is going on and all the different roles people have is so interesting. And the food is delicious!"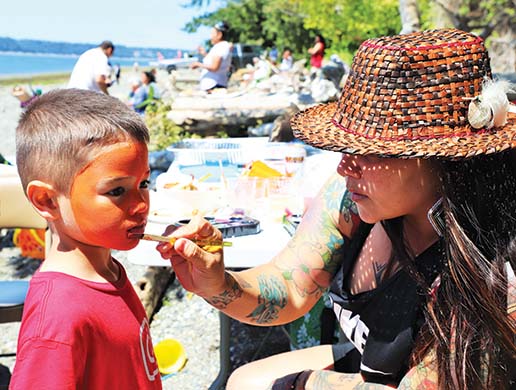 As an event, Spee-Bi-Dah continues to serve multiple purposes. It unites multiple generations while honoring the richness of Tulalip culture, allows tribal members to experience a traditional way of life no longer attainable on a daily basis, and serves as a reminder to not forget where we come from.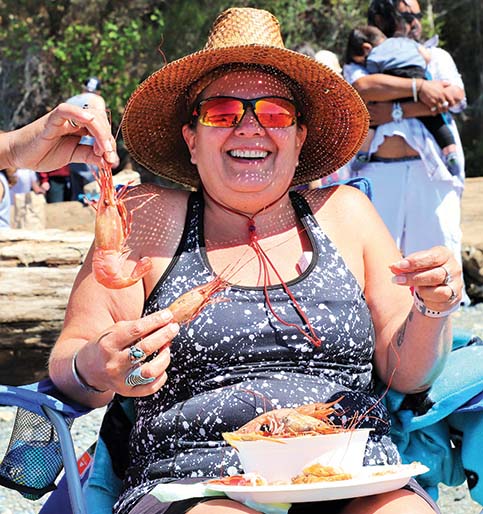 "It's a chance for us to come together, harvest fish, and enjoy nourishing our bodies with traditional foods. Witnessing the youth who come into the water and help pull net is just amazing. Our kids get so excited when they see the crabs and the salmon swimming around in the net. Not everyone gets the chance to come out and fish. Everybody doesn't get the chance to hold a big salmon like they do, so to see them get so curious and excited for what's in the water is beautiful."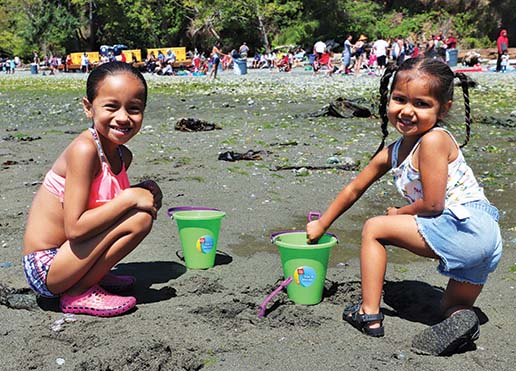 Making the most of an opportunity to share in a traditional lifeway while witnessing the youngest generation step up and embrace their culture is what Spee-Bi-Dah is all about.