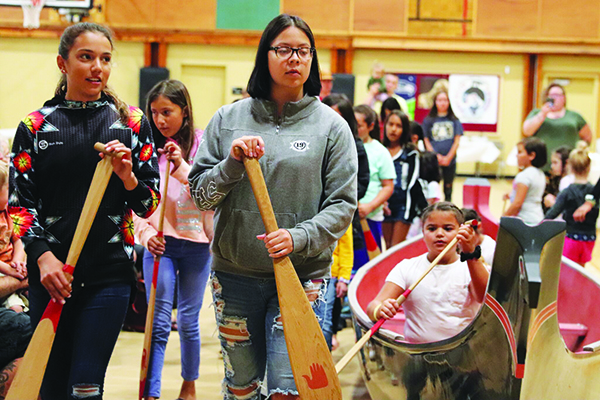 By Kalvin Valdillez, Tulalip News
"Sqʷəbayʔ," exclaimed young Lushootseed Language Warrior, Andrew Contraro. "That means dog. Dogs are cool, so sqʷəbayʔ is my favorite word that I learned this week. I also learned the welcome song, I like that one a lot. I had lots of fun, I made my first cedar mat and I've never done weaving before, it was new to me. I learned a bunch about Lushootseed and all the different stories, and I enjoyed it because it's keeping Lushootseed alive."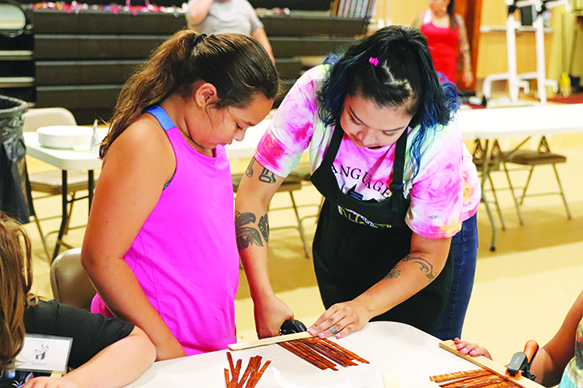 The Tulalip Lushootseed Language department recently wrapped up another successful Language Camp, celebrating its 24th year. The week-long camp, held in two sessions every summer, instills the traditional vocabulary of the Snohomish people into the young minds of their direct descendants. With over sixty participants during the first week in July and nearly seventy-five campers during the second week, well over one-hundred kids assisted in the preservation and revitalization of the sacred language this year.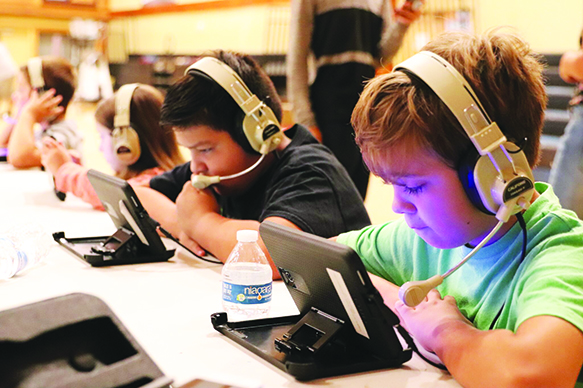 "Language Camp started in the mid-90s," explained Lushootseed Language Teacher, Natosha Gobin. "That was while the program was under the direction of Hank Gobin. Shelly and Joy Lacy were vital in the beginning of Language Camp; we give a lot of thanks to them for the vision that they had bringing the camp together. We still bring the kids together as a group to open with an message each day, reminders of our core teachings."
At any given moment during the day camp, the language could be heard throughout the entire Don Hatch Youth Center. Through a number of interactive stations, the kids practiced words and phrases. Not only did the campers play games like stick games, they also participated in a variety of art projects.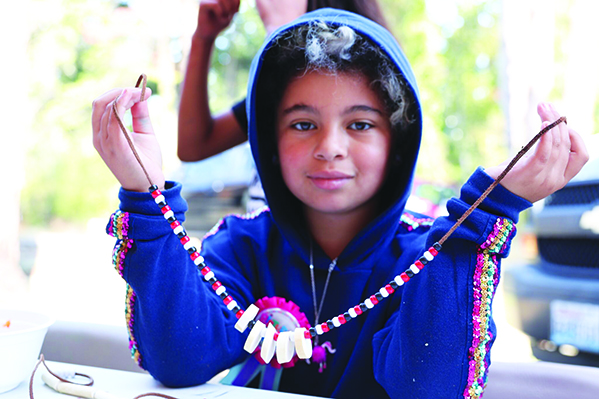 "My favorite part was painting clamshells," said camper Zaylen Veliz. "I painted mine blue and it looks really cool."
"I'd have to say my favorite activity was art," added young Jada Smith. "We painted, beaded, made tie-dye shirts, I made some clams with rocks in it and a necklace made of Devil's Club. It really was fun because you want to keep the teachings of the past going and going."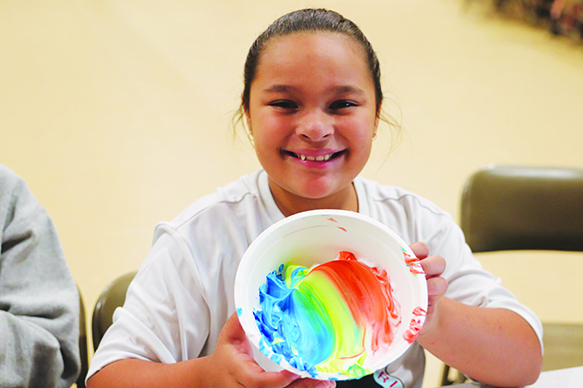 The kids rotated throughout the stations each day, spending time and absorbing knowledge from every Lushootseed instructor. Singing songs with Michelle Myles, learning about the many uses of Devil's Club with Natosha, weaving with Shelbi Hatch and Sarah Miller, and tie-dying t-shirts with Celum Hatch. Along with creating clamshell art with Maria Martin and Nikki St. Onge, playing outdoor games with Oceana Alday, Shawna Reeves, and Danika Hatch-Auguilar, and reciting stories and jamming with Thomas Williams.
The students also spent time utilizing modern technology, following along a series of visual lessons on tablet computers. The kids enjoyed throwing on a pair of headphones and watching animated videos of traditional stories each day. By utilizing the Acquisition of Restored Native Speech (ACORN) app, Lushootsed Media Developer, David Sienko, customized the tablets to include teachings with cartoons, videos and games. According to Zaylen, the tablets were 'one of the most awesomest parts about the camp'.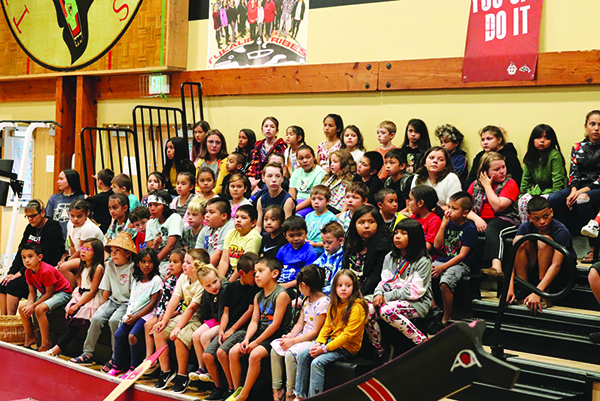 Mid-morning of August 16, the students entered the Youth Center gymnasium proudly drumming, dancing and singing. As they took their seats in the bleachers, Natosha welcomed the many friends and families of the young Language Warriors and explained the inspiration behind the teachings of the 24th Annual Lushootseed Camp.
"This year we dedicated the 24th Annual Lushootseed Camp in memory of Elizabeth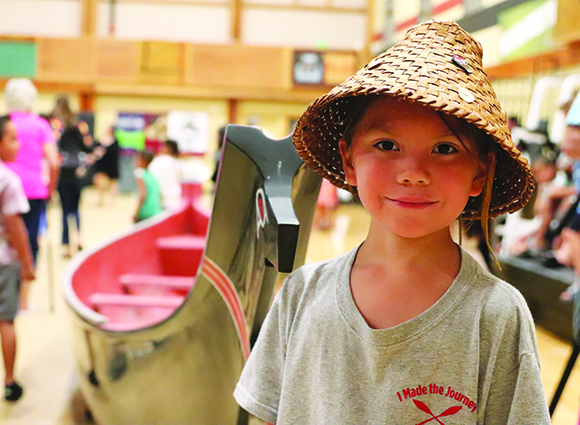 'Lizzie' Krise," she said. "Many of the children who are participating are descendants of Lizzie, whether they're great grandchildren of hers or if she was their great auntie, she has a lot of connections within this group of kids."
The highlight of the performance was when the entire group stood up and recited Lizzie's Clam Digging story together in Lushootseed as one voice. After sharing Lizzie's story, camper Tashina Cortez provided an English translation.
"Lizzie paddled in her canoe to Camano head with her dog, Rover, and she dug up some clams. When she went home her mom was surprised about how many clams she dug up. Her dog sat in the back of the canoe and he was a good captain."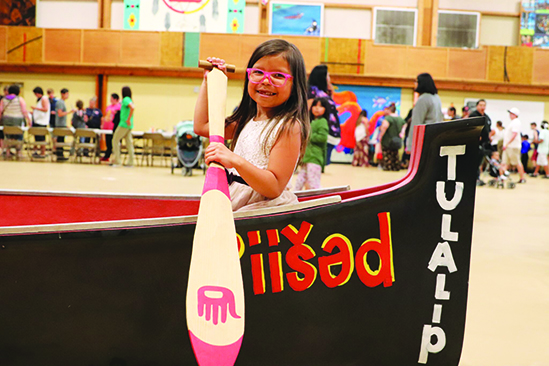 "For passing on the language, I think it was very powerful to hear all of the kids tell the story together," Natosha stated. "Usually we'll pick a traditional story and we'll figure out who will be the characters, who will speak, how many narrators we will have. This year, since the story was short, we decided to have them recite it together. It was powerful and it kept everybody engaged. It really helped the ceremony flow together and I feel that the kids are going to take a lot home from that experience of being together as one."
The language campers received a standing ovation from their families after the ceremony came to an end.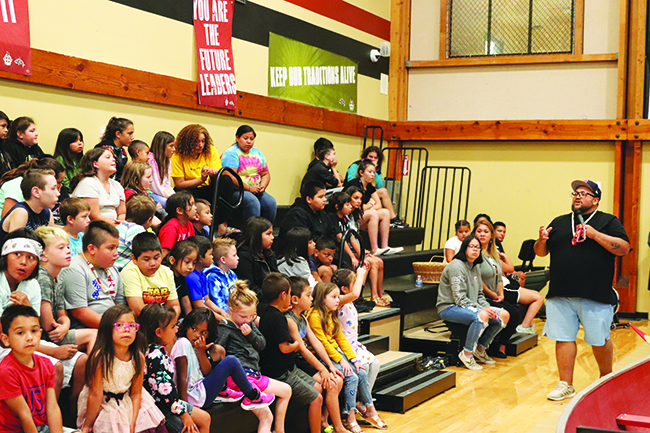 "It felt amazing to not just see my boys learn their culture and be fully immersed in it, but to hear there was seventy-five kids who participated was incredible," says Tribal parent, Dinesha Kane. "I loved watching their growth this week, from the beginning of the week where they didn't know what to do or how to speak the language, to proudly singing and sharing stories. I believe it's important for any Native child to follow in their traditions and teachings to not lose our culture. Our children will be here long after us, and their children well after them. I want them to know where they came from, I want them to know what we stand for and I want them to pass on our teachings."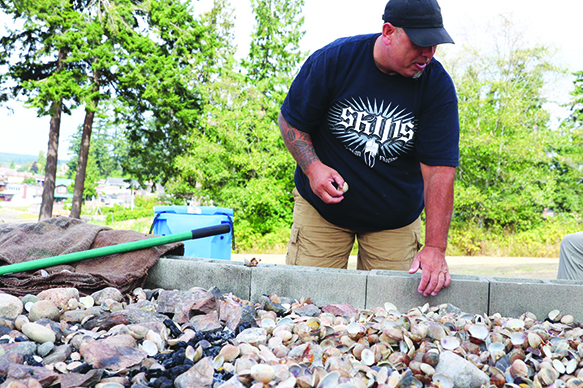 Tribal member, Tony Hatch, prepared a lunchtime clambake for the campers and their families. Additional cooks provided salmon and desserts. The Language Camp students passed out gifts such as beadwork and artwork to everybody in attendance, wowing the crowd with their crafty art-making abilities.
"Without our language, we lose a vital part of our culture," Natosha explained. "We have a lot of documents that are still in our language, untranslated. They are critical pieces of who we are, where we come from, what's important to us, our sovereignty, that is still connected within our language. Quite a few years back we started empowering the kids by calling them Language Warriors. We try to empower our staff by calling each other Language Warriors because we really are fighting for the language, the culture, the history, everything that makes us who we are."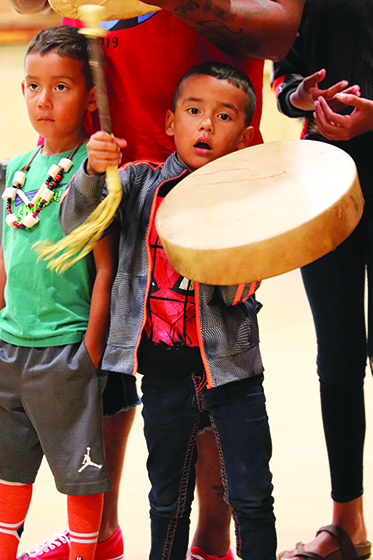 For more information about the Annual Lushootseed Language Camp, please contact the Lushootseed Language department at (360) 716-4499, or visit their website at www.TulalipLushootseed.com.