By Micheal Rios, Tulalip News
The firefighters at Snohomish County Fire District #15, known as the Tulalip Bay Fire Department, serve an estimated 13,000 people living in an area of 22.5 square miles on the Tulalip Reservation. Their mission is to foster community relations through unwavering service and protection of life and property.
This team of devoted first responders just received crucial reinforcements to fulfill that mission as part of a 90-day pilot program that secured a second emergency aid car and three additional staff members to help Tulalip Bay Fire combat the dreaded Coronavirus.
"[As of April 6] we've put a new ambulance in service. It is staffed Monday through Friday, 8:00am to 5:00pm," explained Chief Ryan Shaughnessy of Tulalip Bay Fire. "The purpose of this unit is to transport Tulalip tribal members residing on the reservation to the Karen I. Fryberg clinic.
"Part of what we're trying to do is eliminate the need to take people to the Emergency Room," continued Chief Shaughnessy. "One of our main goals is to be able to transport people here locally, as to avoid an unnecessary trip to an out of area E.R. that is experiencing long wait times. We want to keep you here, close to home, where we can transport you to the local clinic and then get you a ride back home."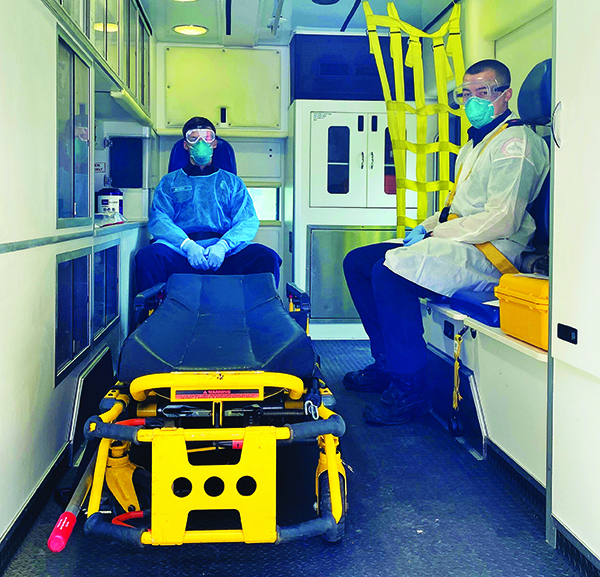 COVID-19 has changed life dramatically for the foreseeable future. However, with this new program now implemented, both tribal and non-tribal community members can benefit in a variety of ways.
For tribal members that live within the Tulalip boundaries, if you are experiencing COVID related symptoms and report them to the Health Clinic, you can now be transported directly from your residence to the reservation's primary medical facility. This is the first time ever a service of this nature is being provided. No unnecessary travel to an Everett-based hospital, nor historically long wait to be seen at the Emergency Room. By using the Health Clinic's services to be seen, tested, and treated for COVID-19, costs are only a fraction of what one could expect from an E.R. visit.
The new aid car and team will work directly with Tulalip's Health Clinic to provide transport for tribal members to and from the clinic for standard care during clinic hours, reducing demand on surrounding health systems. This work is part of a collaborative effort to strengthen social distancing measures and reduce the potential spread of the novel coronavirus.
For non-tribal citizens on the reservation, the new aid car provides must-needed relief and shorter response times during an ongoing coronavirus crisis. The primary emergency medical services (EMS) unit is freed up to quickly respond to life threatening emergencies, while the backup unit can focus on situations that don't require emergent care. Additionally, the new ambulance can be used to transport any Tulalip-based citizen to a local Emergency Room, if necessary.
"One of the added benefits of our new program is that when this unit is not being utilized to transport COVID patients from their homes to the clinic or to the emergency room, its available for 911 calls, to assist on structural fires, motor vehicle accidents, and all other call types we respond to," said Chief Shaughnessy. "The individuals who work this unit are trained firefighters and EMTs. They are experienced and trained to respond to any call type."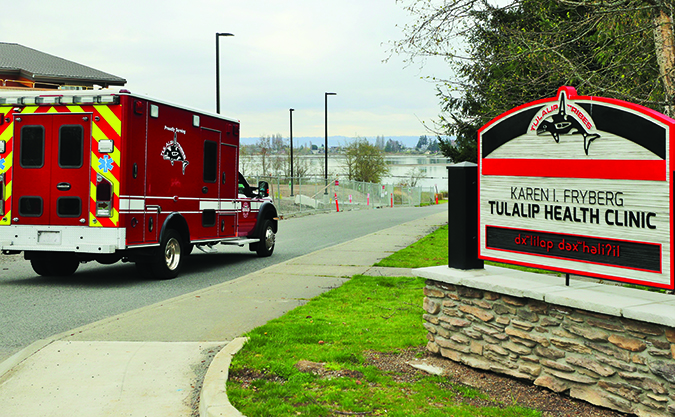 The 90-day program officially launched on April 6th. While it's additional resources and manpower will undoubtedly bring relief and critical assistance to combat the Coronavirus here on the Tulalip Reservation, its impacts will be even more long-lasting. The new ambulance will be a permanent fixture at Tulalip Bay Fire and provide necessary back-up.
Last year, Tulalip Bay Fire received over 1,300 EMS calls. An estimated 100 of those calls required a backup unit, which meant depending on other agencies lending support and required losing potential life-saving time waiting on that back-up. Now, those type of situations will be mitigated by having a second aid car at the fire house permanently.
"The COVID-19 pandemic has been an unprecedented challenge for Tulalip," said Chairwoman Teri Gobin. "We've had to adapt quickly to protect our people. We are grateful for our partnership with Tulalip Bay Fire. Together, we are doing what we can to make sure that the entire Tulalip community remains healthy and safe."
Tulalip Bay Fire provides fire suppression, emergency medical services with transport, water rescue, public education, hazardous material cleanup and a basic level of technical rescue services. For more information, visit tulalipbayfire.org
For concerned citizens who are beginning to experience COVID-19 related symptoms, please call the Tulalip Health Clinic's main line at (360) 716-4511 to speak to their medical professionals.