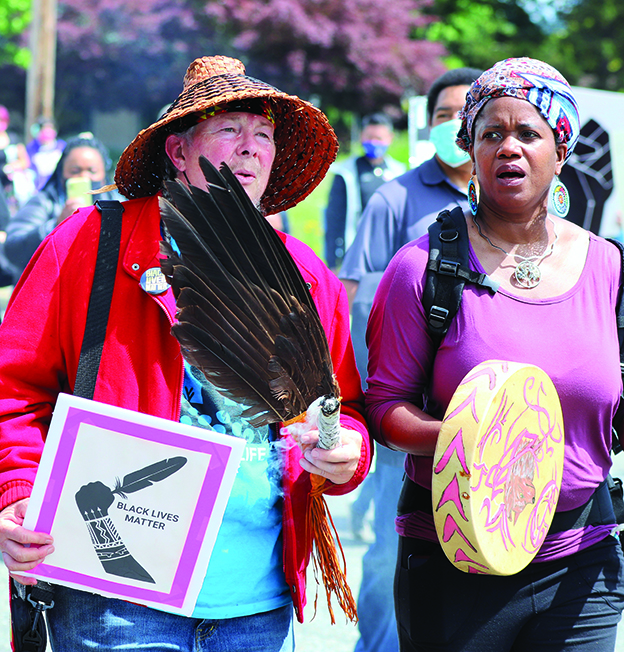 By Micheal Rios, Tulalip News
Over 1,000 community members from the Tulalip/Marysville area came together on Thursday, June 11 to peacefully march against racism. Organized by the Black Student Unions of Marysville School District, the crowd of demonstrators met at Jennings Park where they listened to several inspiring black youth offer a heavy dose of reality.
"We're here to honor all our fallen sisters and brothers: George Floyd, Breonna Taylor and Ahmaud Arbery," said 17-year-old Jenasis Lee, president of the Marysville Getchell's BSU and one of the co-organizers of the youth-led event. "Racism is taught. Our long-term goal should be to educate all of our friends, family, community members on what being black truly is.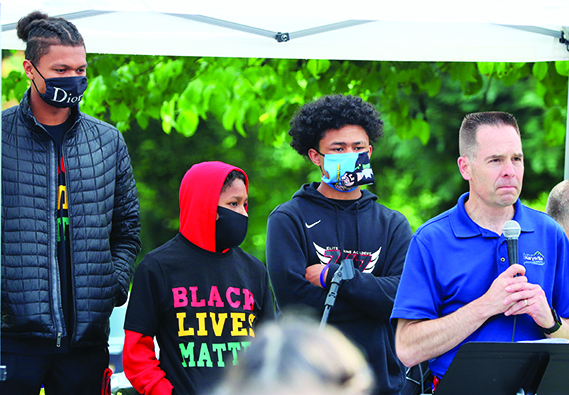 "How many more of our people have to die in order for the world to see how much damage has already been done?" she asked. Her powerful words reaching the many minds now eagerly open and receptive to take in the depth of her message.
Among the student speakers was Tulalip's own RaeQuan Battle. The former Marysville Pilchuck basketball phenom spoke candidly about his time on the basketball court, where he routinely heard opposing fans call him the N-word. Learning to excel through that kind of adversity ultimately helped him achieve his dream of playing hoops for the University of Washington.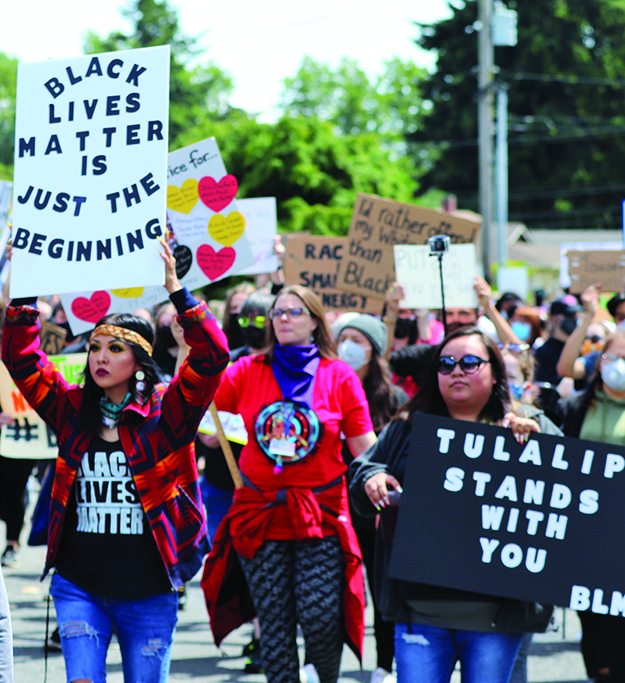 "Being a Native American and an African American, it was heartbreaking to watch that eight-minute video [of George Floyd being murdered by the police]," shared 19-year-old RaeQuan. "My heart really dropped and I just couldn't imagine being in that position.
"My little brother Tayari saw that video. He comes up to me and asks what's happening. It sucked to explain to my 10-year-old brother that he could be in that position."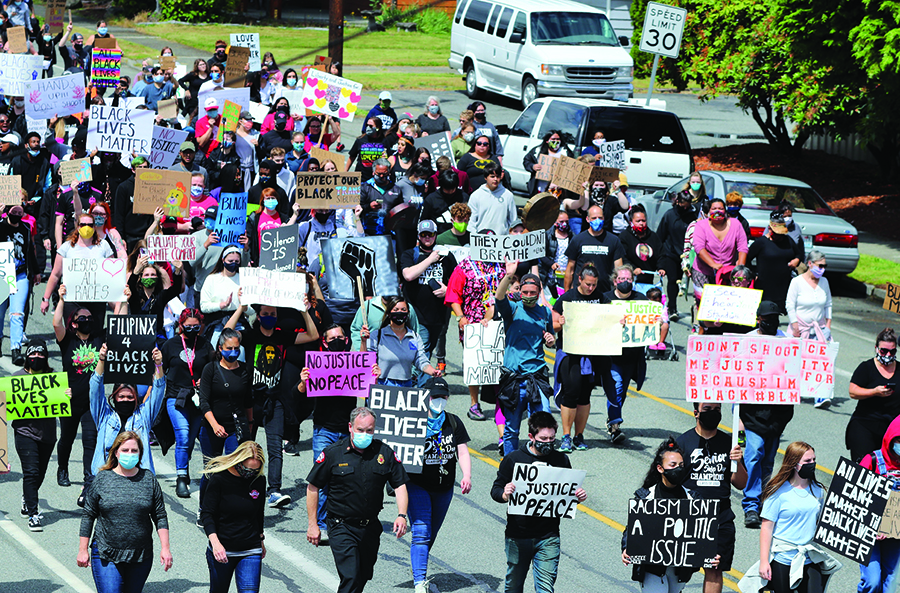 Acknowledging concepts like systemic racism and police brutality, both of which are impossible to ignore in today's society, is one thing, but to take action in a common cause to denounce these insidious mechanisms used to oppress people of color in our country is something else entirely. As the student speeches continued to ring out through the loud speakers, so too did their message in the hearts and minds of concerned citizens of all colors uniting under a common goal: to eliminate racism in all its forms.
The day's event received a blessing of radiating sunshine that brought an extra layer of warmth to the 1,000+ people crowd. A torrential downpour had many turning out with raincoats and umbrellas ready, but minutes before the march started the rain came to an abrupt stop. Under a clear spring sky, the march began from Jennings Park to Ebey Waterfront Park. Non-stop chants of "Black Lives Matter" and "Say his name. George Floyd!" brought out many onlookers from their residential homes to take in the scene.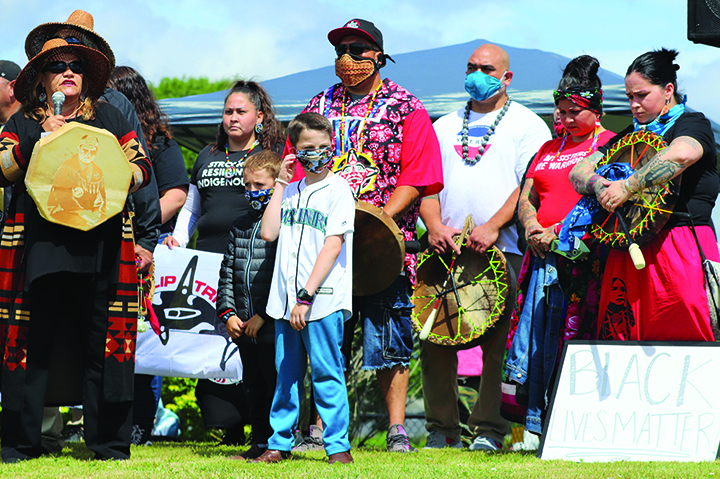 Near the march's core was a cohort of Tulalip tribal members offering their support through rhythmic drum beats and melodic song. Heartfelt messages written in Lushootseed were seen proudly displayed by both tribal and nontribal alike.
The peaceful march against racism concluded at Ebey Waterfront Park with an impassioned speech by Tulalip Chairwoman Teri Gobin.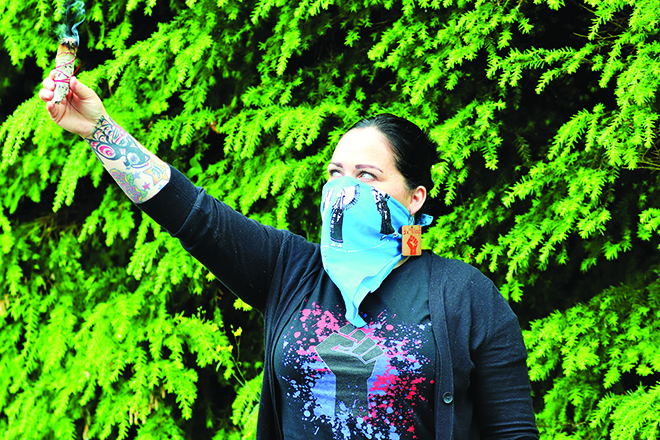 "We stand with George Floyd's family and the families of every person who has been a victim of racial inequity and violence," she stated. "As people of color we understand the oppression and the historical trauma it causes. We have felt this pain. We have endured this hatred. None of our children should have to live like this.
"If we stand together as a community, we can change our future. We can build a world where we can see the value of a person, not the color of their skin. We can all become social justice warriors by challenging ourselves to change the way we treat each other."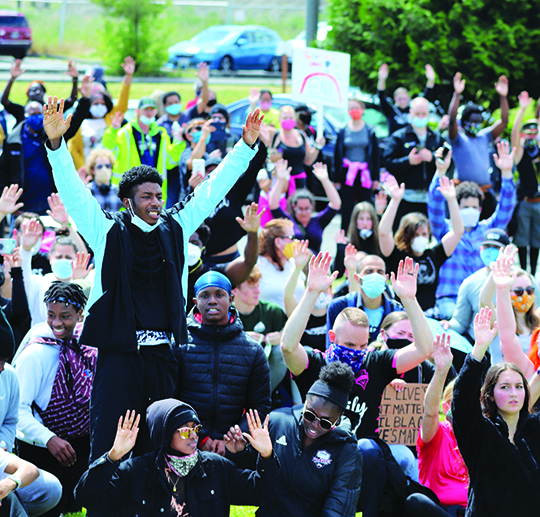 Change the way we treat each other. It really is that simple, and yet remains so challenging for us as a society to do so. However, the hope remains. Every person who showed up and marched against racism with the Tulalip/Marysville community, each handmade sign made, each powerful word shared, all of it and more are positive proof that hope remains.