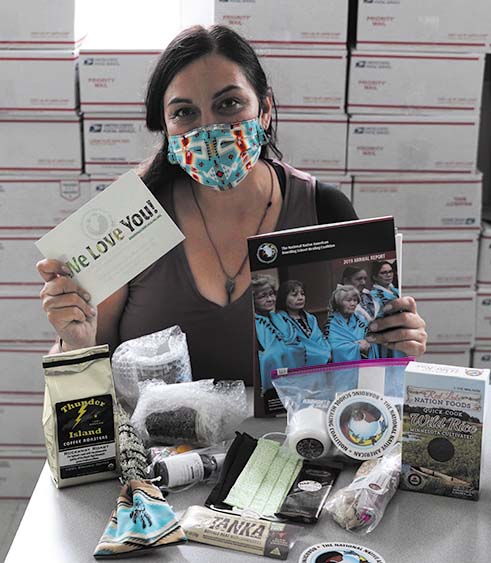 By Kalvin Valdillez, Tulalip News
"The government tried to change us, tried to kill the Indian to save the man," said Deborah Parker, Tulalip tribal member. "We can't take back those days, but today we can find that healing and let our elders know that they do mean a lot to us. We want them to know that we want to listen, we want to care for you and want to shower you with as much love and respect that others didn't show you."
Deborah reflected on the past five months in the cafeteria of the Tulalip Boys and Girls Club, which has served as her primary work station for the care package project. With a mountain of white USPS boxes behind her, she explained what one might expect upon opening one of the many boxes that were stacked neatly and nearly to the ceiling.
"1,000 boxes, that's the ambitious goal," she laughed. "We were trying to figure out what these boxes would be called and the words we came up with were just, 'We Love You'. We want people to feel loved. Sometimes people go through life not knowing that someone loves them. The boarding schools made sure that our kids didn't feel loved for who they were, who they are as Native Americans."
Deborah of course needs no introduction, she is known nationwide for her work in Native America, using her voice for a number of causes, namely the Violence Against Women Act (VAWA). She was also handpicked to serve on the platform committee for Bernie Sanders during the 2016 Presidential Election. And just as important, Deborah has held a number of leadership positions locally for both the Tulalip Tribes and the Marysville School District. Her work extends beyond the US borders as well, working for the Tsleil-Waututh First Nation in Canada as the Director of the Residential Healing School early in her career, making her passion for providing healing for boarding and residential school survivors a lifetime commitment.
Last Fall, Deborah helped organize the 2nd Annual Boarding School Healing Conference at the Tulalip Resort Casino. The conference was hosted by NAB, or the National Native American Boarding School Healing Coalition, a non-profit founded in 2012 whose mission is to bring out the true history of boarding schools in America and residential schools in Canada, as it is often glossed over in textbooks, if mentioned at all.
"Our Native children were often put in schools and many never returned," she explained. "We are currently fighting at the United Nations to bring back justice for the children and families who never returned home from the boarding schools."
  Assimilation brought on years of terror and abuse for Native children all across America. 367 boarding schools were established throughout the country in total, with 13 based in the state of Washington, including the Tulalip Indian School. The atrocities that occurred at the boarding schools in turn had a trickledown effect throughout the generations. Today, although several generations removed from the boarding school experience, the children, grandchildren and great-grandchildren of boarding school survivors are dealing with the aftereffects of the abuse that took place at the schools, trying to break the cycle of generational trauma that often appears as alcoholism and substance abuse, suicide, depression, poor diets, and domestic violence that stems from neglect, maltreatment and loss of identity caused by forced assimilation at the boarding schools.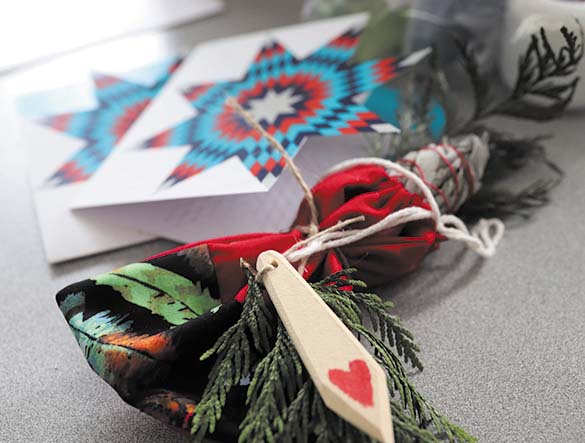 Although Deborah doesn't have an official position with NAB, due to her personal connections and the desire to see residential school victims begin their healing process, she has been very involved with the non-profit's recent activities, often volunteering to lend her voice, expertise and a helping hand whenever and wherever needed.
She said, "Back when COVID first hit, I asked who's taking care of our elders? We just had a conference here at Tulalip and I met a lot of the elders and people who are just trying to process. I was concerned for them and their wellbeing. NAB had some funding that would've went to another conference, and since they didn't spend the money, I started looking at products online for care packages. I started looking at how I could buy Indigenous."
Taking it upon herself, Deborah began researching Native-owned businesses, compiling a wish list of products and companies she hoped to collaborate with. She reached out to these companies to gauge their interest in working together and their capability to fulfill large order requests during the coronavirus, many of whom were facing hard times as a result of the pandemic. In fact, many companies actually expressed that her business helped them immensely during this time of unknown.
"I realized that there are a lot of Native entrepreneurs and businesses that were really struggling, so I thought what a good partnership if we could send some of their beautiful items to the elders in need. This was a vision of creating a win-win situation between everyone involved, including NAB having the budget to support this effort."
The next step, after purchasing products made by Indigenous creators from all across the country, was assembling the boxes. Knowing she could rely on her community, Deborah put out a call on Facebook and the volunteers showed up. Over the summer, community members of all ages leant a hand in putting together the care packages at the Boys & Girls Club, including Club members and staff.
"It's been pretty fun, having the kids participate," said Club Director, Mark Hatch. "Some of the basketball team kids come here and donate their time on the weekends and that's pretty impressive. I think it's really important work that Debbie and her team is doing."
Tribal member Misty Flores and her kids have been volunteering their time to the care package project since the very beginning.
"We love working here," Misty stated. "To be able to participate in this experience and help the elders is a once in a lifetime experience for us. In the last year I learned more about the boarding schools and what happened during those times. It's really nice to be able to be a part of something so special and do something heartfelt for those people who had horrible things happen to them."
Skylar Flores said, "It was a new exciting challenge to complete and it felt nice to help the elders who survived the boarding schools."
Although she admits that curating each box requires more attention than she originally anticipated, Deborah expressed an extreme amount of gratitude for the volunteers and was beyond ecstatic when showcasing the contents of each box, noting that each package will be unique, as well as a surprise to the recipient.
"A lot of the products were harvested just for this and are sustainable," Deborah said. "We have medicine bags that were handmade by Threads of Love, who went completely above and beyond to make every medicine bag special. The Native Wellness Institute sent us Native Wellness coloring books. We have the Three Sister seed-blend, from the Native American Agriculture Fund and the Flower Hill Institute. They sent us two cases of corn, beans and pumpkin seeds for elders to plant, and they also donated money to help us send the boxes out. The Native American Finance Officer Association, NAFOA, donated 1,000 chocolate bars that are from the Chickasaw Nation. It's a really fine, delicious chocolate."
She continued, "We purchased coffee from four different Native American Coffee Companies, so most of the boxes will have coffee. We have wild rice from Red Lake; Organic Huckleberry Jam by Rose's Native Design from the Yakama Nation. From the Quinault Nation, Titus Capoeman and [Tootie James] made 1,000 Devil's Club Salves and we have SovereigNDN Tea made by Jean Ramos. Amy Anderson (Tulalip) does the Salish Soaps. Puyallup donated 1,000 cedar roses, necklaces and beaded items. We have sweet grass lip balm, blackberry sage and sequoia candles. 1,000 paddle pendants handmade by a Chehalis tribal member and Cecily George painted hearts on each paddle."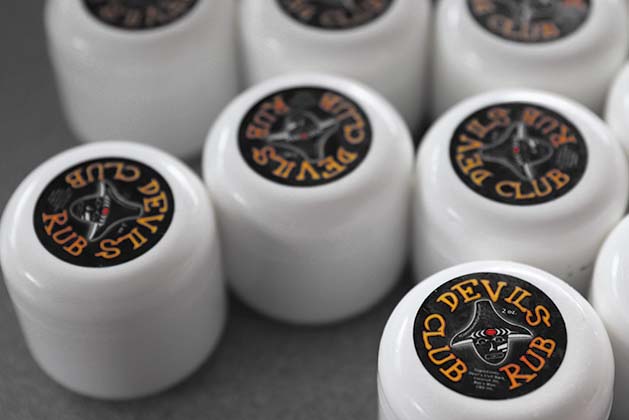 Deborah stated that although it was important to order locally, she also wanted to include items from as many sovereign nations that she could, including tribes based in Alaska, Oklahoma, Piute, South Dakota and New Mexico. Tulalip tribal member Sarah Hart, was called upon to add her contributions to the project. Sarah is known by the local community to carry sage and perform blessings and cleansings for people prior to gatherings and events. Sarah provided her potent, homemade hand sanitizer for the care packages, as well as sage that she journeyed to California to harvest.
"To know where the boxes are going touches your heart in such an unexplainable way," Sarah said. "I have heard stories my whole life from elders, my grandma and family about boarding schools and the horror stories. To be a part of this is a real honor, to give them a little bit of medicine and remind them that we love them and without them, we wouldn't be who we are today. They have sacrificed the ultimate pain and we owe them our prayers and love. It was emotional for me to have some of our youth [assemble care packages], including my son. Deborah explained, when the first boxes were made, what they were and what that meant. At the moment, everyone felt so much emotion in that room. To know my sanitizer and the medicine will go to a boarding school survivor is the ultimate honor."
Deborah and her family also did a bit of harvesting of their own for this occasion, and out of their harvest they created a medicinal spray that helps ease tension and anxiety.
"One is sage, cedar, sweet orange and lavender, it's called medicine bundle," Deborah explained. "It took about a week of harvesting and distilling. We had Misty, her children, Colette from Northwest Indian College, and the [Boys & Girls Club's] boys' basketball team help with filling the bottles. We probably have about 600 bottles done. It took one whole day just to put the fluid in the bottles, cut the sticker and put them on the bottle and in a bag so they're ready to go."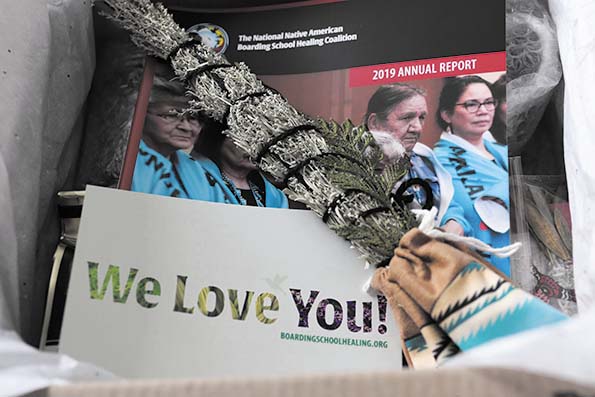 Although the grand total of care packages is 1,000, Deborah and the group of volunteers will be shipping out 150 boxes at a time. In addition to the items Deborah listed, the boxes may also include N95 or cloth masks, Red Corn Frybread dough, Eighth Generation socks, Native Wellness Life Magazines, and a We Love You card with instructions for the elders on how to share photos of their care packages on their social media, and additional information about the real history of boarding schools in North America.
"Starting this project was just a labor of love," Deborah expressed. "It meant a lot to me for the elders to know that we care about them. Some of these ideas may seem off the wall like, 'you're just buying products, what does that have to do with Native people?' It's our survival, it's our commerce, it's how we take care of our elders. Because our families were separated, our children were removed, taking care of each other has been a challenge at times. We lost many of those skillsets that we once had, so getting back to the love, getting back to nurturing, getting back to community is one of our greatest needs in Indian Country."
If you are looking to volunteer your time or are searching for my details, please contact Deborah Parker via Facebook or visit www.BoardingSchoolHealing.org