By Kalvin Valdillez, Tulalip News; photos courtesy of Walter Moses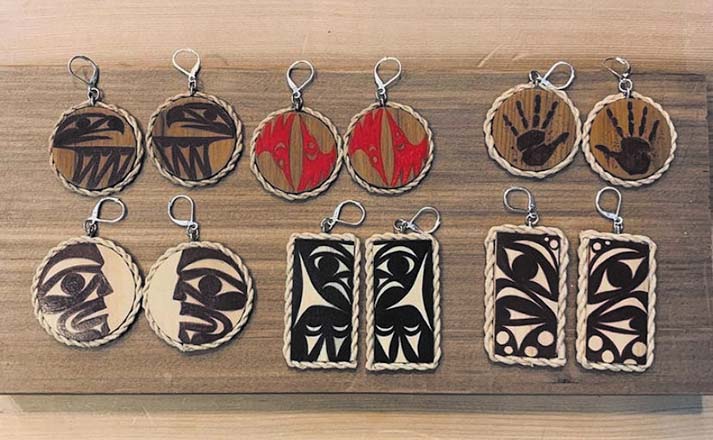 "Cedar is a sacred tree to the Tulalip Tribes, there are numerous stories behind the cedar tree," said Tulalip Artist, Walter Moses. "I've been in the lumber industry for a decade and I've seen and worked with all types of cedar and learned a lot of history behind the cedar tree. Every piece has a specific grain to it, all the grain is not going to be the same. Some of them will have different shapes and different lines. To me, that piece of cedar is actually telling a story. Sometimes you'll see little waves inside the cedar. At that time in the tree's life, there was a lot of turbulence and a lot of stress on the tree. When you see someone wearing a pair of my earrings, they're actually wearing something that came out of a 200, 300-year-old tree, a tree that has been here longer than the country itself. What they're wearing is a piece of history."
Long before colonists arrived to this sacred land, the Indigenous people of the Northwest took great care of the region, living and thriving off the land's natural resources. As Walter stated, the cedar tree played a significant role in the lifeways of the Salish people. The cedar was used for a number of means in all aspects of our ancestors' everyday lives. Some traditional items created from cedar include bentwood boxes, paddles, rattles, totem poles, baskets, hats, masks, headbands and canoes. Whether it was for fishing, hunting, gathering, ceremonial, medicinal or spiritual purposes, the cedar tree could be fashioned into a number of tools by way of weaving or carving techniques, teachings that have been passed on generation after generation.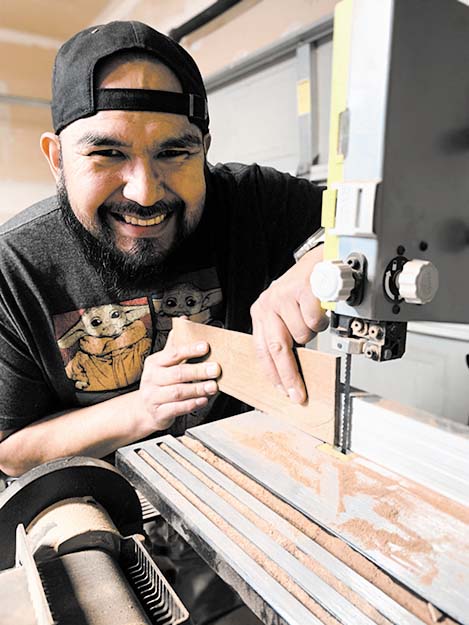 "My dad is a carver and his father was a carver, it just runs in the family," Walter proudly expressed. "As far as I can remember, my dad's always been carving stuff like masks, paddles, totem poles, just a large variety of traditional things. When I was about 11 years of age, he sat me down to teach me how to carve, how to use an adze and the simple techniques that we use in carving. My first project was a shovel-nosed canoe, that's a traditional mountain canoe, not like the sea-going ones that you see on the canoe journey. It's the ones our people used to go up and down the rivers in the mountains, and they look quite different than the ones you see out on the Puget Sound, they have thicker hulls and are in the shovel shape. I still remember the lady who bought it from me, she bought it for $40 and I spent the money at the Marysville Strawberry Festival."
Walter is quick to point out that his personal journey with art, however, did not begin with carvings. Although he observed his father and Tulalip Master Carver, Kelly Moses Sr., perfect his craft from a young age, Walter initially fell in love with drawing, often sketching scenic pictures, animals and whales. He was encouraged daily by his father and teachers. His art was showcased at the front of his classrooms at school and he also received 'A++' reviews from Kelly Sr. on the regular.
Walter said, "I actually started drawing when I was about 5. As far as I can remember, I've always been drawing. Drawing is one of the main fundamental skills that I had to master in order to become a carver. There are multiple skills when it comes to carving, that isn't carving itself. You're talking about blueprinting everything out; you have to be a good drawer, you have to be able to look at something and draw it down. You have to know the cedar type, the grain, how to get the cedar. So, it's not just carving, there's a story and you have to know how to tell those stories. There's a multitude of things you have to learn over time."
Historically, carvings are integral to traditional ceremonies. Songs, dances and stories are shared utilizing cedar carvings; singers shake rattles, dancers pull paddles and stories are commonly re-enacted with masks. Today, Walter took that knowledge from generations prior and found a way to honor the traditional art of carving and blend it with his own unique style, creating modern day jewelry such as bracelets, pendants and his highly popular and extremely limited earrings.
"Nowadays I'm creating a lot of jewelry which would include earrings, pendants, bracelets, and I can still do some masks and paddles," he said. "The reason I'm doing earrings and pendants is because masks and paddles are something for the home, something to showcase on the wall when guests come over. With jewelry, it's art you can take with you. It's a piece of history that you're taking with you, that you can adorn your body with because the spirit lives in the body, so why not adorn the spirit with a piece of history."
For two-years, the full-time family man and lumberman dedicated his weekends to his passion. He explained that the decision to follow this journey just may have been his destiny as his grandfather, on his mother's side, also handcrafted jewelry, specializing in beaded necklaces.
Walter originally stumbled across jewelry-making while raffling paddles and masks at local Indigenous gatherings. When he noticed the majority of people who purchased his raffle tickets were women, he began to take requests, one of which happened to be for earrings. Walter accepted the challenge and upon seeing the positive response after posting his first set of earrings online, he decided to pursue this path and dedicated his time and energy to making jewelry and regalia crafted from cedar.
"It's just a natural thing," he said. "I think about art like all the time. At work I'm thinking about art. If I see a certain shape on a piece of wood, I go wow that would make a really cool piece of art. My dad helped me develop a photographic memory. If I see something awesome, I build off that. I have an art disease in my brain that causes me to think about art all the time."
Through his artwork, he still gets the opportunity to express his love for drawing, incorporating formline by hand-painting and micro-engraving Indigenous designs into many of his earrings. And because each piece is hand carved and painted, the earrings are in high-demand and extremely limited, often selling minutes after Walter adds them to his social medias. It is also very important to him that he does not replicate any of his past work, that each new pair of earrings, pendent or bracelet is an original one-of-one creation. Walter also incorporates modern-day meme-culture into his artwork, recently creating Baby Yoda and Bernie Sanders earrings which were a huge hit on his Instagram profile.
Walter explained, "I'll look at something and think, 'hmm, I can make something out of that'. I use a lot of rulers, rulers are very important. Fractions are also very important for measuring the wood, making sure each piece is measured and the thickness is correct. I'll go from there and just build. I don't blueprint, I just make them up as I go along. For my masks I'll do a blueprint, but for the earrings I do the first design that comes to me. Even though there is a lot fine detail that goes into them, I'll leave defects in there just because it shows the human spirit in it. You know, not everything is perfectly identical, it's unique in its own way. Sometimes I'll leave little scratches or dings on there because it adds character to it, its own uniqueness."
Walter also does his part in sharing the knowledge of his craft, prepping the next generation of Tulalip artists, not only by involving his own kids in his work, but also by teaching classes at Tulalip-Heritage High School as well as sharing stories at a handful of elementary classrooms in the Bellingham School District.
"Last year, before COVID broke out, one of the Native liaisons reached out to me and asked if I was interested in teaching at Tulalip-Heritage. I used to go out there twice a month and teach them how to carve, how to make earrings and about our art in general, just to get them involved and get their hands moving," he said. "My dad always told me to keep your hands busy all the time. That's a lesson that I teach and practice. I also talk at the elementary classes in Bellingham, telling them some of our stories. I speak in front of the class for about an hour, a lot of its been online though, not in person. When we pick back up, I'll actually share in-person. Kids should know the history of the people in this area and not think of us just as people who own casinos and live on the reservation. They should know we have a unique background, that there were people here before their ancestors came and that we're still here and will always be here."
Walter is proudly continuing in the footsteps of his bloodline, building upon what his father and ancestors passed on through the generations and continuing the Moses legacy of carving. And it appears as though his journey is just getting started as word about his work continues to spread across the social media platforms.
"My work is not just a piece of wood with a Coast Salish design on it, it's also a piece of me – a bit of my teachings from my father and his father, a bit of my meditation, prayers and good-thoughts. My dad taught me that as sduhubš people, we all have a special gift, something that we are meant to do to help our people out," he shared. "And the younger people might not know what it is yet, but they will find their way to help our people. Our special gift is something that we get from our maker. Not everyone is going to be a carver, storyteller, leader, spiritual worker, everybody has their own special gift that will help them. Mine has helped me through some tough times growing up. When I was younger, I knew that I could always fall back and count on my art to help me out."
A gallery of Walter's carvings can be viewed on his personal Instagram account, @WalterM2213. Walter also does special requests on a case-by-case basis, depending on his time available. Be sure to send him a direct message if you are interested in purchasing any of his handmade cedar jewelry.
"It's important for me to carry this on because it's a part of us, part of my family. I don't really even consider it my art, I consider it our art. I carry it on because it's a statement that we're still here. I read somewhere that the revolution will come in the form of contemporary art. I like how that sounds, so I continue to do it."