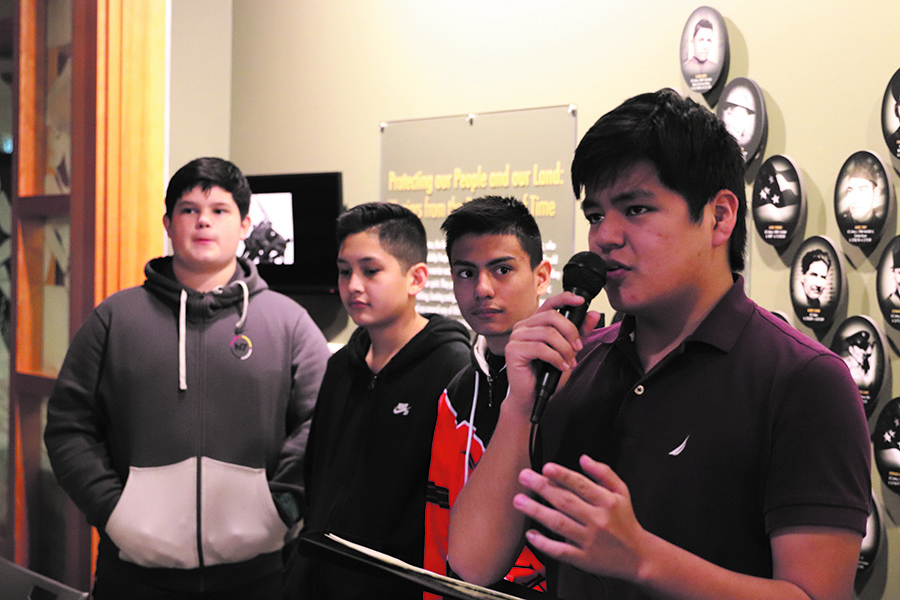 By Kalvin Valdillez, Tulalip News
Come one, come all to a special virtual gathering on the evening of March 6. The Tulalip Tribes Problem Gambling Program is known throughout the community for hosting events that are jam-packed with fun and good times, including the popular Problem Gambling Awareness Community Gathering. Current COVID-19 precautions limit in-person gatherings, but don't fret because the program is taking their event to Zoom this year, offering you a chance to enjoy a Saturday night live stream with friends, as well as with the recovery community, from the comfort of your home. The event will feature a comedy show, traditional song and drum and special words from the Tulalip Youth Council.
"We canceled this event last year, we had it scheduled, everything was planned and contracts were out," explained Problem Gambling Program Coordinator, Sarah Sense-Wilson. "But at that time, the state was coming down with restrictions and mandated-quarantines, the ban on travel – and our presenter would've been coming from New Mexico."
The tribe has adapted in many ways since the first wave of the virus struck and now apps like Zoom are a necessity that people utilize in their everyday lives. And thanks to Zoom, Problem Gambling has coordinated a get-together where people can relate, find assistance, hear from various perspectives and learn more in general about gambling addiction with one another.
Sarah said, "This year we basically duplicated everything we had planned for last year, we have the same keynote speaker, the same master of ceremony, Terrance [Sabbas] and the big drum. And our Tulalip Youth Council will be offering an opening song and will also share from a youth perspective how problem gambling impacts their lives, sharing words of encouragement and expressions of their own experiences. I look forward to having our youth representatives involved and participating."
Normally, the Problem Gambling Community Gathering is hosted at Hibulb Cultural Center where family and friends get a chance to intermingle and share a meal. During the open-mic portion of the event, people shed tears together during special, vulnerable moments. Hugs are exchanged when people display bravery and share their personal stories about their struggle with addiction to gambling and how they cope on an everyday basis while on the road to recovery. Sarah knows that that in-person interaction is an important aspect of the healing journey and hopes to host those types of gatherings again in the near future.
"I know a lot of people will miss the gathering," she said. "We're doing our best to make the COVID accommodations and keep the spirit and people's morale up during COVID times. It seems to me that we're entering another phase of doldrum COVID depression, so this event will be an uplifting, good experience. Something people will enjoy and gain knowledge about where to go for help, if they have follow-up questions or concerns, and know that we're here and we're a free service. We're still doing treatment, consultations and services."
She continued, "A big part of recovery is about fellowship and building on that recovery support system, having a network of people who you can draw on for strength, hope, inspiration and support. Meeting virtually for a lot of people is helpful, but it doesn't really replace the same feel for when you're in-person. There's been a lot more relapse and people gambling. Whether that's online gambling or gaming or other forms of gambling, there has been an increase since COVID and its been harder for people to really grab ahold of recovery."
For the past several years, the Problem Gambling program has actively taken part in a countrywide initiative known as Problem Gambling Awareness Month by hosting local events and providing support and resources to those in need. The campaign originally began over fifteen years ago in response to the amount of sports betting surrounding the NCAA March Madness college basketball tournament. Since Tulalip's involvement in the awareness month, recovering gambling addicts who live at Tulalip, or in nearby vicinities, have found a sense of community in others who they can relate to and confide in during their recovery journey.
"The reason why the National Council on Problem Gambling established March as Problem Gambling Awareness month is because historically March Madness sports betting has been the most significant gambling activity of most United States citizens," said Sarah. "Sports betting is acceptable and prevalent and pervasive for the month of March. So, they chose March as an opportunity to raise awareness – looking at the warning signs, looking at what problem gambling is, what are the consequences, who's at risk. Our motivation is to continue to provide education, continue to be a visible source for those who really want to address it and take a deeper look at maybe their loved ones, maybe their relatives and maybe themselves."
As a people, Native Americans are at the highest risk of developing a gambling habit. According to a 2019 study conducted by the National Institute on Alcohol and Related Conditions, 2.3% of the entire Indigenous population are battling gambling addiction, one of the highest percentages in the nation. And as Sarah mentioned, the percentage is expected to grow even higher during the era of COVID-19.
"There's still a lot of stigma around this particular addiction. Gambling disorder is a disease, it is an addiction," she expressed. "There's still huge denial. Throughout Indian Country and mainstream as well, we're still way far behind in accepting, acknowledging and supporting people to get help. It's a hidden illness. This disease feeds off of money, it fuels it. We don't brag about our debt. It's sort of a shame thing and it's looked at like you don't know how to budget or manage life. It becomes a real shameful secret that people attempt to hide. Meanwhile, they're trying to recover their money by gambling. The more you gamble, the more you lose. It becomes a very vicious, destructive cycle of trying win back what was lost."
With recent feedback from three separate recovery-focused Zoom events hosted by Problem Gambling, Sarah is confident the upcoming gathering will provide you and yours with an entertaining, informative and healing experience.
"Our entertainment is Adrianne Chalepha," she excitedly stated. "Adrianne is an actress/comedian who was raised in Kiowa/Comanche/Apache territory in Oklahoma. Before COVID she did tours with other female comedians. She opened for former first lady Michelle Obama. Adrianne caught our eye when we were thinking about sticking with the theme of featuring a comedian. As Native people, we love to laugh, we love to enjoy good humor and laugh at ourselves.
"We also have a person in the gambling recovery community who will be sharing her story, her name is Tessa and she is a Tulalip tribal member. She will be sharing her recovery story that will inspire and motivate and hopefully destigmatize recovery from gambling. Swil Kanim is the master of ceremony. He is a Lummi tribal member and a professional violinist. Our main objective is for people to have a good time, escape, laugh, have fun, all while learning a little bit about problem gambling."
The two-hour virtual event is happening 6:00 p.m.– 8:00 p.m. on March 6th. If you wish to join in on the fun, the Zoom ID for the community gathering is 313 507 8314. For additional information, please contact the Tulalip Problem Gambling Program at (360) 716-4304 or visit and like the new Tulalip Tribes Problem Gambling Program Facebook page.
Said Sarah, "We're here. People can always call us if they have any questions or if they want to learn something specific. We welcome them to the Problem Gambling Awareness Community Gathering, it's family friendly. We are very hopeful that our people will enjoy the event, have a good time together."