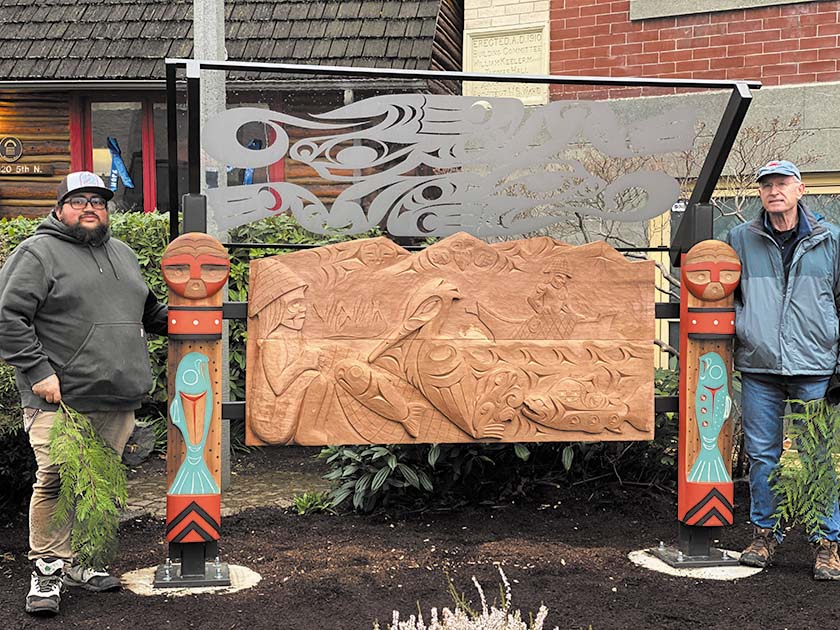 By Kim Kalliber; Photos courtesy of Ty Juvenil
Edmonds Historical Museum is working to support local Indigenous people and culture. The latest Native art instillation to call Edmonds home is 'Marsh Life', a mural carved by Tulalip tribal member, Ty Juvenil.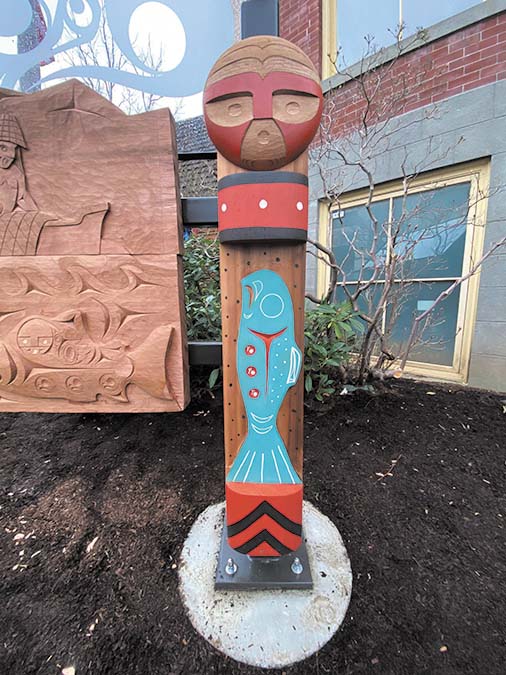 Using thick planks of cedar, Ty describes the piece as, "A carved depiction of what summer life may have looked like pre-contact, with various marsh animals, crane, frog, and humpy salmon, also some fishermen with some catch in their nets. At the top is the hills behind Edmonds with some spirits of the hills showing. On the sides of the main panel are two guardian posts, both finger-painted as it was done long ago. One female salmon and one male salmon. Finally watching over the marsh in glass is a frog design. Frogs are known across many native communities as powerful creatures, in the physical realm, as well as the spiritual."
Ty explained that the salmon are blue because his kids helped with the painting. "They kept saying they need to be blue so I listened to them and it worked out amazing."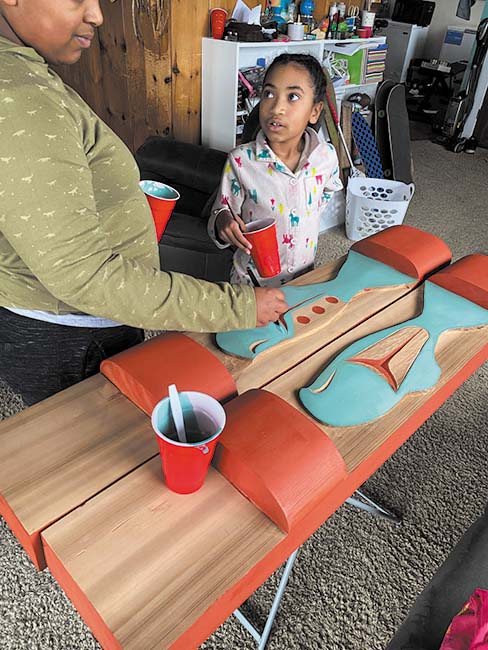 The mural rests at the front of the museum in the Reflection Plaza. According to the Museum, 'honoring the land and the Coast Salish tribes who came before, 'Marsh Life' is an artistic depiction and window into what life may have been like for Coast Salish communities living in the area. The piece demonstrates how the biodiversity and natural resources of the marsh were an important part of Coast Salish traditions and way of life.'
"The whole project should have taken less than a year, but due to Covid we had to wait," Said Ty of the project's journey. "This was a wonderful journey, and I'm happy we got it blessed before it left Tulalip; I gave it a tour through Tulalip in the bed of the truck.
He added, "I'm hoping one day I can do something like this at home for Tulalip. Just keep paddling I suppose!"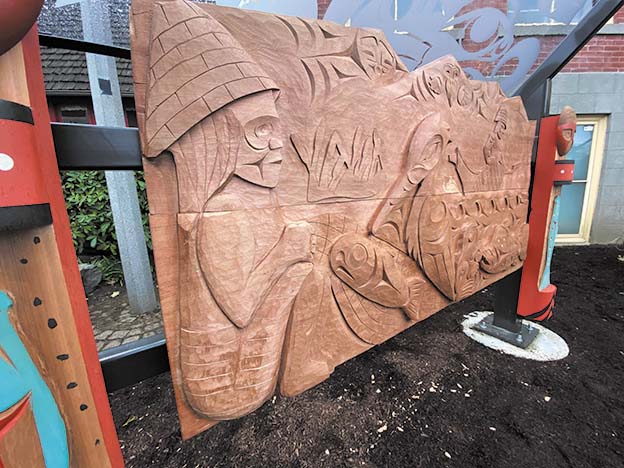 Also, keep an eye out for upcoming Youtube videos from Ty, on how to carve a paddle and other items.
The Edmonds Historical Museum is located in downtown Edmonds at 118 5th Ave N., Edmonds WA 98020. You can also visit historicedmonds.org.