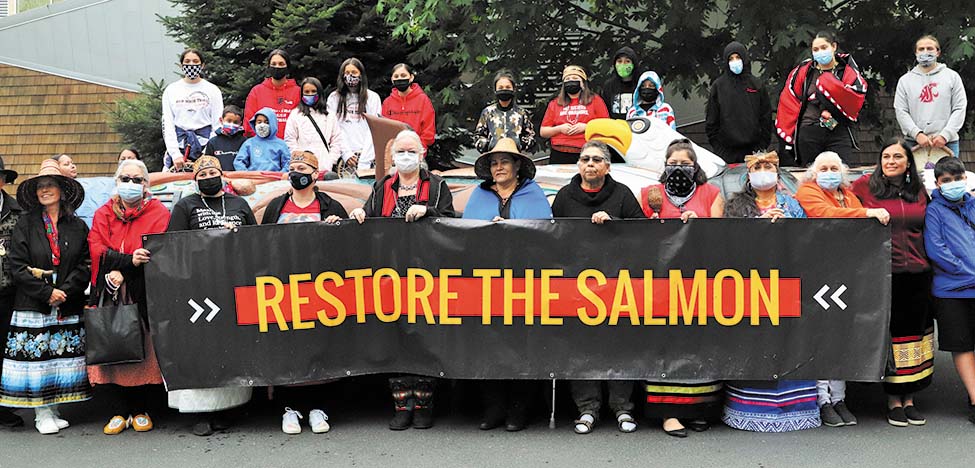 By Micheal Rios, Tulalip News
A large crowd of community members welcomed the Red Road to D.C. story pole journey during its Tulalip visit on May 17th. Designed with Indigenous precision by Lummi Nation's House of Tears carvers, the 400-year-old western red cedar lay front and center while embodying an unwavering message to protect the sacred.
"We are all coming together, like figures in a story pole, to produce an end vision – the protection of Native American sacred sites," explained head carver and Lummi activist, Jewell 'Praying Wolf' James. "Native America has endured hundreds of years of oppression, yet our spiritual practices and beliefs have not been exterminated. We are still connected to Mother Earth spiritually, and our sacred sites are extremely essential to our native belief systems.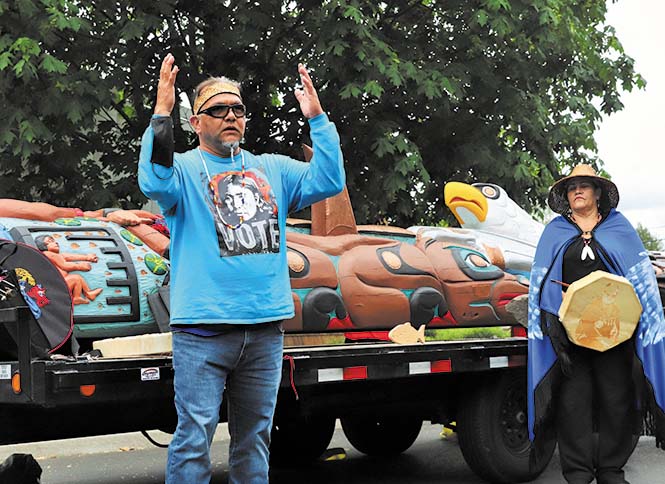 "Working on story poles opens up a path to the spirit," he continued. "It is my hope that this pole will transmit that spirit to Washington D.C. and allow the Biden Administration to follow through on their treaty obligations. Many of us believe that the United States owes it to us to listen. They entered into a sacred relationship with us, some people call it a treaty. But they use their voices to promise. To us, when you use your voice, it takes the sacred wind and the Great Spirit gives you the energy to talk. Your verbal commitment is one of spiritual significance to Native Americans. We hope by bringing this story pole to Washington, D.C., we'll also awaken the sacred commitment the United States has to Native American Nations."
It took over two months and fourteen pairs of hands working in synch to transform the nearly two ton, old-growth cedar log into a symbol of our collective ancestral responsibility to protect sacred lands, waters, and wildlife for generations to come. At twenty-four feet, eight inches tall and three feet wide, it tells a story of connectedness and asks for accountability by the humans who call this planet home. Skillfully etched in the pole are a moon, a diving eagle, two Chinook salmon, a sea bear, a sea wolf, a grandmother with her grand-daughter, and a number of spiritually strengthening elements chiseled throughout. 
Featured on the pole are seven tears to represent the seven generations of trauma passed on from colonialism. Also included is an image of a child in jail in reference to the U.S. – Mexico border issues and the bloodline relationship of immigrants seeking entry to the country whose lands they once occupied. No to be overlooked are the numerous blood red hands from top to bottom that symbolize the silenced voices of missing and murdered Indigenous women.
"Many grandmothers are raising their granddaughter as their daughter because the mother is missing in action," said Jewell. "Either she got abused by a husband and ran and disappeared for her own safety or she got caught up into drugs, or she's missing and murdered. It's a nationwide crisis. We like to dream that we have a perfect relationship, but the fact is the United States, the State of Washington, all our tribes, the counties and cities, everybody has to enact laws to tell the men: 'Quit beating the women! Leave the women alone. Stop it or we'll imprison you.' It's sad that we have to have the law tell us it's wrong. It's a reflection of our attitude, and the way we treat the female in the family is how we treat the Earth. The scars are permanent."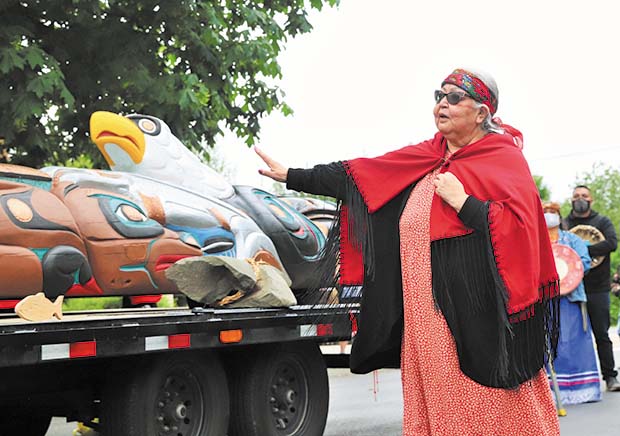 Mother Earth is covered with scars. Her air is polluted by the burning of fossil fuels, oceans filled with industrial waste, forests replaced by concrete jungles, and arctic shelf continuing to melt away because of global warming. What's happening is a result of a perspective that sees everything as a resource to be exploited. Its killing Mother Earth and threatening life across the planet. Life, whether it be aquatic, avian or land based is suffering. Mother Earth's creatures are dying of sickness because her life giving air and water are being poisoned.
"We look at our children and our heart aches because how do we stop the devastation of what's happening to our mother? What are we going to leave our children when we're dust? What kind of lifestyle are we leaving them to inherent?" pondered Lummi master carver Douglas James to the intently listening crowd. "We're reaching out and asking for all to come together with one heart and one mind because it's for the children and their future children that we need to be accountable. We must stand up for them now, like our ancestors once stood up for us. Or else our children can look forward to only being able to breathe fresh air through an oxygen tank and drink clear water from a plastic bottle."
The House of Tears carvers hope to bring a moment of self-reflection across the United States and an acknowledgement of past and present injustices inflicted on Native peoples and lands without consent, as they plan to journey 16,000 miles to share the messages within their story pole. Their cross-country trip is only just beginning as they intend to visit all federally recognized tribes in Washington State before going down the Pacific coast.
They will make stops at several locations that are considered sacred to local tribes and Indigenous peoples, and are current or potential targets for dams, mining, drilling, or oil pipelines. At each stop, they will display their story pole especially created to honor these sacred sites. They will meet with local tribes and residents to underscore the message that tribes must give their consent before major infrastructure projects are approved.
"This is a spiritual gift being shared with the people, all the tribes throughout the U.S.," said Tulalip elder Inez Bill. "I'd like to thank the carvers for including us and acknowledge our Tulalip elders who came here today to represent our people in this historical occasion. This pole serves as an example of what we can do when we unite our hearts and minds in thanks for the blessings we've been given. It is a blessing to be stewards of this land. The natural environment is where our spirituality and traditions come from. Our ancestors thought about their future generations and fought to have their usual and accustomed areas accounted for in the treaties. We need to honor and respect our ancestors by taking care of these areas. The way of life of our people depends on the teachings and values that were laid out for us. It is our responsibility to carry them forward."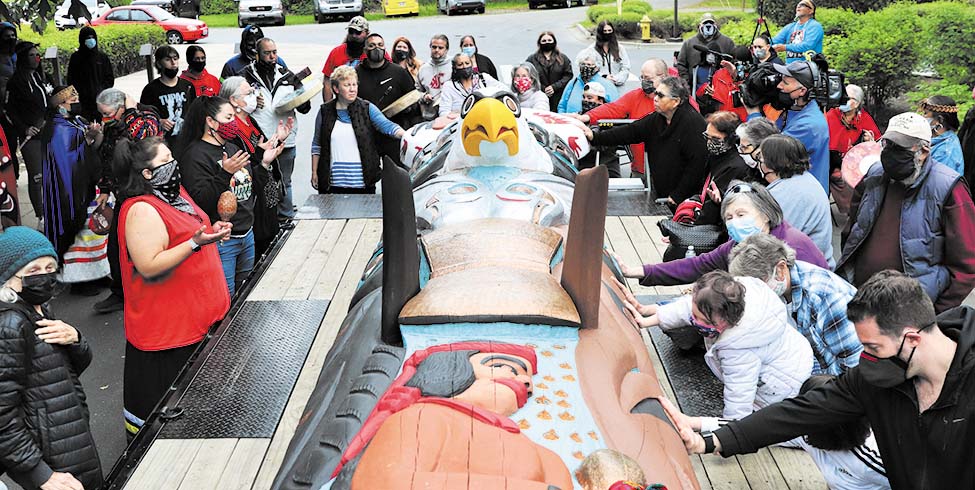 Red Road to D.C. journey stops will include sacred sites such as Bears Ears National Monument in Utah; Chaco Canyon, Navajo Reservation in New Mexico; and the Black Hills in South Dakota. Planned visits also include locations where Native-led oil pipeline protests made national headlines, like the Standing Rock Reservation in North Dakota and the White Earth Indian Reservation in Minnesota before finally arriving in Washington, DC on July 28, where the pole will be delivered to the Biden-Harris Administration. Concluding the Red Road to D.C. journey, the story pole will be enshrined as a featured monument in the Smithsonian National Museum.
The story pole journey is a project that makes visible the struggle for life. It brings awareness to the connectedness of all Mother Earth's people and our shared history. It ties together communities who are living on the front line of the environmental emergency. It makes the commonality of their suffering visible and strengthens the bonds of solidarity between them.
As the pole travels it draws lines of connection honoring, uniting and empowering communities working to protect sacred sites. It carries the spirit of the lands it visits, and the hopes and prayers of communities along the way. As the pole travels from place to place and comes into contact with more and more people, it grows more powerful. People who touch it give it power, and it in turn gives power to them.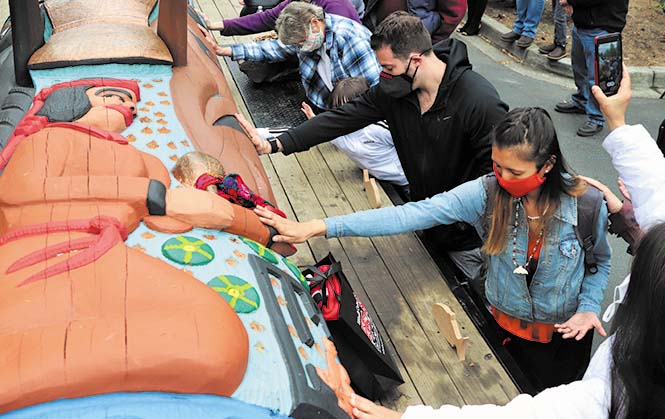 "This gathering was so special because we honored a story pole that will be traveling to D.C. to be presented to the White House. I'm thankful we were able to share our welcoming song and bless the pole in our own traditional way, with youth and elders as witnesses," reflected Tulalip Chairwoman Teri Gobin. "This pole recognizes our relationships we've created with the federal government and the many broken promises we're trying to have corrected, to make things better for our people.
"As tribes, we have been fighting much of the same fights since treaty times, and we've shown over and over again that when we come together we are strong," she added. "Being able to have our people touch the pole and put their prayers into it, knowing that tribal members from all across Indian Country will do the same, is extremely powerful. It lets us know that we are in this fight together. We are fighting for our environment. We are fighting for our treaty rights. We are fighting for our future generations."
To follow the pole's journey and see a list of tour stops visit www.redroadtodc.org Events will be live-streamed via the group's public Facebook page – Our Shared Responsibility: A Totem Pole Journey.