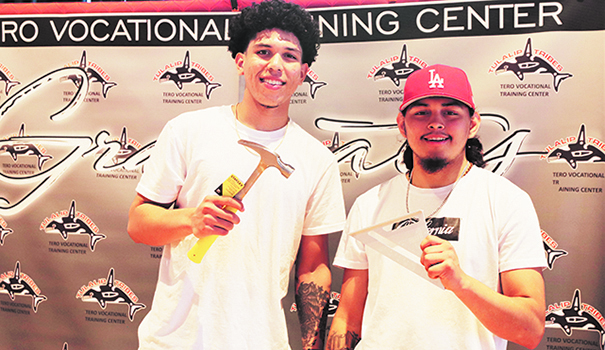 By Micheal Rios, Tulalip News
Educators, parents and others often place strong emphasis on college preparation and earning an Associate's or Bachelor's degree by traditional means. But that lengthy and expensive route often means accruing a ton of debt just to enter a highly competitive job market. College degrees may be preferred for many, however, there are a growing number of students who see a more hands-on future for themselves. For these individuals, unafraid of getting their hands dirty and learning the true meaning of a hard day's work, there is an abundance of opportunity within the construction industry.
Whether it be laborer, carpenter, ironworker, electrician or heavy equipment operator, there are countless positions available for work and advancement within the trades, especially for sought after minorities like Native Americans and women. A major access point for entry into these desirable career paths for tribal citizens and their families continues to be Tulalip's own TERO Vocational Training Center (TVTC).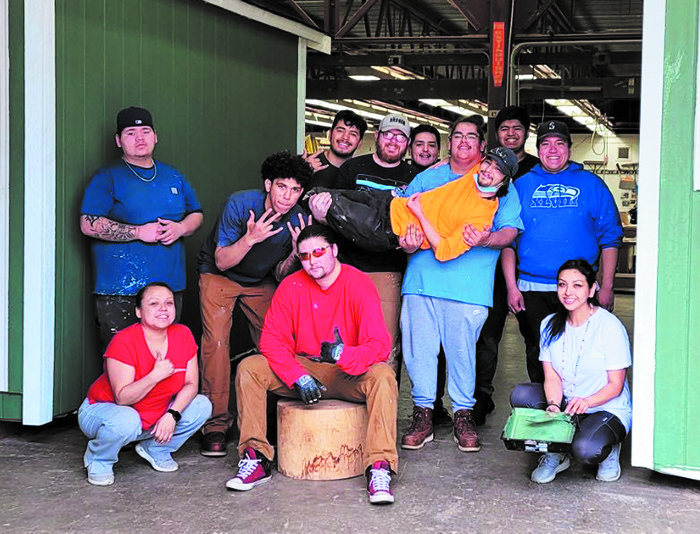 "Not everybody wants to be a doctor or lawyer. Not everybody wants a desk job. I'm a lifetime fisherman that started a construction company when it became apparent we could no longer sustain ourselves simply by living off the land," said former Tulalip board of director Glen Gobin. "Some want to be outside working with their hands. That's what brings people to our training program. It gives them an opportunity to get exposure to all the different trades, learn how to function on a job site and how to get work. Graduates of TVTC enter a section of the workforce that is in high demand."
Along the I-5 corridor, from Olympia to Mt. Vernon, construction projects are booming and many on-site jobs continue to go unfilled. While other career pathways may be oversaturated and hard to come by, those within construction trades are thriving. According to the U.S. Department of Labor, open construction positions are expected to increase by more than 700,000 jobs nationally through 2028, a faster growth than any other occupation. In Washington State alone, there are nearly 3,000 unfilled construction jobs that pay much more than the average state wage.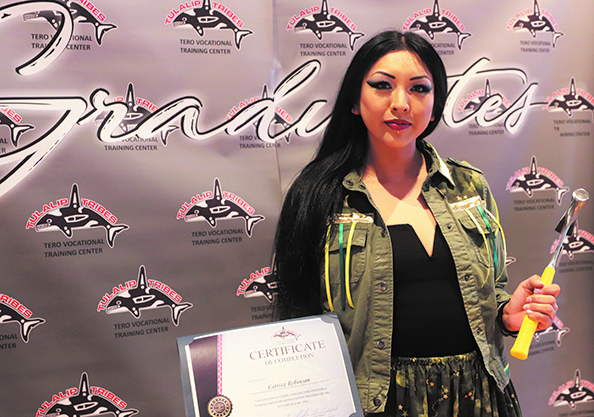 Brighter horizons and prospects galore were among the reasons so many gathered to celebrate the TVTC spring cohort's graduation on June 10 at the Gathering Hall. Thirteen students (including nine Tulalip citizens and two women) were honored with a banquet for their commitment to building a better future. Among those in attendance were trade union representatives, several construction company managers, and many cheerful family members.
"Our TVTC graduates earned various certifications and college credits, while learning many skills that will undoubtedly make an impact on their future," explained TERO coordinator Billy Burchett. "We thank the Tulalip Tribes, Washington State Department of Transportation, Sound Transit, and the Tulalip Cares charitable fund for always supporting us. These organizations and community partners are ensuring our future leaders have meaningful career paths."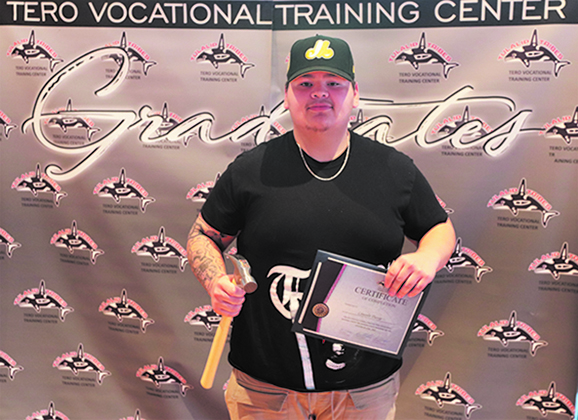 TVTC is the first and only state and nationally recognized Native American pre-apprenticeship program in the entire country. The program is accredited through South Seattle Community College and Renton Technical College, while all the in-class, hands-on curriculum has been formally approved by the Washington State Apprentice and Training Council.
The sixteen-week program provides 455 hours of hands-on instruction, strength building exercises, and construction skills that can last a lifetime. In addition, students are trained and earn certifications in flagging, first aid/CPR, industrial fork lift and scissor lift, 40-hour HAZWOPER, and OSHA 10-hour safety.
Homegrown Tulalip citizen Duane Henry opted to retake the class after not being able to complete it his first time around because of a coronavirus infection. To jumpstart an all-new career path as a tradesman, he had to grit and grind. The 19-year-old maintained a full-time position at Taco Time working a hybrid swing/graveyard shift. He sacrificed convenience and some sleep to attend the TVTC class every week day.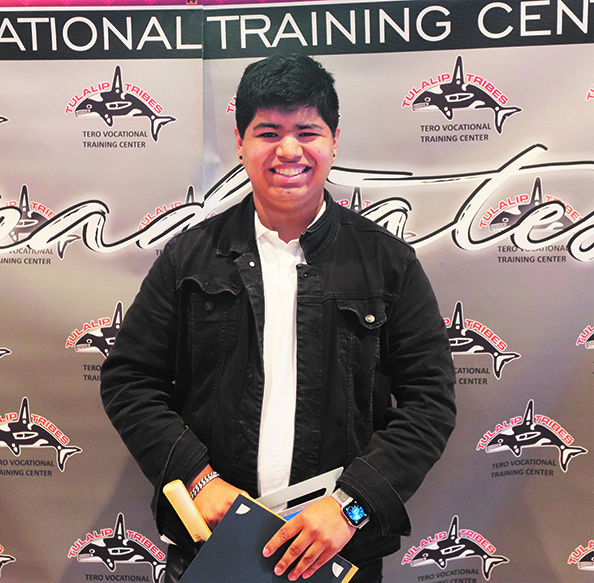 "I love to stay busy," shared Duane. "I was disappointed not being able to finish last season because of covid, but it was understandable and something out of my control. But I came back and got all the way through this time. Now, I look forward to creating a new career with construction."
When asked what he'd say to his fellow tribal members who think they can't take the TERO class and hold down a full-time job at the same time, Duane quickly responded with "That's nonsense! It's all about balancing priorities. If I can do it, you can do it."
Along with gaining a wide-range of new employment opportunities via the trades, two diligent students, Cobey Comenote and Chance Guzman, took advantage of the educational aspect and earned their high school diploma.
With hundreds of skilled-trade workers retiring every day across the state, the construction industry needs the next generation workforce to help build an ever-growing Puget Sound community. According to the Associated General Contractors of America, construction employment climbed by 36,000 jobs in May alone, while hourly earnings rose at the fastest yearly rate in 40 years. These are job opportunities that actually pay a living wage and are available to people straight out of high school.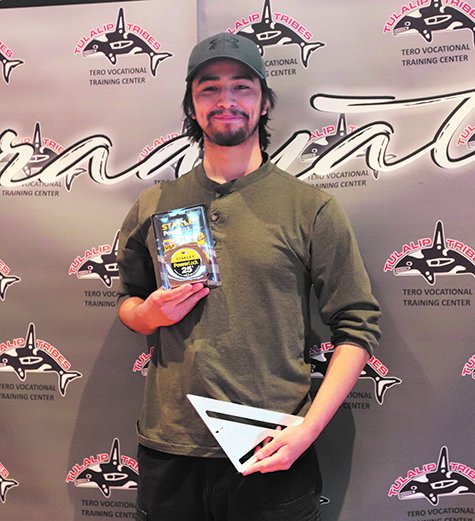 Only a year ago, Alonzo Jones and Isiaha Moses were part of the largest Heritage High graduating glass in school history. Now, both are graduating TVTC with a litany of every day skills and are eager to put them to use.
"As a basketball player, I had zero construction experience before this class and hadn't used any of the power tools before. It was hard switching it up, but with the support of my family and Tribe I know it's worth it in the long run," said Alonzo. "While building bird houses, a saw horse, and two tiny homes, I learned I really like carpentry. Building things with my hands and seeing the finished product is amazing. At the end of the day, we traded four months of commitment and focus to Tulalip and TERO for a legit chance at a life-long career. It's time to cash in."
Two hardworking ladies were among this season's graduating class. Carissa Robinson and Ora Yallup (Yakama) both desired to acquire a new skillset while creating a pathway to a better and brighter future.
"Prior to enrolling in the class, I was unemployed and a stay at home mom with my two daughters. I wanted something better for myself and to show my daughters what's possible," shared Carissa. "I told them I was going back to school and they were happy for me. It was so cute because my oldest would tell me 'have a good day at school mom' when I'd drop her off in the morning.
"Carpentry as a career path really speaks to me. I'd like to earn an apprenticeship at the local 292 union. There's so much transferable skills and opportunity within the trades. This experience can only brighten the future for me and my daughters," she added.
It takes some grit for sure, but for those folks with a strong work ethic and can-do attitude, they can find themselves being an integral part of a local construction site.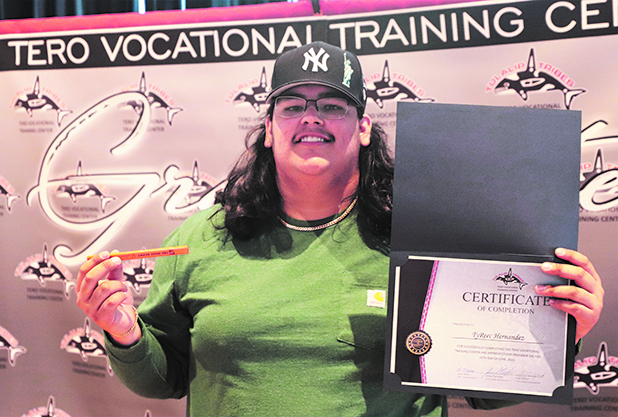 "When our student graduates go out into the world of construction, they can compete on equal footing with anybody," said TVTC instructor Lisa Marx during the graduation ceremony. She replaced long-time instructor Mark Newland when he retired last year. Lisa is a real-life pioneer who completed a Scaffold Apprenticeship for a carpenter's union and is now looking to pave the way for more inspirational women.
"I come from a pretty tough background myself and know what it's like to want a new beginning," shared instructor Lisa. "To help those in need of direction find their way through hard work and a gritty skill set, and to see each of our students excel and graduate just makes my heart so happy. Today, there is so much opportunity for everyone, especially women. The construction culture has seen a huge shift in the last five years.
"Many programs, like the City of Seattle and Sound Transit, have initiated a priority hire program that actively seeks out people of color and women to join their job sites. Graduates of our program make for ideal candidates and that's why its so great to witness the strides they've taken to create a better future for themselves and their community."
Those interested in being among the next available TVTC cohort or would like more information about the program, please call (360) 716-4760 or email Ltelford@tulaliptribes-nsn.gov
Tulalip TERO is actively recruiting for its summer cohort. Don't miss out on a life changing opportunity.