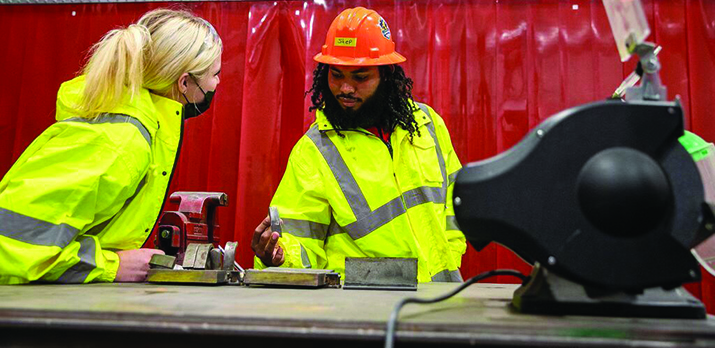 By Kalvin Valdillez, photos courtesy of Lisa Telford
With the turn of the year comes a time of reflection and reevaluation. Something about a fresh new calendar inspires many to make changes, set personal goals, and take on new challenges to become the best version of their selves. Now, we all know the old adage, 'new year, new me.' And while many overuse the phrase to trick themselves into a healthier lifestyle, the Tulalip TERO Vocational Training Center (TVTC) is providing an opportunity for you to turn that expression into reality by offering their construction pre-apprenticeship course at the top of the first quarter.
"The Native way is to take care of your people because that's what we do, we take care of each other," said TVTC Family Career Navigator, Lisa Telford. "Construction wages are livable wages that you can support your family on. I was a carpenter for twenty-three years and I only worked with about three or four Native carpenters, and two of them were my cousins. I've always been interested in helping Natives enter the construction industry, mainly because it is such a good wage."
The TVTC construction course is the first of its kind, and to date, it remains the only Native pre-apprenticeship in the nation. The program is offered to tribal members enrolled in any of the 574 federally recognized tribes, as well as to their parents, spouses, and children. Throughout the years, TVTC has helped hundreds of Natives find their career path, some from as far away as Alaska and Wyoming.
During the sixteen-week course, the students build a strong skillset that can be applied to a variety of well-paying jobs such as carpentry, cementing, and plumbing as well as electrical and mechanical work. Additionally, TVTC participants also earn a number of certifications while attending the hands-on program.
"It is carpentry based, so they're going to learn a lot about carpentry, but they're also going to learn that construction is a physically demanding trade and they're going to learn to meet that challenge," Lisa explained. "They earn certifications in forklift, boom lift, scissor lift, first-aid, CPR, OSHA-10, 40-hour HAZWOPER class, and hopefully traffic control. They are going to be able to competitively enter a construction apprenticeship because our graduates get direct or preferred entry into the construction industry, and they get extra points for completing a pre-apprenticeship program.
"We are a state-recognized pre-apprenticeship program and we have agreements with carpenters, cement masons, [etc.], and also preferred or direct entry in any trade, and direct entry in a TERO job. If there is a TERO job where they need to hire carpenters, or they're looking for apprentices, they can call up our graduates. Every time a job posting comes in, I send it out to everybody who completed this program."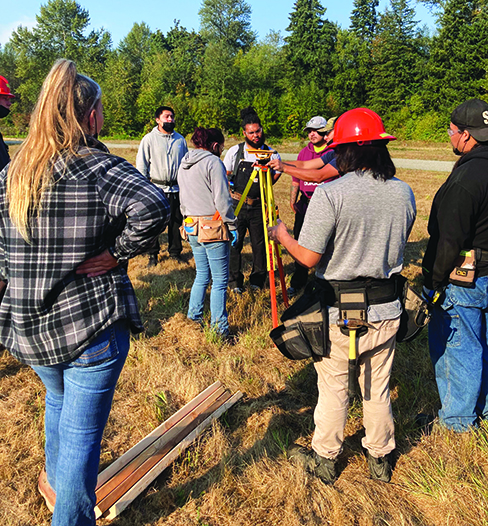 As soon as the students complete their 455 hours of coursework, they are introduced to a world full of never-ending opportunities with their newly gained experience. As evidenced in the latest statistics by the U.S. Department of Labor, construction jobs are currently in high demand and are expected to grow exponentially over the next five years by an estimated 700,000. Equally important to note, all of those available positions pay much more than the state's minimum wage of $15.74. And mind you, those wages are just entry-level positions, so the opportunity to grow both in experience and financial health is yours to seize.
"It's good if you have the skills to help your people out," expressed Lisa "That helps build your confidence and your pride. The more you do it, the more comfortable you feel and then you'll be ready to step into that construction work zone. A lot of people go to work for housing, the majority of our graduates go to work for the Tribe or the Resort [Tulalip Resort Casino]."
Not only does the TVTC course equip you with the skills and knowledge you need to help get your foot in the door in the construction industry, but TVTC also supports their students far beyond their graduation ceremony.
Lisa shared, "To me, the graduation is not really the finale because no matter what, they belong to the TERO vocational training center. We're always going to be supporting you and reaching out to you. We can work as an advocate, act as a liaison, whatever we have to do to make your transition into the construction industry smooth. Throughout the whole program, I have the opportunity to watch them grow and shine. My favorite part is when they realize that they enjoy what they are doing, you can hear their laughter and see the pride on their faces. I enjoy watching them grow into that person."
The upcoming construction course will look a bit different than it has in previous years. Currently, the program is down a key component, but Lisa and the TVTC crew are ready to take the challenge head-on, and with much enthusiasm.
She said, "We lost our instructor, and we are currently looking for a new instructor. Hopefully we'll find one mid-program so we can mentor them into our dream instructor. Billy [Burchett] a sheet metal worker, and the teacher's assistant, is now the Client Services Coordinator of this program. And Jerad Eastman worked for Quil Ceda Village as a Project Manager, he knows a lot about blueprint reading and construction. We're all going to do it together. I know about carpentry, Jerad knows about blueprints, Billy knows about math, plumbing, and electrical. We're going to put it all together to make one exceptional instructor."
Lisa also mentioned that she will more than likely have some additional help throughout the course from the likes of TVTC alumni. She shared, "That's what I enjoy the most is when they come back and talk to the class about their work and what it's like, because I think it's important to see someone who looks like them be successful out in the construction workforce."
The next TVTC course begins on February 13. Classes are held Monday through Friday from 8 a.m. to 3 p.m., with a few exceptions such as days when the class travels for a job site tour or when participants take part in a hands-on experience known as an 'apprenticeship for a day'. Please feel free to reach out to Lisa at (360) 716-4760 for additional information and an application. Applications are available online, however, the e-mail link is broken. If you do fill out an application online, please download it first and then e-mail it to Lisa. You can also send it to her via fax (360) 716-0144 or in person at the training center.
And since we started with an expression, we'll end with another for good measure. As the late Kurt Cobain once said, "If opportunity doesn't knock, build a door".