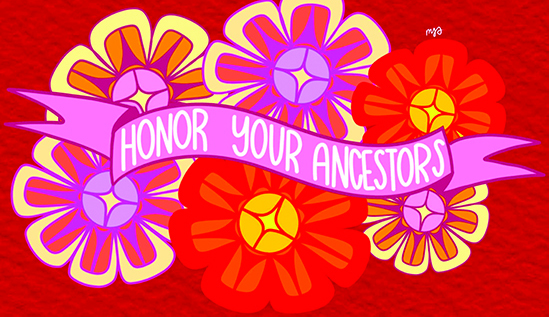 By Kalvin Valdillez, Tulalip News,; photos courtesy of Marysa Sylvester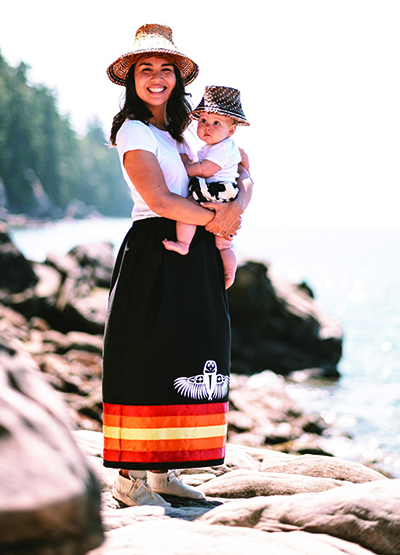 Approximately twenty young adults prepared for a 1.7 mile run, beginning at the Mission Beach approach and ending at the Tulalip Dining Hall on the afternoon of September 30, 2021. Although nearly a year-and-a-half ago, this day was significant for the people of Tulalip as they took time to honor and remember their ancestors who endured the atrocities committed during the boarding school era.
The group of young women and men served as the torch bearers to officially kick-off the first annual Residential Boarding School Awareness Day gathering. Collectively, they resembled a flame as they blazed along the trail known as Totem Beach Road, in orange t-shirts, an intertribal symbol that helps raise awareness to the National Day for Truth and Reconciliation. And everybody who attended the event received their very own orange t-shirt to commemorate the emotional and historic day.
With hundreds in attendance, there were orange shirts as far as the eye could see, and they all bore a design of a hummingbird and a flower in traditional form line. Many began their healing process that day, from the trauma that has trickled down the generations since the time of boarding schools and forced assimilation. Each person would walk away from that event with something tangible that they can look back on whenever they incorporate that t-shirt into their daily ensemble – a Marysa Joy Sylvester exclusive.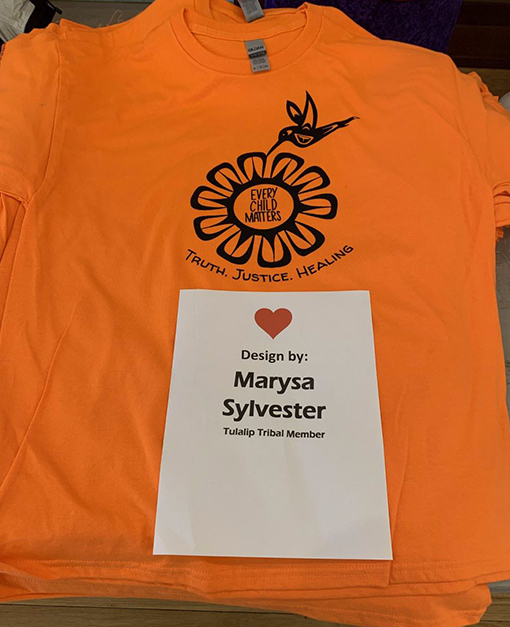 "I actually started drawing in 2020, right when COVID hit," said Marysa. "That's when I got my first iPad and Apple pencil. I was pregnant then and I was just drawing all the time. I was really nervous to share any of my pieces with anyone. Orange Shirt Day was one of my first designs that I really shared with the community. I was honored to be able to share that work, and to see everyone wearing it was unreal for me. It was humbling and exciting, and honestly just a really good moment, because I knew that was the first big event for Orange Shirt Day."
Ever since her artwork was introduced to the public, people have been eager to get their hands on the designs created by the Tulalip and Quileute artist. In a year's time, Marysa went from being hesitant to share her work to becoming a well-known and highly in-demand artist whose digital art has inspired other tribal members to break out their tablets and create designs of their own. If you are able to take a moment to scroll through her Instagram profile, @MarysaJoysCreations, you will be impressed at her ability to incorporate traditional art with modern technology.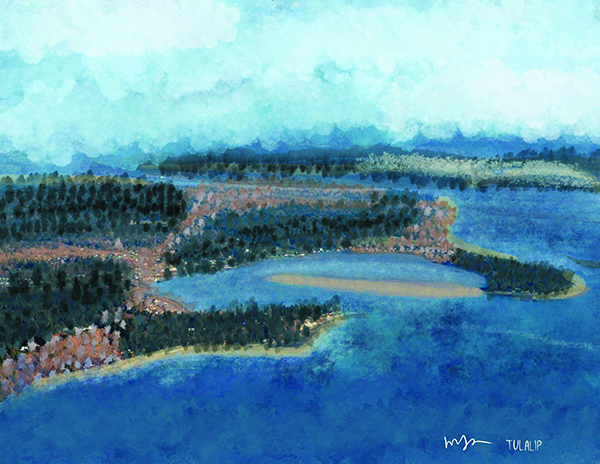 She shared, "When I used to draw, I felt it was not that good. I would start a project with pencil and paper, touch on it and move on. But when I picked up my iPad, it gave me more freedom and flexibility. The app I use is Procreate and it's pretty similar to actually drawing on pen and paper, but it's a little bit easier for you to undo any mistake you make. I think that really helped me start again. It was different, it felt good, and I was more inspired to express from my heart, rather than just trying to be good at drawing."
Working with the youth for nearly her entire adult life, previously at the Marysville School District and currently with the Betty J. Taylor Early Learning Academy, a major driving force behind her art is ensuring that Native kids are able to see themselves in her designs. Furthermore, she takes time to translate words into Lushootseed and incorporates the Tribe's traditional language into her work to help children identify things like animals, fruit, body parts, weather, and a handful of phrases, all in the dialect of their ancestors. Marysa also utilizes her drawings to bring attention to issues and causes happening across Native America such as Orange Shirt Day and the MMIW/P epidemic.
"When I'm making those MMIW and Every Child Matters designs, I usually start off with a feeling. I'm conveying the feeling that I want other people to experience when they look at it. When I made the Orange Shirt Day design, I remember thinking of the kids, and how important our kids are, and how bright they are in our community. That was something I set out to convey in those pieces – how much they mean to us."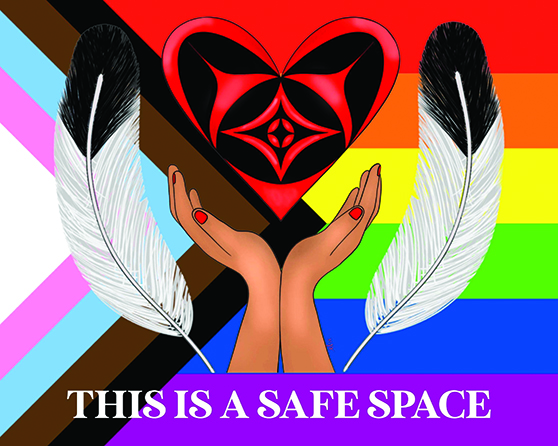 She continued, "I did a collection of posters with animals, sea animals, and body parts and had a ton of people reach out to me to ask if they could put them up at their schools or the centers they work at. That was amazing. The first one, the Safe Space poster, was distributed to the whole Tribe and I was really proud of that. I end up creating a bunch of free resources for teachers, because it's so hard to find those [culture-based] resources as an educator. I remember as a student, when I would see those types of things in my classroom or at my school, I would get so excited. Being able to provide that is really important to me. And personally, I am a visual learner, so I think that will help students – pairing the Lushootseed with the art."
Although Marysa's journey with digital art is a fairly new endeavor, she is no stranger to creating Indigenous art pieces. In fact, she grew up learning the art of weaving, a skill passed down from her grandmothers on both sides of her family. And even with her newfound love of drawing, Marysa is still passionate about weaving and enjoys taking on projects such as cedar hats and graduation caps.
  She explained, "I was always told to put your heart into your work and your good intentions. That is something that I do with my cedar weavings and in my digital art too. I got serious about weaving in 2015. Before that I had done a couple of projects with my grandma, but I really started weaving at the Senior Center. They have a basket weaving group of about six or seven elders, my grandma, her sister, and few other people. I started one of my baskets there, and after that I really got into it. I was making cedar medallions, cedar earrings, cedar caps. But when I got pregnant, I needed to take a break from it.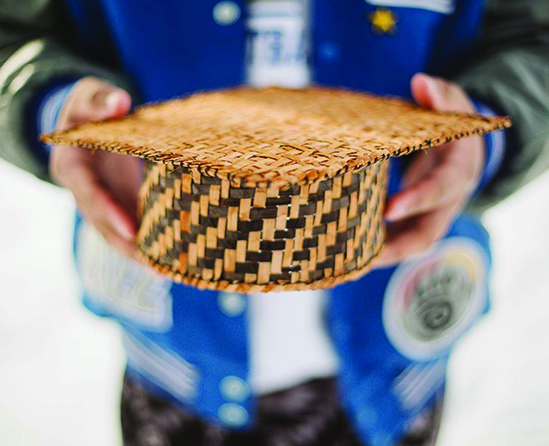 "I was weaving a lot up until 2020, and I recently started it up again. I learned a lot about weaving from my grandma Joy and my grandma Mary. It's been so cool to learn from both sides of my family, and they shared a connection as well and would go to weaving conferences together. And my dad (Harvey Eastman) also weaves. He's an artist too."
When picking up that Apple pencil, little did Marysa know that she would turn a COVID lockdown hobby into a full-blown business. Harnessing her genuine love for the work she does, matched with a personable and outgoing personality, Marysa Joy's Creations has come a long way from eye-catching Facebook and Instagram posts. Her designs can be seen all throughout the reservation, on water tumblers, sweatshirts, stickers, posters, phone cases, or iron-on patches.
This past month, she officially launched her very own website, www.MarysaJoysCreations.com, where all her products are available for purchase. On the website you can find free digital Lushootseed posters, and you also have the option to place custom request orders.
Said Marysa, "Someone actually just reached out to me for a tattoo design, which I was really amazed by. People have reached out about the Senior Luncheon design and the Orange Shirt Day design. So, if anyone stumbles upon me, they can reach out to me on the website if they want anything that is customized or specific to them. I've also done a couple logos for small businesses as well."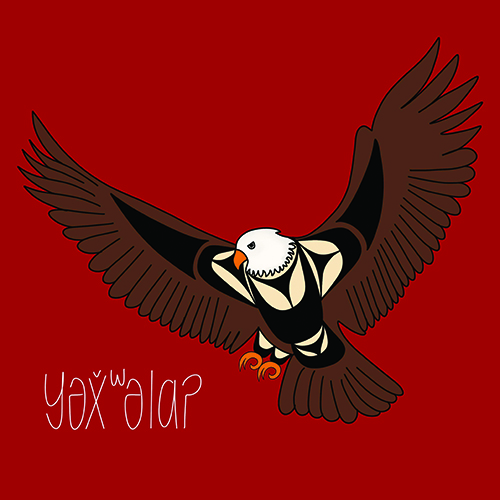 You may recognize Marysa's signature designs on the logos for other tribal member-owned businesses, including Shaylene Henry's Coastal Sweets and Treats, Kwani Sanchey's Sacred Skincare, and Nina Gobin's Morning Star Creations.
Marysa has a number of projects on the horizon that are sure to showcase her work with the Coast Salish art staples: trigons, ovoids, and crescents. Most recently, she received a shipment of seven colorful bolts of fabric, all of which feature her designs and can be used to create items such as regalia and ribbon skirts. The fabric that is currently available for sale includes dinosaurs, strawberries, moons, bear tracks accompanied with the slogan 'Land Back', flowers, and hummingbirds, with the promise of many more designs to come.
She stated, "I've been really working on my repeating patterns, because those can go on anything. They can go on blankets, they can go on fabric, they can go on backpacks. When I make those designs, I try to make them really bright and happy. I try to express my heart through whatever I'm drawing in the moment, and I like things that make you feel happy when you look at them."
When asked what her top three favorite designs are so far, she mentioned one of her recent works, a cedar basket-themed piece that includes the message 'Respect Our Ancestors' in both English and Lushootseed, as well as the floral tattoo-esque design that reads 'Honor Your Ancestors.' And the Senior Luncheon commission that is a re-creation of a photograph of a young Marysa and her grandma offering prayers to the spirit of a cedar tree.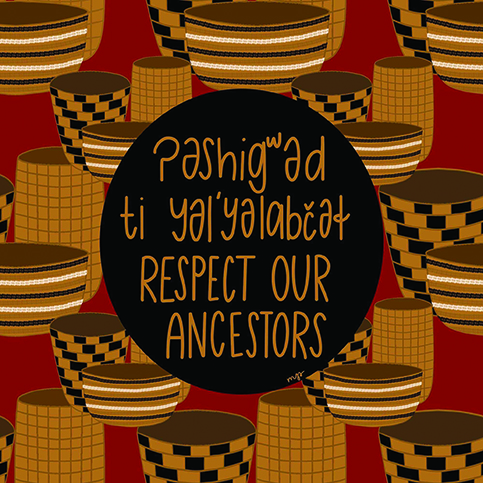 It is clear to see that Marysa Joy's Creations is resonating with tribal members throughout the Northwest region. And locally, the people of Tulalip are proud to say that Marysa's art is a strong representation of the Tribe's cultural lifeways, which is depicted in every single design that she creates.
"I honestly draw all the time," Marysa said. "Any free time I get, I draw. Digital art is now a big part of my life, I find it really soothing, calming, peaceful, and it's a really good way to express yourself. You've got to be in a good place when you're doing it. Sometimes if I need a break, I'll step away and recharge myself and wait a bit before I pick it back up. I feel so good about the work that I put out and what it conveys, I am extremely grateful."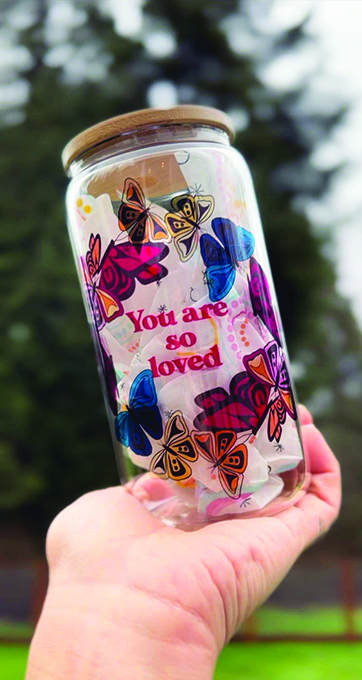 Be sure to follow Marysa on all of your social media accounts to stay updated on her latest art pieces. She can be found on Facebook under the page titled Marysa Joy's Weaving, and also on Instagram, @MarysaJoysCreations, as well as on TikTok as her Indian name, @Salsalitsa. And of course, her products for sale are available on her website. And as a reminder, that URL is www.MarysaJoysCreations.com.
She expressed. "Overall, I think the vibe is to create and share resources that we can all use in our community. And I think it's important to convey all those emotions and feelings with a good mind and a good heart."