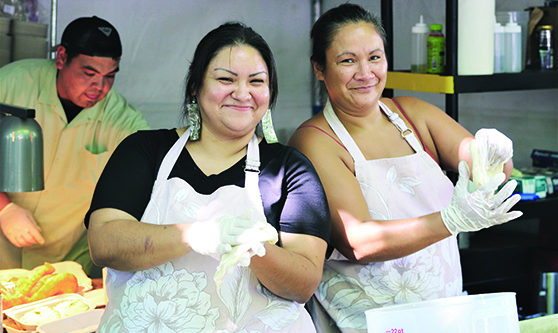 "If if there is a secret ingredient, it's love. The love I have for my people, my culture, my family, and my customers who keep us in business."
By Micheal Rios, Tulalip News
One of Washington's most iconic culinary traditions, The Bite of Seattle, made a historical 2023 return after being shut down the previous three years for various Covid-related concerns. The weekend-long food festival took place July 21 – 23 at its usual and accustomed grounds located in the heart of Seattle Center. 
Local Q13 Fox News affiliate reported the Bite reeled in more than 75,000 people on the first night alone. This year's event easily shattered previous attendance records, attracting diverse attendees and vendors.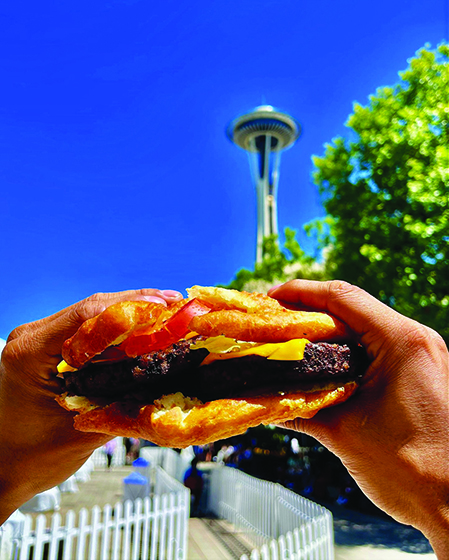 Among the vibrant spirits and culinary diversity among 100+ food vendors was Tulalip's own master fryer Lynette Jimicum. She journeyed to the Emerald City's three-day food extravaganza with her dedicated family crew, who helped operate rez-famous TeePee Creepers.
"We were told by coordinators that we are the very first Native Americans to have a food stand at the Bite of Seattle," asserted Lynette, the 57-year-old teepee creeping proprietor.
At the behest of her sons, nephews, and cousins, who enjoyed her food on the regular and suggested she enter the food market, she debuted her frybread concoctions at Tulalip's 2015 bone games. Her debut was so successful that she followed up with another appearance only weeks later at Boom City, again with great success. The rest, as they say, is history.
"I was truly surprised by my early success…that the people loved my cooking and simple, homemade chili, salsa, and jam to add even more flavor to my frybread," reflected Lynette. "Since then, I've been doing big gathering events, especially cultural events hosted by local tribes from Lummi to Muckleshoot. Everywhere I go, people love my food. I keep a very simple menu with all local ingredients, but if there is a secret ingredient, it's love. The love I have for my people, my culture, my family, and my customers who keep us in business."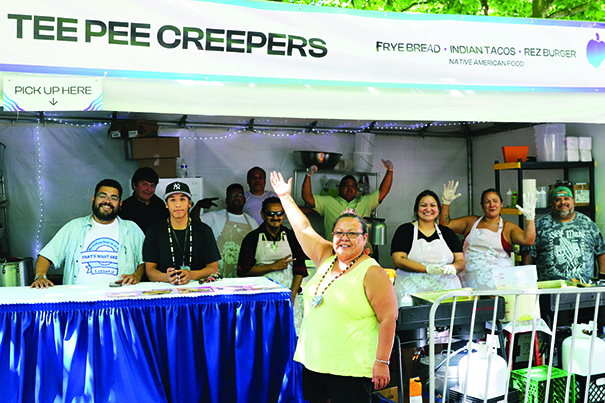 Known best for its mouthwatering, extra fluffy, crispy on the outside, tender on the inside, golden-colored frybread dishes, TeePee Creepers brought out all sweet and savory hits. The O.G. standard frybread and jam, Indian tacos with homemade chili, two hands required rez burgers, and delicious frybread shortcake.
While the record-setting Bite attendance overwhelmed many vendors, resulting in extra long lines and wait times, Lynette's thirteen-person frybread wrecking crew banged out order after countless order with ease. TeePee Creepers stood out for having an open cooking area in full view of spectators to take pictures and videos as they witnessed, perhaps for the first time ever, actual Native American cuisine being cooked up by actual Native Americans.
"We've been asked a lot of questions by people who have never heard of nor seen frybread before. It's been nonstop, questions about frybread or them asking to take our picture," said Charissa Sigo after posing with freshly made frybread for a Venezuelan customer.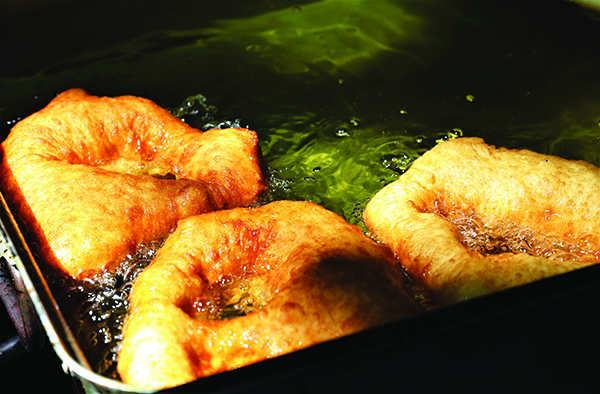 "It's been a lot of fun. We got a good team going on here," added Carla Hillaire while kneading dough destined for a sizzling oil bath. "Our vibes have been so good that we added another item to the menu: smiles! A side of free smiles comes with every order."
Bite of Seattle 2023 lived up to its reputation as a community-driven event that fosters connections. The festival provided a platform for local businesses like TeePee Creepers, and food artisans like Lynette to showcase their unique, homemade offerings. Offering a new way to experience a cross-cultural exchange, one bite at a time.
Native Americans have found empowerment and community-building opportunities through making and selling frybread in several ways:
Cultural Preservation: Frybread serves as a symbol of Native American cultural identity and resilience. By making and selling frybread, Native Americans are keeping their culinary traditions alive and passing them down to younger generations. This act of cultural preservation helps instill a sense of pride and connection to their heritage.
Economic Independence: For many Native American communities, economic opportunities can be limited, especially on reservations and in rural areas. By selling frybread at powwows, festivals, and other events, individuals and tribal groups can generate income to support themselves and their families. This economic independence can help reduce reliance on government assistance and foster self-sufficiency.
Community Bonding: Making and selling frybread often involve community efforts and collaboration. Families and tribal members come together to prepare and cook the bread, creating a sense of unity and shared purpose. This communal activity strengthens social ties within the community and reinforces a sense of belonging.
Entrepreneurship and Small Businesses: Some Native Americans have turned frybread-making into small businesses. They may sell frybread from food trucks, roadside stands, or even establish restaurants that feature traditional Native American cuisine. Through these entrepreneurial ventures, individuals can contribute to the local economy and create job opportunities for others.
Cultural Exchange and Education: Selling frybread at public events provides an opportunity for cultural exchange. Native Americans can share their heritage, traditions, and history with non-Native customers, fostering understanding and appreciation for their culture. This can also combat stereotypes and misconceptions about Native American communities.
Funding for Tribal Initiatives: Revenue generated from selling frybread can be reinvested in tribal initiatives, such as educational programs, healthcare services, infrastructure development, and cultural events. By using the income strategically, tribes can address various needs and challenges faced by their communities.
Advocacy and Awareness: In some cases, frybread sales have been used as a platform for advocacy and raising awareness about Native American issues. Activists and community leaders may use these opportunities to discuss the history of frybread, its connections to colonial oppression, and advocate for healthier food options and cultural preservation.
Despite the positive aspects, it is also essential to consider potential challenges and concerns related to frybread consumption. The high-fat content and processed nature of the dish have been associated with health issues such as obesity and diabetes within some Native American communities. Thus, efforts to promote healthier traditional foods and food sovereignty continue to be important alongside the celebration of frybread's cultural significance.