First ever National Tribal Opioid Summit held at Tulalip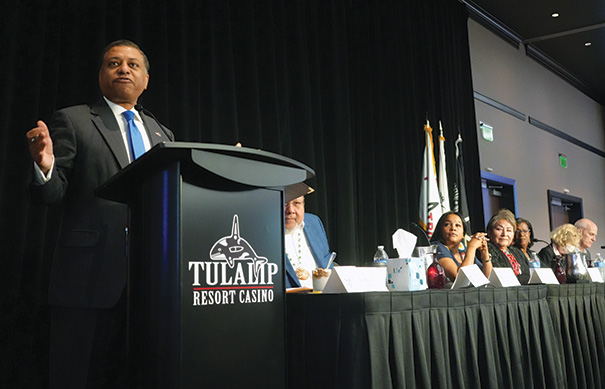 By Wade Sheldon, Tulalip News 
Leaders from the Tulalip Tribes, coordinating with the Portland Area Indian Health Board, hosted the first-ever National Tribal Opioid Summit at the Tulalip Resort and Casino, August 22-24. With assistance from the White House Office of National Drug Control Policy Director, Dr. Rahul Gupta, the group is working to create pathways for more resources and to better understand what is happening in communities all over the United States.
"This is a problem that has two sides to it, there's a public health and public safety side," Dr. Gupta explained. "Any given day in this country, we have about 2,000,000 people incarcerated and 95% will get out. 60-80% are in there because of drug-related use. It's a huge issue. We figured if we just remand people who are addicts, the problem would go away; it just hasn't. In fact, they are 120% more likely to die from overdose when released. If someone has a problem with mental health or addiction, they should be getting the help instead of being incarcerated."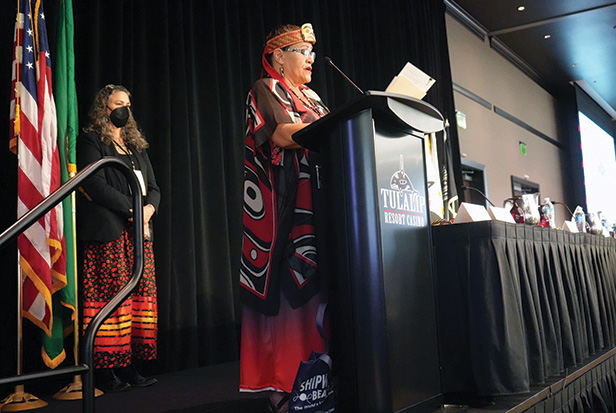 "I came from a much larger city, and I have to say without a doubt, the disproportional impact on tribal communities is significant," said Chris Sutter, Tulalip Police Chief. "We have learned that we cannot do this in silence. We are never going to arrest our way out of this problem. We are looking into Tulalip's long-term vision: how can we reinvent the rehabilitative incarceration system that focuses on the well-being of the person, not just locking them up but helping them become long-term citizens when they come home."
Throughout the 3-day event, several discussions were held on how to help and heal people with addiction. The public health crisis has leaders from several tribal nations coming together in search of answers when dealing with the opioid epidemic. Some problems addressed were fentanyl, overdose rates, prevention, and mental health. The National Institute on Drug Abuse says, "Many individuals who develop substance use disorders (SUD) are also diagnosed with mental disorders, and vice versa."
This has led to a whole new approach when dealing with someone who is currently in addiction. New methods have been developed and implemented to help address mental health as well as the body. People trapped by drug addiction are finally being listened to. New facilities are being built to handle the needs of people in addiction and help them find a better solution to how they live while giving them a way to manage their lives.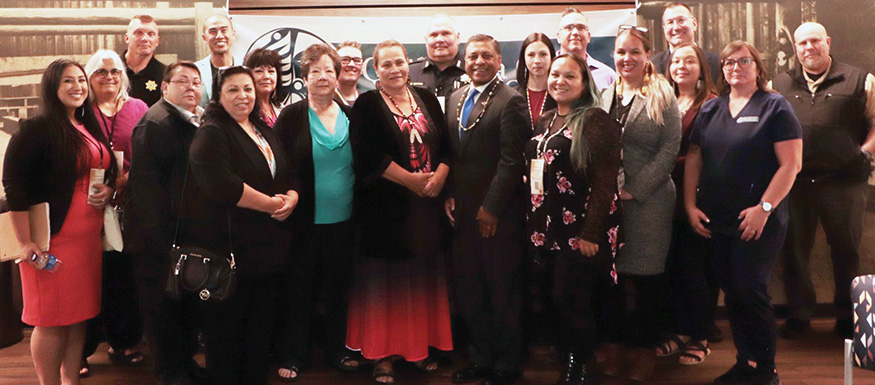 One of the many facilities battling the opioid epidemic is the Quil Ceda Creek Counseling Center (Q4C). On a tour of the facilities with Dr. Gupta, Tanya Burns, Q4C Administrator, stated, "For our intensive outpatients, we use a whole person approach for helping people who are in addiction get medication-assisted treatment with primary care, group therapy, counseling, resource referrals and childcare services."
"The intention was to offer as many things under one roof as possible," Tanya said. "When you refer people in addiction out for different services such as counseling or to see a primary care doctor, you have no way to confirm they will go or can go. So, if we can take care of that here, we have that confirmation and can diagnose them or help assist them with finding treatment. We also offer Narcan to new patients, and anybody can walk through our doors and get Narcan for free."
If you or someone you know are facing issues dealing with addiction, you can contact the Quil Ceda Creek Counseling Company at (360)716-2211.