By Andrea Brown, The Herald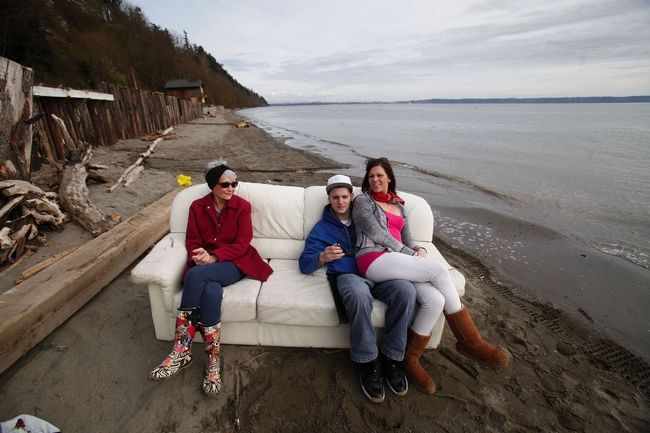 MISSION BEACH — Kippy Murphy brought tissues. Her brother, Mike Dutton, brought beer.
It was a sentimental occasion for the Everett siblings. The two-story gray house on the beach where they'd spent decades of summers was being moved across the Sound to Whidbey Island, where it would have a new family.
"I had to come out and have my last beer at the beach house," Dutton, 53, said Tuesday as he stood on the flat white shore southeast of Tulalip Bay.
It marks the end of an era for generations of tenants of more than 20 homes on a quarter-mile stretch of beach owned by the Tulalip Tribes. The tenants owned the homes, but not the land, and the tribes want to restore it back to natural beaches for use by members.
Tenants had seven years notice to not only vacate the premises, but to take their homes with them. Most houses were stripped and demolished.
Murphy, 46, didn't want to destroy her family's summer getaway — a five-bedroom, 3,000 square-foot home built in 1993 to replace a rustic fishing cabin.
"My dad built it to be barged because he knew that eventually the leases would expire," she said. "Our parents have passed, so it made us feel good to know that we saved the house."
Murphy and her brother sold it for $1 through the house moving company, Nickel Bros.
"It's sad," she said, "but I'm happy that somebody is going to use it."
The home's new owners, an Issaquah couple with two young kids, couldn't be happier.
"It was the perfect house for us," said Annie Schinnerer. "I'm excited. I can't wait."
It cost about $60,000 to move their $1 vacation home to Mutiny Bay in Freeland, she said. "When it's all said and done, it will be about $150,000, which is still $50 a square foot and a great deal."
The two families chatted on the beach Tuesday evening as workers bustled around the jacked-up house for its daunting sprint to the nearby barge.
Spectators brought chairs, blankets, beer, dogs and grandkids to watch the work take over place over several hours Tuesday.
A crew of men in orange coveralls and hardhats put planking over the sand using what looked like giant Tinker Toys.
From there, the boxy home was hoisted onto a flatbed truck that had to pull a tight sharp turn away from a retaining wall. The crunch of wooden planks resounded from the home's weight, stirring the crowd of onlookers armed with cameras at the ready.
The truck lurched forward, groaning. It slowly carried its oversized cargo up a skinny steel ramp tilted over the shore.
Silence prevailed at the precarious spectacle. Would the house topple?
A few people stepped back, just in case.
A cheer erupted when the house rolled onto the barge deck intact.
But it wasn't smooth sailing from there. The barge got stuck in the sand and couldn't leave until Wednesday morning.
Andrea Brown; 425-339-3443; abrown@heraldnet.com.
Videos
To see other homes moved by Nickel Bros., go to www.nickelbros.com/featureproj.html.