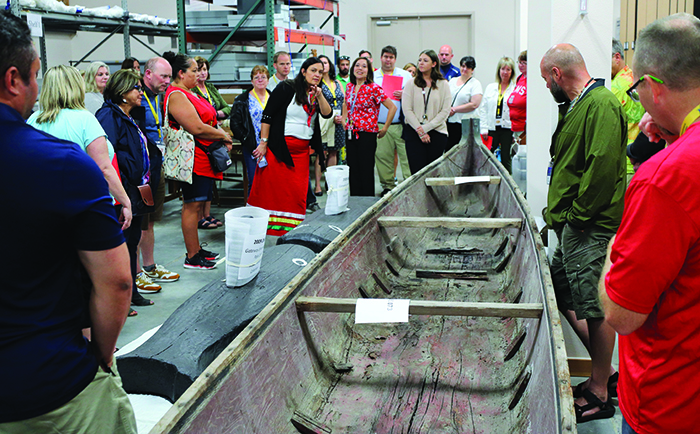 By Micheal Rios, Tulalip News
Imagine having just a single solitary day to impart generations' worth of Tulalip cultural knowledge, experiences and insight onto a group of seasoned (non-Native) educators. It's a near impossible task, to say the least. However, the noble pursuit of such a cultural exchange is significant for the glimmer of hope it may offer to deepen understanding of a complex history and thriving culture of a modern day Pacific Northwest tribe. Educators involved would gain tremendously by broadening their perspective on Tulalip related issues, while deliberately resulting in an improved learning environment for their Native students.
On August 8, fifty-three Marysville School District (MSD) administrators, including every principal and assistant principal in the District, convened at a Marysville-Getchell High School meeting space for what would be an enriching journey into 'Tulalip 101'.
"I thank each and every one of you for this opportunity to share a part of our culture with you. We know the time frame is small, but it is significant," said Deborah Parker, Indigenous Education Director. "The leaders of MSD have allowed us this time and space to share with you a piece of our culture, a piece of who we are and what we care about traditionally, mentally, emotionally, and physically."
The Women's Warriors Song was shared to ground the group with a singular purpose and align the heartbeats for a collective mission…one heart, one mind. What followed as a brief PowerPoint presentation on Tulalip Tribes history, Coast Salish culture, and a lesson on the importance of conducting land acknowledgements in each school.
"By doing land recognition we honor the sacrifices our ancestors made and make a commitment for true healing of the injustice that has been served in the name of education for Indigenous people," explained Chelsea Craig, Cultural Specialist for Quil Ceda Elementary. "You have to add that second piece and really understand your value and how your equity statement goes with it – thanks for acknowledging that we lost our lands and this is what we're committed to doing to promote healing."
Land acknowledgment by itself is a small gesture. It becomes meaningful when coupled with authentic relationship and informed action. But this beginning can be an opening to greater public consciousness of Native sovereignty and cultural rights, a step toward balanced partnerships and understanding. Considering there are an estimated 1,200 Native students attending MSD schools, the importance of conducting land acknowledgements at school functions, like general assemblies or sporting events, can significantly raise mindfulness while promoting healing.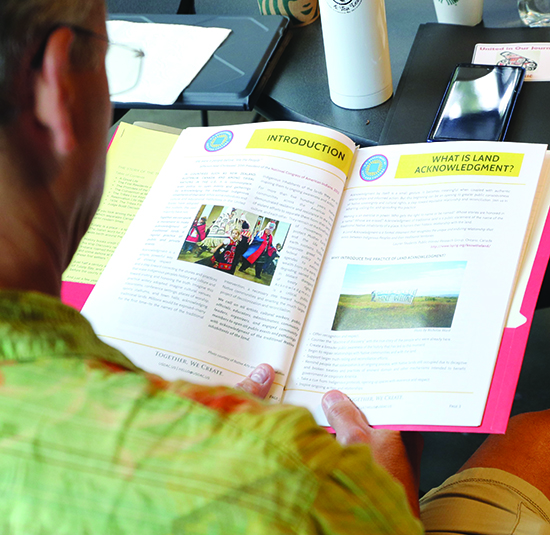 The fifty-three person group of MSD administrators learned two words in the ancestral Tulalip language of Lushootseed prior to a collaborative Tulalip tour – sduhubš (Snohomish) and τ̕igwicid (thank you). With both Deborah and Chelsea assisting in proper pronunciation, the group repeated the words several times in unison to ensure they would be properly used later in the day.
The collective group was split into two and shuttled to the Tulalip Reservation via MSD No.25 school busses. Their first visit was to Hibulb Cultural Center & Natural History Preserve where they enjoyed fresh made nettle lemonade and met with senior curator Tessa Campbell. As they were led on a private tour of Hibulb's special collections, Tessa explained the special meaning and traditional use of several thought-provoking artifacts.
"We are a certified archeology repository with archives full of collections not currently on display, including some rather large items," stated Tessa while leading the tour. "We have an ocean going canoe carved by the Edwards brothers (Swinomish) that was used to travel as a family to and from Whidbey Island, Camano Island, and the area now known as the City of Everett. We also have a growing collection of story poles carved by Tulalip tribal member William Shelton. Currently, we have five of his poles with the oldest being a spirit pole carved in 1913."
Following the guided Hibulb visit, the group's next stop was the Tulalip Administration Building. They took in the amazing artistry of two story poles that welcome visitors to the Tribe's central government offices. The Tulalip Youth Council shared a song as everyone took a seat in the largest meeting room.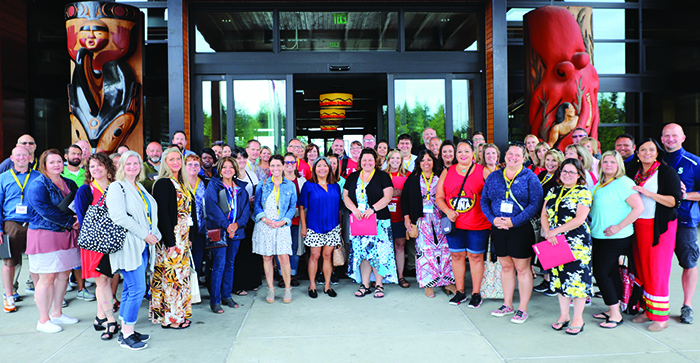 "Did you know that over 60% of our tribe of nearly 5,000 members is 18 or younger?" asked Patti Gobin, Natural Resources Special Projects Manager. "The importance of the good work going on right now is vital to our young ones because in the most literal sense, they are our future. We've been waiting a long time for you to accept, understand, and uplift our people in the area of education. There is a sense of urgency to have our MSD educators know our treaty and to know, that as Coast Salish people, we still live our lifeways out here."
"As Indian people, we need to have an education to navigate this modern world and build a better future," added Board of Director Glen Gobin. "Marysville public schools have an obligation to help educate our students. But to do that you need to understand who we are and the social structures we deal with on the reservation. It's so important we find a way to work together and the only way to do that is to commit to knowing who each other are. There will be struggles, but there will be successes as well. The only way to get through this is to build upon the successes and learn from the struggles, together."
A powerful exercise in understanding and learning from history was then led by Heritage High School teacher Ms. Ervanna Little Eagle and Quil Ceda Elementary teacher Ms. Gina Bluebird. The lesson was titled Tulalip Boarding School Experience. The goal was to examine how colonized education affected generations of Tulalip people.
Using heartfelt and gut-wrenching testimonials from those who were forced to attend boarding schools in the early 1900s, the group participated in several listening and writing activities.
"I considered what it would be like to lose my identity and it was unimaginable," shared one MSD administrator.
"The underlying goal was to assimilate the Indians. Boarding school were then a means of committing cultural genocide carried out by the federal government," stated another.
After taking a few moments to let the full weight of the boarding school era and its historical trauma that affects many of their young Native students today, the group moved quietly from the meeting space, still thoroughly in reflection, and back to the school busses. The assembly of MSD leadership then visited the Don Hatch Youth Center, Tulalip Long House, and Boys & Girls Club. At each stop they chatted with longtime employees and students who were out and about enjoying summer vacation.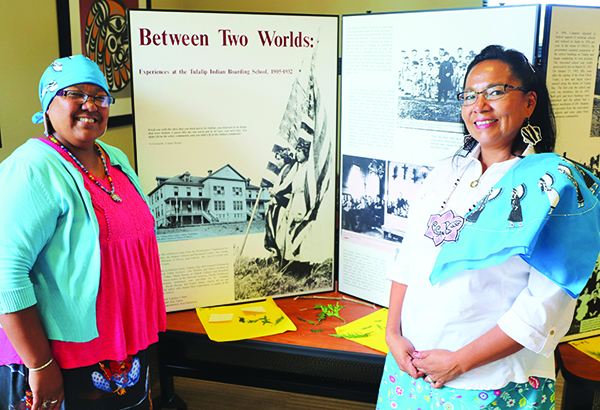 Finally, their journey came to its last destination on the reservation when they visited the present day site of the Tulalip Indian Boarding School. The group then formed a prayer circle led by Tulalip tribal member Monie Ordonia on those profane grounds in an effort to bring strength to power.
"For us to stand here is healing for our people because this is a very powerful circle," said Chelsea. Her grandmother Celum Young attended the boarding school and once recalled being put in an outside jail cell for speaking just one word of her traditional language. "We have an opportunity to change our story in Marysville, not just for Native people. This isn't just about our Native kids. This is about all of our kids. There are lots of historically underserved children in our district that we need to think differently about. We are growing and hopefully become stronger as leaders to make changes that benefit the entire district."
There was a shared optimism after a full day designed to help MSD administrators and educators better understand their Tulalip students' culture and community. Deeply rooted words like 'healing', 'hopeful', and 'forgiveness' were collectively expressed as the group reflected on their opportunities to become agents of change for the betterment of their diverse student population.
"It's so important that we, as educators, make sure we are doing everything we can to help our Native American students become successful and reach their full potential," said Eneille Nelson, Principal of Kellogg Marsh Elementary while taking in the Tulalip Bay view. "Being here to see where our students live and come from is very humbling. This space and land is so beautiful, and our students are just as beautiful as their surroundings.""I didn't know the history of the tribes and the painful experiences they've had with education," admitted Tara Jeffries, Assistant Principal at Grove Elementary. She moved from Oregon last year to work for MSD. "It was so moving to have the opportunity to experience Tulalip culture in such an authentic way. This experience not only changed our perspective, but it changed our hearts. We now have a deeper understanding and can apply that in a way we couldn't have before."
With the 2019-2020 school year starting in a matter of weeks, only time and experience will determine how significant an impact the MSD/Tulalip cultural exchange has on new and returning students. But if all meaningful and lasting change starts on the inside, then a few changed hearts and minds can go a long way.