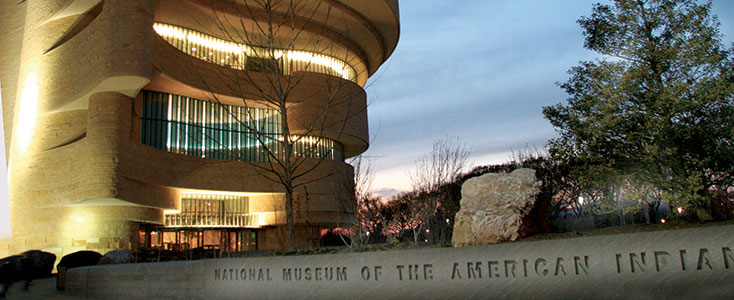 December 11, 2013
The House on Wednesday unanimously passed a bill by Rep. Markwayne Mullin, R-Westville, to authorize construction of a memorial to Native Americans on the grounds of the National Museum of the American Indian on the National Mall in Washington.
"I have heard from people I represent and from outside our district that the construction of this memorial means a great deal to Native Americans who served this nation and to their families," Mullin said. "It is important that we properly honor these brave soldiers and tell their stories for generations to come."
Mullin's bill allows the Smithsonian museum to raise money for the memorial; no taxpayer funding will be used.
"With the recent presentation of the Congressional gold medals to tribal code talkers, it is an appropriate time for a renewed focus and gratitude toward Native Americans who served America in our war efforts and protected our freedoms," said S. Joe Crittenden, Deputy Chief of the Cherokee Nation and a U.S. Navy veteran from the Vietnam War. "We applaud Congress for taking the necessary steps to truly honor our warriors and the sacrifices Native families have made to defend this great country of ours."
Mullin, a Cherokee, is one of only two Native Americans. The other is Rep. Tom Cole, R-Moore, a Chickasaw.
"Throughout my life, I have always been proud of my Native American heritage," Cole said. "I am very pleased that the legislation brought to the floor by Congressman Mullin will help facilitate construction of a memorial honoring Native Americans who served our country on the battlefield. It is only right to recognize and remember the significant contributions of those Native American warriors who served our country on the battlefield with great skill and bravery, and there is no better place than the National Museum of the American Indian."
Tribal leaders praised the passage of H.R. 2319 and its significance to Native Americans.
"We take great pride in the long history of Native American service in the armed forces of the United States," said Chickasaw Governor Bill Anoatubby. "We owe all these brave men and women a debt of gratitude for what they have done to protect our freedom and our way of life. This memorial is one way we can express our appreciation for their service and sacrifice."
"Congressman Mullin understands how we as Native People revere our warriors," said John L. Berrey, Chairman of the Quapaw Tribe. "His dedication to Native Americans is truly from the heart. As the Chairman of the Quapaw Tribe we are honored to have Mullin as our representative."
"The Choctaw Nation of Oklahoma applauds the passage of Representative Mullin's bill, honoring the dedication and sacrifice of Native veterans," said Choctaw Chief Gregory E. Pyle. "H.R. 2319 authorizes the Native American Veterans Memorial for tribal veterans from all tribes and all wars. Some of these warriors were fighting for our country before they were even recognized as American citizens. I am very pleased with the passage of this bill and very proud of all the Choctaw veterans and the many other Native soldiers who will be represented by this memorial."