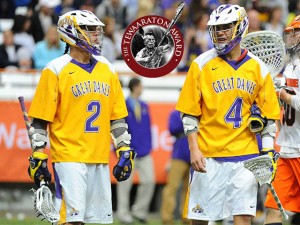 Sunday, 11 May 2014 20:20
This year is extraordinary for Native American lacrosse athletes, a renew interest NCAA Collegiate Lacrosse National Championships with a class of talented Haudenosaunee student athletes.  At least 15 native athletes begin the 2014 collegiate lacrosse tournament.
On Wednesday Division 1 Siena College started the lacrosse May Madness with player Chris White (Oneida), Saturday and Sunday games include University of Albany : Lyle (Onondaga), Miles (Onondaga), and Ty Thompson (Mohawk), at number 2 seed Syracuse University: Randy Staats (Mohawk) and Kyle Henry (Tuscarora), at number 5 seed University of Denver: Zach Miller (Seneca), at University of Virginia: Zed Williams (Seneca).
Division lll Lacrosse Cortland State with player Zach Hopps (Mohawk), and the NJCAA number 1 seed Onondaga Community College has Vaugh Harris (Cayuga), Oakly Thomas (Mohawk), Adam Bomberry (Cayuga) , Wayne Hill (Mohawk), and Warren Hill ( Mohawk), at Geneseo Community College is Jesse Jimerson (Cayuga),  and D1 number 4 seed Penn State has Assistant Coach, Chris Doctor, (Mohawk).
2 Native American make the National Lacrosse Athlete Award finalists
The Native Americans Tewaaraton finalists are University at Albany attackman Lyle Thompson and University at Albany attackman Miles Thompson.