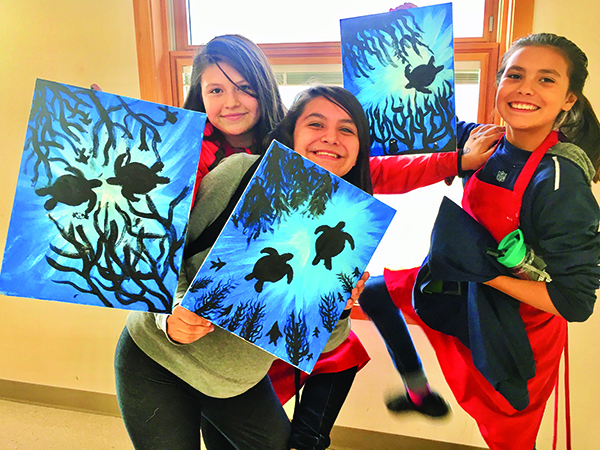 By Micheal Rios, Tulalip News; photos courtesy of event coordinator and para-pro, Monica Holmes 
On the afternoon of Friday, September 29, the popular Paint and Sip experience came to Tulalip's own Girl's Talking Circle. Eight aspiring young ladies had the unique opportunity to create their own masterpiece on canvas while sipping sparkling cider and enjoying fancy snacks.
The Paint and Sip activity provided both our youth Girl's Talking Circle and their family members with an opportunity to explore their creative side. They learned to hone their artistic skills, like utilizing color for effect, balancing light and dark, adding shapes, dimension and perspective, and taking risks to personalize art in order to make it their own.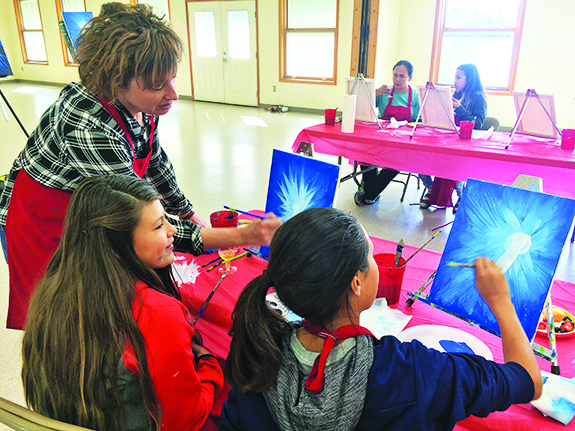 Hosted by Tulalip Youth Services and Behavioral Health's MSPI Program, and held at the Kenny Moses Building, Paint and Sip was a creative way of engaging with female youth ages 11-18+. The mother, aunties, grandmas or female guardians of participating youth were also invited to participate. There ended up being two pairs of mother/daughter duos attending.
"One mother-daughter duo in particular really exemplified unity and support," explains event coordinator and para-pro Monica Holmes. "Amy and Kelsey Sheldon reached out to us early on to see if we could create an inclusive activity that Kelsey could participate in. Kelsey has Autism and rarely has opportunities to interact with other young women her age with or without disabilities.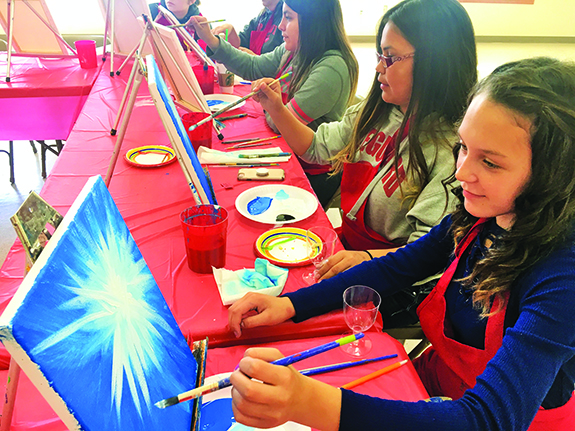 "Understanding the challenges Kelsey might face in groups, we felt including her mother Amy would be an important first step into helping Kelsey feel at ease in a group of new people. Sitting beside one another and working together on an art project helped to focus her attention to the task at hand. The finished product both mother and daughter created and the positive experiences they had, proves that kids with challenges and disabilities can benefit from more inclusion in community sponsored activities. MSPI (Methamphetamine Suicide Prevention Initiative) is working to push forward with even more tailored inclusive activities in which all youth can gain skills, camaraderie and connection to their heritage and community."
For most of the girls Paint and Sip provided the opportunity to showcase their artistic talents on canvas for the very first time. Under the guidance of art instructor Irina Johnson from Vine and Palette, everyone painted their own rendition of sea turtles swimming in the ocean under a bright summer sun.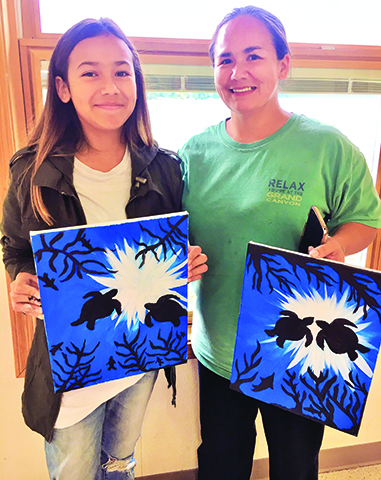 "Art teaches you to look at nature and everything around you through different eyes," says artist Irina on the importance of experiencing art. "You look for details, texture, and color in a way that makes you appreciate all those things you generally ignore and take for granted. For example, how many colors can you spot in a leaf when the sun is setting, or what are all the textures in a tree branch, or the intricate details in a single blade of grass. All these little things add up to a greater awareness of our world and our reality. In this sense, art makes us appreciate life that much more."
An eloquent description for sure, but for 11-year-old Tieriana McLean she puts it much simpler, "I came here because I just like painting." What more need be said?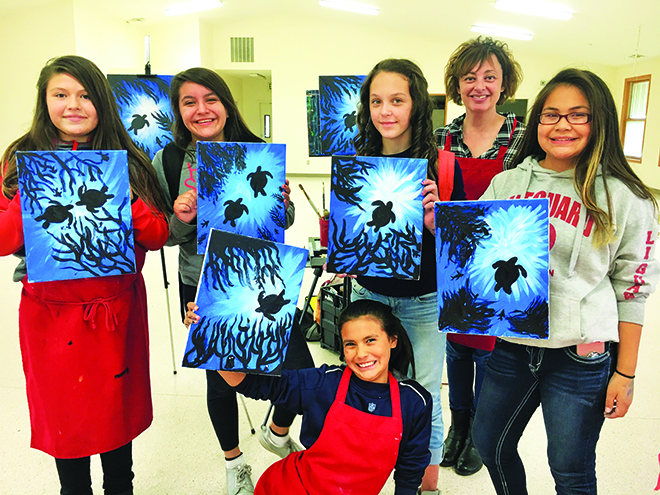 The Girl's Talking Circle meets every Friday from 2:00 p.m.-4:00 p.m. at the Tulalip Youth Center.  They do hands-on arts and crafts, explore cultural identity, focus on personal, team and community building, have speakers from the Tribe teach their wisdom, and go on fieldtrips to explore, learn and grow.
For more information about the Girl's Talking Circle please contact Monica Holmes at 360-631-3406 or email: mholmes@tulaliptribes-nsn.gov