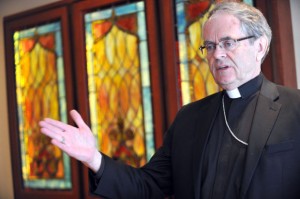 By Vince Devlin, The Buffalo Post
The Roman Catholic Diocese of Helena will post names of priests accused of sexual abuse as part of an agreement to settle a lawsuit filed against it and the Ursuline Sisters of the Western Province.
The Diocese of Helena filed for bankruptcy protection as part of the proposed settlement, according to a story by Mike Dennison of Montana's Lee State Bureau, and will pay $15 million to the victims.The Ursuline Sisters ran a school in St. Ignatius on the Flathead Indian Reservation that enrolled many Native American children.
George Thomas, bishop of the Diocese of Helena since 2004, said in a recent interview that a church review board will look at abuse claims, but that he doesn't expect the church to quibble over the naming of abusers.

"I give the benefit of the doubt to the accuser," he said. "The one thing I want to punctuate is that I have been committed from the beginning to transparency. There are no names that I will hold in secret.

"If an accusation is made against (someone) and the facts line up, I think the public has a right to know."
There were 362 victims who filed the 2011 lawsuit in state District Court in Helena.
Seattle attorney Tim Kosnoff, who represents 271 of them, told Dennison that more than 50 Catholic priests will be named as sexual abusers of children.
Most, if not all, are dead. The abuse occurred from the 1930s through the 1970s.