A former Mescalero president and a first lady among women featured in film
By Dianne Stallings, Ruidoso News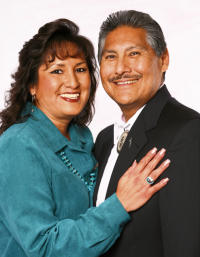 A former Mescalero Apache president and a first lady of the tribe will be featured in a documentary."A Thousand Voices," filmed by Silver Bullet Productions.
Sandra Platero served as president after the resignation of Fred Chino and before the election of current Mescalero President Danny Breuninger. Previously, she served as vice president and on the tribal council. Attempts to reach Platero for an interview were unsuccessful.
Selena Chino is the wife of Mark Chino, who served as Mescalero president three times. She was a victims' advocate and tribal liaison with the Nest, Lincoln County's only domestic violence shelter, and she served as a state tourism commissioner.
Selena and Mark attended a rough cut screening of the documentary on June 5, and the film is slated for a final version screening July 21, free at Buffalo Thunder (Resort and Casino) in Santa Fe. Check the Silver Bullet website for the time. Silver Bullet films also usually screen at the Smithsonian Institute in Washington D.C. and air on the Public Broadcasting System, a company spokesman said.
"I'm extremely proud of Selena," Mark said. "She and her efforts to help domestic violence victims came to Pamela Pierce's attention in mid-2013, and Selena was asked to appear in the film. She was recognized purely through her own efforts, as I already had left office."
Pierce is chief executive officer of Silver Bullet Productions, a nonprofit founded in 2004, and based in Santa Fe. The organization with staff and volunteers stages cultural workshops with the aim of empowering Native American youths by raising their educational aspirations and by cultivating young filmmakers. The organization has produced 31 projects with the help of sponsors and recently received the Yawa' Award for special projects, given to nonprofits that put actions to their words. The company's "Canes of Power" also won four regional Emmys.
Silver Bullet was formed because of concerns by members of Native American groups over the loss of language, cultural and community, according to Pierce.
"A Thousand Voices" is the story of the inherent power of tribal women in New Mexico, and was filmed partly through funding with the San Manuel Board of Mission Indians. Besides the screenings and possible PBS airing, the film will be presented to students, who will participate in writing the curriculum and discussion guide that will accompany the documentary, following a pattern for all of Silver Bullet's films, Pierce wrote in a memorandum to participants before the rough cut was screened.
"The production of this film has been a wonderful journey," Pierce wrote. "Each of our participants has been revealing in ways that educate and shatter stereotypes."
"A Thousand Voices" looks at the traditional roles of tribal women and poses the questions of how stereotypes from the media and literature altered the reality of tribal women, what are the universal lessons to be learned from the traditional values and the current status of Native American woman; and what are the threats to native communities, if women do not continue to play their crucial roles?
Selection process
As a domestic violence survivor and victims' advocate, former first lady of the Mescalero, a state tourism commissioner, a store manager, and since May, a front desk manager and concierge for the tribe's Inn of the Mountain Gods, Selena Chino was a natural choice for inclusion in "A Thousand Voices."
A panel of tribal advisors from a variety of tribes, and representatives from Silver Bullet looked at the candidates.
"You can be a wonderful person, but you may not always come off as being able to state what your beliefs are and have the courage to state them," Pierce said. "It's not enough to stand for something, you have to be able to say it in a way that other men and women can relate to you. That certainly was true for Selena, Mark and Sandra."
"The theme of the film is about the inherent strength of tribal woman and how that strength diminished or changed because of the white invasion from Spain, Mexico and the United States, and then return again to the strength of women that goes back to the beginning of time, and still is there despite the challenges," Pierce said during a telephone interview Wednesday. "That strength is there in our modern current New Mexico tribal women. The reason Selena and her husband were selected was because they represent that strength. Selena represents it in two ways. She is married to a previous president of an Apache tribe and that takes strength to be married to a leader, no matter what your gender, and to be involved in a political family. And also because of her commitment to empowering women who have been victims of domestic violence. It was important to include that voice, not just from women. Selena and Mark together represent a belief in the hope for tribal women to survive domestic violence. It was obvious from the first time I spoke with her that she was somebody I really felt would enhance the message of the film."
For Sandra Platero, "It was the strength of being a woman leader among other tribes that do not have women leaders," Pierce said. "She certainly was a spokesperson for her language and her leadership.
"I think both women and their families deserve praise. It takes a lot of courage and determination and they showed that."
Selena Chino
"I received a phone call in September from Pamela Pierce with Silver Bullet," Selena said. "She mentioned there was a big meeting and they were kicking around who they would want to interview. She didn't say who suggested my name. I had to go up to Santa Fe anyway during the Indian Market, We arranged time to talk. She came to Buffalo Thunder and we sat down. Thee project focuses on Indian women of power and how they have juggled their involvement with government, plus tribal culture and being a mother, how they keep culture and traditions alive while still doing all these empowerment things."
Initially Pierce was looking for ideas for the project, Selena said.
"I mentioned that from 2008 to 2010, I worked as outreach coordinator at The Nest," Selena said. "I was an advocate on Wednesdays, and that's where my domestic violence and sexual assault training came from, helping residents. Then I became liaison between the tribe and Nest. (Pierce) began focusing, because I mentioned that domestic violence is the number one killer of Native American women nationwide. We started talking about that. She said she would really like to interview me. About that time Mark walked by and I introduced them, and she dragged him in. He was involved with the Nest too, being the president and volunteering. He spoke about how his view had changed from (his years in) law enforcement and what he learned from me being involved with the Nest. She wanted to interview him too."
After seeing the raw cut of the film earlier this month, "It blows our minds to be involved with something like this, to be on PBS, in schools with workbooks," Selena said.
Although the couple no longer has a daily involvement with the Nest, Selena said it is part of their lives.
"I still help as much as I can," she said. "I still have people calling my cell phone just because they need help. I have people who stop me and ask questions, because they know me. So I still help out people even though I am not directly involved with the Nest anymore. People know I'm here (at the Inn) and ask how did you do this facing this situation and who can I call and who can I talk to."
Selena can empathize with those exposed to domestic violence, because she dealt with the behavior in her first marriage.
"My life is very complicated story," she said. "My mother went to school at Pasadena City College. She was not raised on the reservation, because of a program of relocation of kids on the Hopi reservation. There was a grant in the 1950s that helped send a student to a family, who helped support them and put them through college while they took care of their kids and helped around the house. That's how she ended up in Pasadena. She also was a runner up for queen in the Rose Bowl Parade. She would have been first Native American queen had she won. She always encouraged me to go further, not to stay on the reservation, to get involved in a lot of interests."
Selena's father died in 2002 and her mother in 2006. "She was very beautiful inside and out," Selena said of her mother. "She met my father when her family lived in Winslow, Ariz. He was the boy next door and the parents were friends, They were college sweethearts, They got married, then they got divorced, they remarried and divorced again. And at very end were living together, because they got along better when they were not married. I was her maid of honor the second time. We lived in Grants at that time. I wasn't raised on the reservation. I moved back here in 1978."
Selena said she was married for five years to a "very abusive man," and went through the experience of having her self esteem and confidence constantly assaulted, then pulling herself up and moving forward. "It's been a long road," she said. "I've been where they've been at the Nest.
"Then I met Mark, who is very patient, thank God, because I have all this baggage with me. But with confidence from him and his support, I know what a healthy relationship is with him. It's loving, it's supportive. Everything that he's given me."
The couple celebrated their 20th anniversary on April 30, which Selena said, "Is an accomplishment right there. We're totally opposite. He's so quiet and reserved. On the other side, I talk to everybody, have conversations with people I don't even know."
While Mark was in office, Selena often accompanied him on trips, including the nation's capitol, developing personal relationships with dignitaries and elected officials such as (New Mexico former attorney general) Patricia Madrid, Gov. Susana Martinez and Secretary of State Dianna Duran.
"As a former tourism commissioner, former first lady, the facets of my life are so complicated," Selena said. "I don't think I'm really involved in a lot of stuff. I do it, because I enjoy it. I just do it to help people, not add things to my resume."
Those interviewed for the film were Georgene Louis, Acoma attorney and state legislator; Richard Luarkie and family, Laguna governor; Lela Kaskalla, past governor of Nambe; Sandra Platero and husband Paul; Selena Chino and husband Mark; Christy Bird, 16-year-old singer from Santa Domingo, who performed on a commercial for the Super Bowl; Rose B. Simpson, Santa Clara artist; Patricia Michaels, award winning designer on Project Runway from Taos Pueblo; Veronica Tiller, Jicarilla Apache historian and author; Navajo woman weavers from Two Grey Hills and Toadlena Trading Post; Luci Tapahonso, Navajo poet lureate; Matthew Martinez, historian and grandson of Esther Martinez of Ohkay Owingeh; and Liana Sanchez and family, owner of Avanyu LLC Construction company, San Ildefonso.