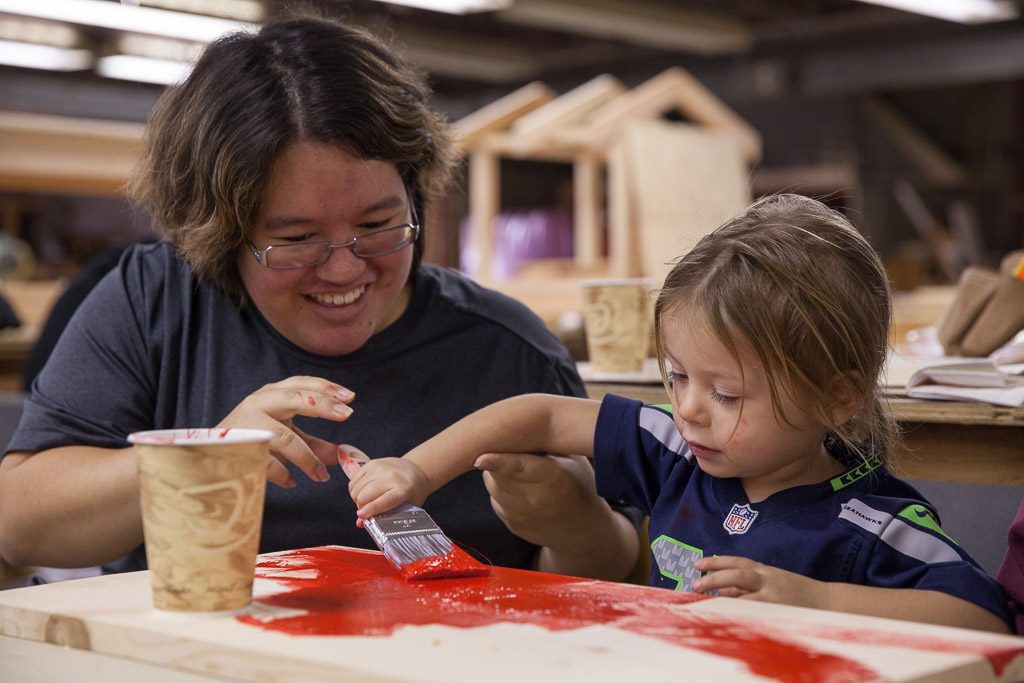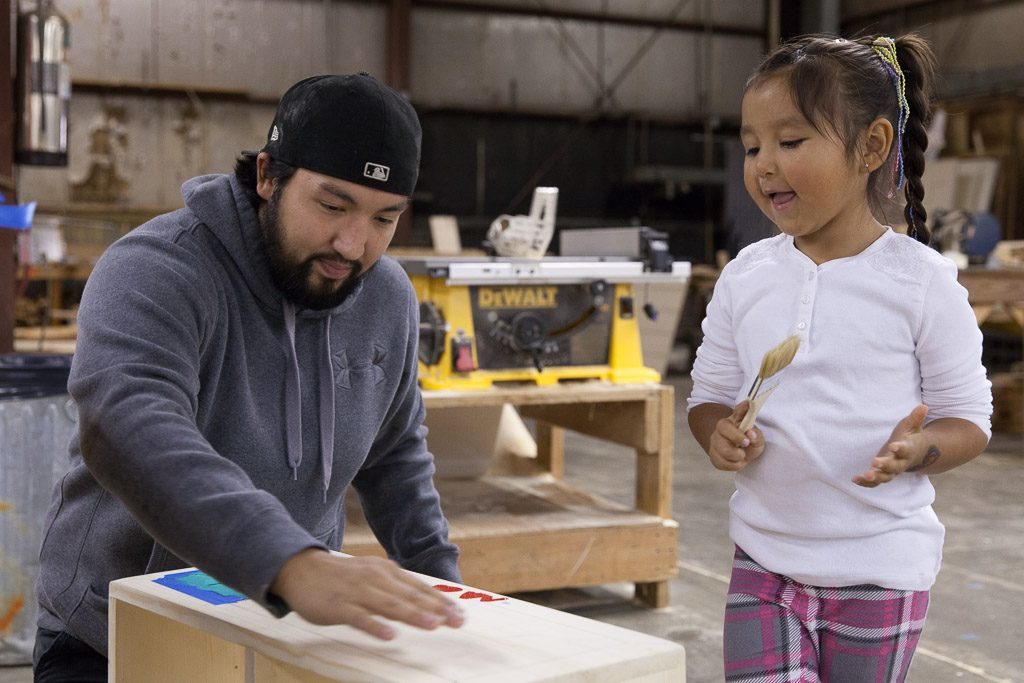 On Friday November 4th the Tulalip Tribal Employment Rights Office (TERO) held a "Family Day" at its vocational training center. Children, parents, and uncles and aunties gathered together at the training center to paint the bookshelves this years students have built as their first construction project. The school year started in September. Families enjoyed the painting and then had a wonderful hot lunch of fried chicken and salad.
Tulalip Employment Rights Office (TERO) provides training, hiring, and contracting to Tulalip members, their families, and spouses. The Tulalip Vocational Training Center (TVTC) was open in 2014 to provide an opportunity for students to learn a variety of trade skills in order to enter into the construction trades. TVTC trains Native Americans in the trades but offers so much more. After receiving a grant from the Kellogg Foundation two years ago TVTC has been implementing a new philosophy with additional services. That philosophy looks at the individual seeking training but also offers services to the larger family in order to help create success for the next generation.
TVTV staff interacts with students and help to build a foundation of trust and communication. It is through this process that the student's family needs are identified and the program is then able to identify obstacles that may be interfering with student success. They may help pay for childcare, the education needs of the student, as well as help identify education barriers their children may have; they create linkages and bridges to address these barriers. An adult is not going to have success if they are overwhelmed by worry for their children. Basically, the idea is that in order to create a healthy and productive employee means identifying, and assessing the family stressors, wand then provides the extra services, which in turn creates healthier families; thus, the second generation model.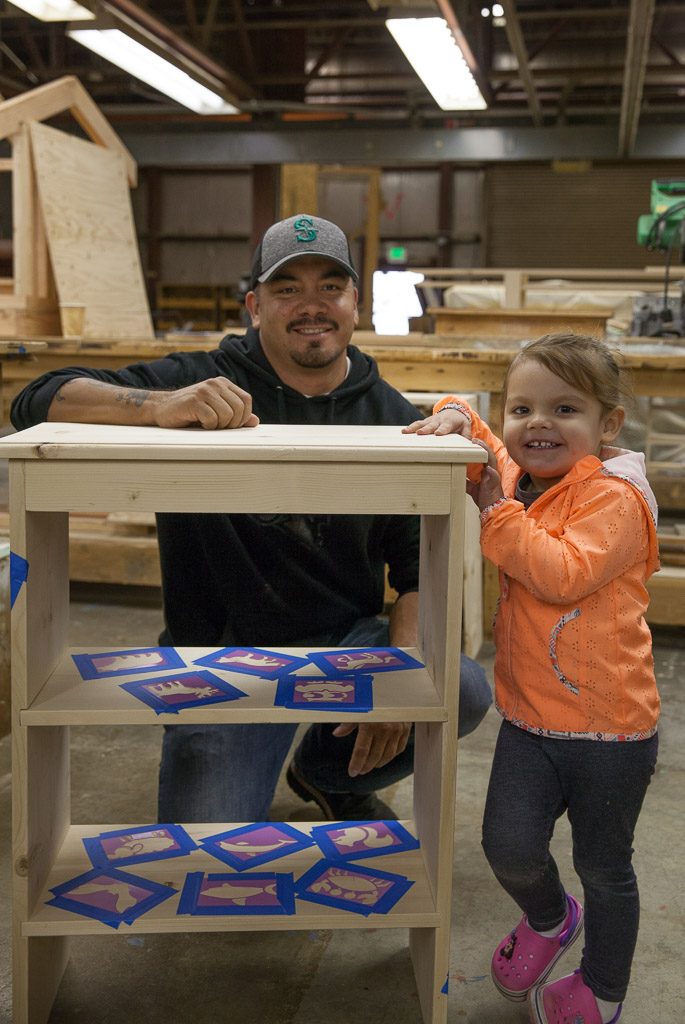 The training program is accredited through South Seattle Community College and Renton Technical College; all the students taking this program earn 24 college credits.
Teri Gobin, director of the Tribal Employment Rights Office (TERO): "What we do is enforce preference of hiring and contracting. A part of that is getting the work force ready. We created the TERO vocational training center back in 2001 to respond to this need. The Washington State Apprenticeship Trades Council now recognizes it as the only pre-apprenticeship program for Native Americans, and the only program of its kind in the nation that is recognized by a state."
Lisa Telford, the family career navigator, explains the different types of certificates students receive: "First Aid, CPR, AAP, Flaggers, Forklift, Boom Lift, Scissor Lift, OSHA 10; they get all those certifications at the end of the program. The students think about what unions or trades they are interested in and we work on filling out applications towards those places."
Mark Newland, TERO Vocational Training Center instructor, talking about projects they work on during the 13 week course: "The students get introduced to all the facets of the trades: safety, blueprint drawing and reading, what the construction business is all about, building a personal project to scale with cut list. We do all the ground up, building footing, foundation wall, framing, they learn how to frame windows and walls. They build rafters, calculate scales, and learn about plumbing and electrical.
Lynne Bansemer, TVTC program coordinator, says: "Students will be able to take the information they learn and apply it into their own lives and houses." We want to start working with Heritage High School, bringing in the students to start helping build Tiny Houses. It would be empowering to the kids who come and work on a project like this to see there is more things going on in life, be a part of people thanking them for building these houses.
What other local projects have TVTC been involved with? "We do a lot of projects for the tribe right now, the gardens you see at the Boys and Girls Club, the Clinic, and we built those. The students help build the garden structure and get an idea for what it's like to grow your own food."
Family day is about kids coming in and seeing what their parents are doing every day, how they are bettering their future, being truly focused, and successful people.
Talking to a student, Ralph Flores, about why he joined the program "It was definitely something I was interested in and I had to go for it; I couldn't pass it up."
Nicholas Brown and Caleb Hatch, two students in the TERO program, traveled far to be in this program "We came from Wyoming to take this program. We traveled and are staying at a relative's house, trying to find opportunities that we can take advantage of in Washington. I lived here before, I grew up in Washington, I enjoy it here."
When asked why they took this program they responded, "You get to learn the basic knowledge of construction trades, power tools, and learning the process of soft skills. I've learned presentation skills like proper dress codes; you don't want to go in wearing a suit and tie. You want to go into an interview ready to work, steel toe boots, here I am, let's go work."