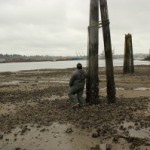 Source: Northwest Indian Fisheries Commission
From the Department of Natural Resources:
The Washington State Department of Natural Resources (DNR), the Squaxin Island Tribe, the Port of Olympia, the South Puget Sound Salmon Enhancement Group (SPSSEG), and private landowners are joining together to clear toxic derelict pilings and other structures from much of the southern end of Budd Inlet in Olympia.
The work, which is funded by the 2012 Jobs Now Act, begins this week and continues through March 14. The project is expected to cost roughly $278,000.
The Squaxin Island Tribe's involvement in the project began when they received three acres of tideland as a donation from a family estate. The tidelands included 224 pilings from a former industrial site.
"We saw this as an opportunity to restore these tidelands by taking out the pilings that are leaching pollutants into Budd Inlet," said Andy Whitener, Natural Resources Director for the tribe. "There is a lot of work to be done in Budd Inlet to restore its ecological function. Getting these pilings out of here is a great start."
From the Olympian:
By mid-March some 400 derelict pilings and 7,000 square-feet of abandoned docks and piers that represented the last reminders of a lower Budd Inlet shoreline once lined with lumber and plywood mills will be removed and shipped to the Roosevelt Landfill in Klickitat County.
It marks the latest step in a slow but steady transformation of West Bay Drive in Olympia from an industrial corridor to a collection of parks, office buildings and shoreline property undergoing hazardous waste cleanup and redevelopment.
The piling and dock removal project stretches across 1.2 miles of shoreline in lower Budd Inlet. It is spearheaded by the state Department of Natural Resources and also features four properties owned by the Port of Olympia, West Bay Reliable, the Delta Illahee Limited Partnership and the Squaxin Island Tribe.