Rediscovery Program brings people together to learn and share in the harvest and use of traditional foods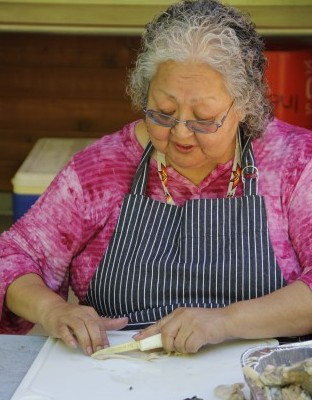 By Andrew Gobin, photos by Andrew Gobin, Niki Cleary, and Theresa Sheldon
The Rediscovery Program at the Hibulb Cultural Center and Natural History Preserve has been more busy than usual over the last few weeks, gathering and processing traditional foods. Program staff have been planning harvesting events, showing groups of Tulalip community members how to what can be gathered where, when, and how.
Program Coordinator Inez Bill-Gobin said, "Our native foods feed not only our bodies, but our spirits too. I think we are really rich in our culture when we are able to harvest and use our native foods."
On Monday, June 30, Rediscovery Program staff took a group of Tulalip community members to gather wild blackberries, elderberries, and native teas. A bountiful harvest yielding much more than foods, as many teachings are shared.
Bill said, "We were gathering wild blackberry. A lot of people don't know that these small berries are indigenous berries. Not like the Himalayan Blackberry you see, which is invasive."
These events and others like them are in preparations for a cultural workshop to take place in early August of this year. Each excursion is an opportunity to learn about the many uses of traditional foods. For example, the blackberry vines offer more than berries, the leaves can be made into tea. While they gathered no blackberry leaves, the group did harvest horsetail and fireweed to be dried for tea. The people gathering foods and materials with the Rediscovery Program will become teachers themselves, as the community draws together for four or five days of gathering traditional foods, preparing them, enjoying them, and learning and remembering the traditional ways of our people.
"Everyone has a gift. Everyone has something to offer. These teachings are our teachings, and they are for everyone. Even the new ones have a gift. I was teasing Niki that we know what her gift is, she picked the most berries of all of us," said Bill about Niki Cleary, who harvest blackberries with the June 30 group.
On Tuesday, July 1, people joined the Rediscovery staff at the Hibulb Cultural Center to process the berries, canning them into preserves for later cultural activities.
After drying for a few days, the horsetail and fireweed teas were ready to be processed and packed away. On Thursday, July 3, Bill and her protégé Virginia Jones taught Courtney Sheldon and Darkfeather Ancheta how to make the horsetail and fireweed teas, specifically the base measurements and cook time.
About six weeks ago, the Rediscovery Program harvested clams and cockles, freezing them. Tuesday, July 8, rediscovery, youth services, and cultural staff processed the clams along with a deer, to be smoked, using their new smokehouse for the first time.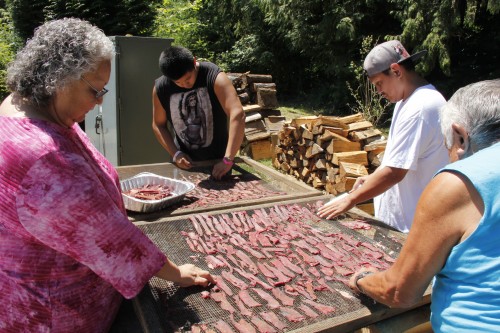 The dates for the harvest celebration in August are yet to be determined. Look for updates here in the see-yaht-sub, on Tulalip News website, or contact events coordinator Robert Watson by phone at (360) 716-4194, or by email at rwatson@tulaliptribes-nsn.gov for more information.
Andrew Gobin is a staff reporter with the Tulalip News See-Yaht-Sub, a publication of the Tulalip Tribes Communications Department.
Email: agobin@tulalipnews.com
Phone: (360) 716.4188