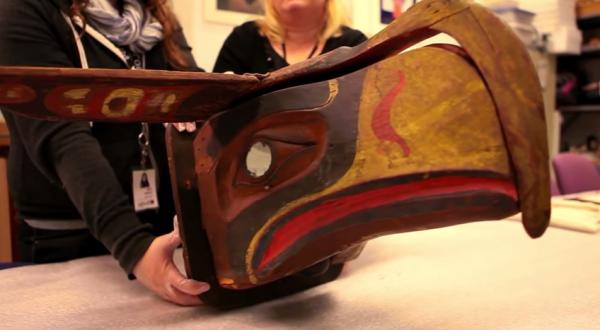 The Kwakwaka'wakw mask that inspired the Seattle Seahawks logo will be on display next week.
The mask, which is more than a century old, was created by an artist or artists of the Kwakwaka'wakw community and will be on display on November 22 in the Here & Now: Native Artists Inspiredexhibit at the Burke Museum in Seattle.
When the mask arrived in Seattle last month, Bruce Alfred, Namgis Band of the Kwakwaka'wakw Nations, provided information to the museum to be used in its display. "It's very old, and a beautiful piece," Alfred told The Seattle Times.
Alfred also said that more than one artist might have designed the transformation mask since it was used by a dancer in ceremony who made adjustments to it for fitting purposes.
RELATED: Native Seahawks Mask to Come to Seattle
On Monday, The Seattle Timesreported that the online campaign to bring the mask to the city reached its financial goal, raising more than $22,000 from at least 450 donors. Its goal was to raise copy4,575. The museum had planned to undertake the cost, but the fundraising on KickStarter.comand other donations made that unnecessary.
Kwakwaka'wakw community members, the museum and representatives from the Seattle Seahawks, including alumni players, Seattle Sea Gals, and Blue Thunder will welcome the mask a few days earlier with a ceremony and photo op on November 18, as well as sneak peak of the new exhibit. The event is not open to the public.
The mask is two-feet long and about three-feet wide when it opens; and it weighs at least 5 pounds.
Read more at 
http://indiancountrytodaymedianetwork.com/2014/11/13/mask-inspired-seahawks-logo-going-display-157825