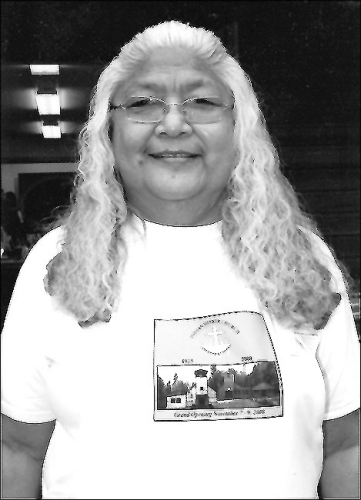 A Tulalip Tribal Elder passed away surrounded by her family and friends on August 20, 2015.
Mary was born July 14, 1944 in Mount Vernon, Wash. to Eugene Joseph and Alice Brown-Joseph. She lived on the Swinomish Indian Reservation up until she was five years old, then moved to Tulalip, Washington where she resided. She worked at Tulalip Bingo, was a caregiver for the Tulalip Elders then moved on to work for the Casino in the maintenance department. During her dedication to the 1910 Indian Shaker Church she traveled from Canada to California attending many Church services. She enjoyed following her children and grandchildren to different reservations for the Winter Pow-Wows.
Mary is survived by her children, Tina Brady of Eugene, Oregon, Odder Fryberg, Sharon Fryberg, Larry Fryberg-Scott (Clarence E. Scott-Fryberg), Joanne G. Fryberg, Myron J. Fryberg, Madeline Henry-Fryberg all of Tulalip; 26 grandchildren, numerous great-grandchildren; nieces, nephews,; sister-in-laws, brother-in-laws and cousins. Mary gave special care to her extended children, William Fryberg, Richard Fryberg, Danielle Fryberg, Brian Reeves, Timmy Fryberg, Arnette Cheer, Kerri Henry, Ariette Cheer, Arnold Cheer III, Tiffany Fryberg, Khrystal Fryberg, Noah Fryberg, Victoria Fryberg-Rodriguez and J.lee Henry. She was preceded in death by her loving husband, Myron Fryberg Sr.; parents and siblings.
Visitation will be on Thursday, August 27, 2015, at 1:00 p.m. at Schaefer-Shipman with an InterFaith service at 6:00 p.m. at the Tulalip Gym on Friday. Funeral Services will be held Saturday at 10:00 a.m. with a burial to follow at Mission Beach Cemetery. Arrangements entrusted to Schaefer-Shipman Funeral Home.