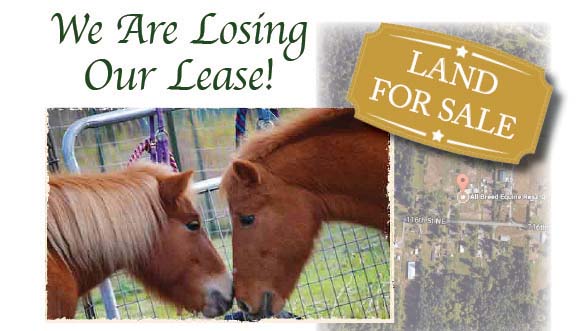 Location of over a decade to be sold in the spring 
The Marysville non-profit equine rescue that has been a haven to unwanted and abused horses for nearly 20 years must move by the spring because its lease will not be renewed and the property will be put up for sale.
"This is a big deal with 23 horses and everything that goes with that," said Dale Squeglia, All Breed's executive director. "Finding a new home is not like looking in the classified ads for apartments!"
While spring is a few months away, the complication of the move has led Squeglia and her volunteers to jump into action to deal with the move. At this point, two options drive their planning:
Option One – hope that someone steps forward and donates property already set up for horses, such as a riding stable or horse farm.
"This would be the simplest option and would allow us to start with a good foundation and use funds we raise to make any improvements that are needed," Squeglia said. "If it was in the general vicinity, we could continue to serve the community that we have been a part of for nearly 20 years, as one of the few remaining equine rescues left in Snohomish County."
Option Two – develop 62 acres of land donated to All Breed by a generous supporter. This is undeveloped land with only an interior road, a well and power, the latter two Squeglia personally funded. Everything else would have to be constructed, including fences, barns, volunteer staff housing, etc.
"Option Two was on a slow track until we found out about losing our current location," she said. "Now, pending another surprise – like Option One – we feel our backs are against the proverbial wall and we need to seriously speed up development of this land."
Squeglia said she and her volunteers are conflicted by the thought of leaving the Snohomish County community, although All Breed has donors from all over Washington state and even out of the state.
"But we do need to move forward for the good of our horses, ponies, and donkeys," she said.
At this point, a rough estimate of the cost to develop the property based on the rescue's current equine population is $150,000. This would buy a 4-6 stall barn, 20 fenced paddocks with enclosed stalls, a hay storage structure, a garage/shop building, and a mobile home for volunteer staff. The size of the property would allow for future expansion on an as needed basis.
Squeglia issued a thanks to all who have contributed to All Breed in the past.
"We hope you will be willing to help us in the future as we embark on the process of pursuing one of these two options for a new home, where our abused, neglected, and unwanted horses can live out their days with love and protection from our unpaid staff and volunteers.
"With help from our donors, we know there is a solution on the horizon and that we will be able to continue to care for these beautiful creatures that have given us so much and expected so little in return," she said.
Donations may be made to All Breed Equine Rez-Q, P.O. Box 442, Snohomish, WA 98291, or via All Breed's website at allbreedhorserescue.com. All Breed Equine Rez-Q is a 501 (c) 3 non-profit charitable organization