By Micheal Rios, Tulalip News
Following night two of the Republican National Convention, many across Coast Salish territory were vexed, truly vexed, when they witnessed vice-president of Navajo Nation, Myron Lizer, address a largely conservative audience and endorse President Donald Trump for the 2020 election.
"Many of our ancestral leaders sought to govern and lead a nation within a nation," Lizer said. "They sought to lead their people into the promises of a better way of life for their children's children. It is also where they have not been as successful as the rest of America.
"Our first nation's people – the host people of the land – we are still here. Our creator placed us here and he knew that for such a time as this we would have the opportunity for an appeal to heaven. You see our people have never been invited into the America Dream. We for years fought past battles with congressmen and senators that were part of a broken system that ignored us. That is until President Trump took office.
"President Trump delivered the largest funding package ever to Indian Country. The $8 billion dollars in CARES Act funding was a great start in alleviated the devastating effects that the Covid-19 pandemic has affected on our tribes because of health disparities that previous administration failed to improve," he continued. "I'm excited to endorse President Trump's reelection."
During Lizer's eye-opening, two-and-a-half minute speech he praised the President for a number of policies instituted in the last few months that benefit Native American communities. Among them are the $8 billion dollars in CARES Act funding, $273 million to improve public safety and support victims of crimes on Native lands, and, most recently, the creation of a task force to address the Missing and Murdered Indigenous Women crisis. Dubbed 'Operation Lady Justice', this task force intends to dedicate more crucial monies and man power to the MMIW movement by establishing an interagency task force charged with developing an aggressive, government-wide strategy to address the crisis.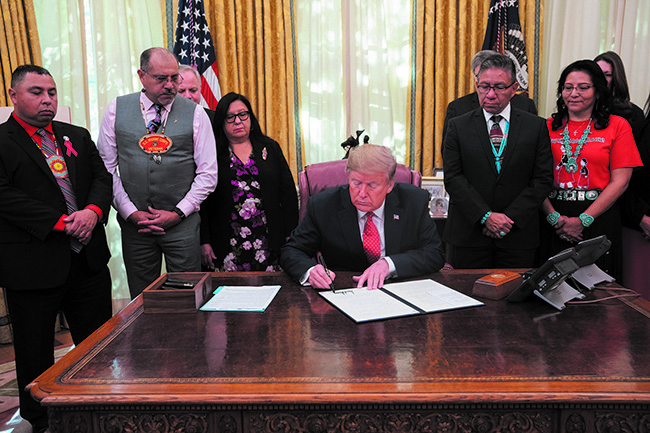 "Our Native American people experience violence at a higher rate than any other nationality in the country," explained Lizer when President Trump signed the executive order creating 'Operation Lady Justice'. "The lack of reporting and investigation of missing and murdered Indigenous peoples needs to be taken seriously. The executive order gives hope to our tribal nations that justice is being sought and that there is a path for healing of our families, victims, and survivors."
Without a doubt, self-identifying liberal, progressive, or Democrat tribal citizens may very well disagree with Lizer's political allegiance and endorsement of President Trump for re-election. They may even go as far to call the recent legislative policies aimed at benefitting Native communities nothing more than political hogwash and moves only intended to garner political support. Even if that's true, shouldn't the mere spotlight on tribal issues and voices be considered a win? Regardless of which political party wrote or passed a particular policy, shouldn't every resource gained by Indian Country be viewed as a step forward?
When legislative policies are deemed good or bad, right or wrong, favorable or unfavorable simply based on whether they were created by team blue (Democrats) or team red (Republicans) then it only succeeds in dismissing the actions of half the voting electorate. In doing so, the voices of Native conservatives go unheard by Native progressives and vice-versa.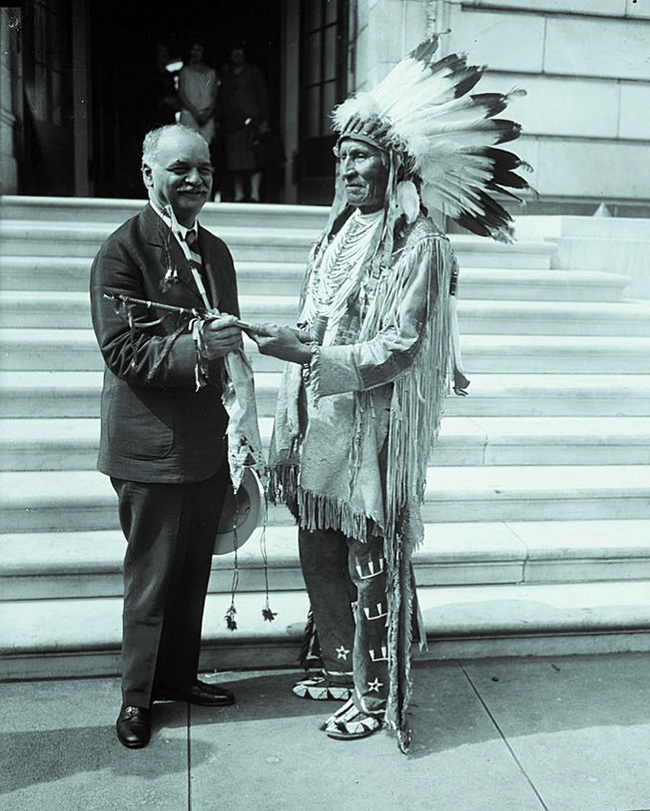 Quick piece of history trivia: Did you know a Native American has served as the Vice President of the United States? If you're in disbelief, don't be. It's a super cool part of history that is often neglected or forgotten altogether because Charles Curtis (Kaw), the 31st VP who served from 1929-1933 under President Herbert Hoover, was a Republican.
Currently, there are only four Native Americans members in Congress. Representatives Sharice Davids (Ho-Chunk) and Deb Haaland (Laguna Pueblo) both made history in 2018 when they won their seats and became the first Native women to reach the House of Representatives. They both are Democrats. They joined their fellow Native politicians Representative Tom Cole (Chickasaw) and Representative Markwayne Mullin (Cherokee), both Republicans, to bring the Native voice to each major political party.
"If you look at our people nationally, there is no party who universally supports us," explained O.J. Semans (Rosebud Sioux), executive director of the Native voter engagement organization Four Directions. "It really is dependent on region and the particulars of local state governments. I can guarantee you that you can have Democrats within your area and if the local Native interests are different from theirs, then you won't have their support.
"I think we should support Native candidates running for both parties. There needs to be Native republicans and Native democrats in order to work together in advancing Native issues," he added. "It's never going to be about a particular party issue, it's always going to be about our peoples' issues. As Native Americans, let us not look at a party above our own issues, above our treaties and above our sovereignty."
Today, Native voters represent an influential and unique population of voters in the United States. The Native vote influences outcomes of presidential and congressional elections, as well as state and local elections. While Native issues are complex and vary by region, tribe, and culture, most tribal citizens agree supporting tribal sovereignty and self-determination is the foundation to any successful Native platform, regardless of political affiliation.