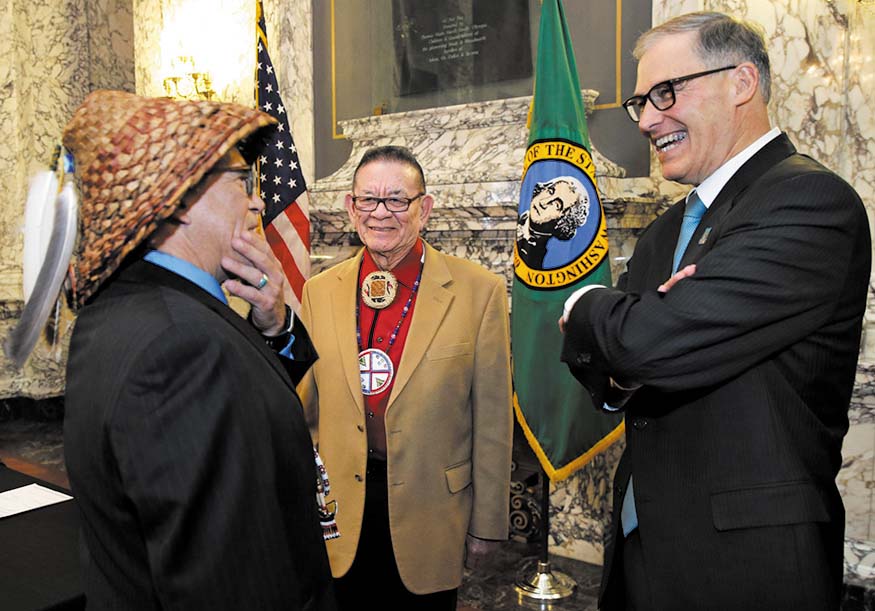 By Micheal Rios, Tulalip News
Highly regarded Tulalip citizen and now retired State Senator John McCoy was honored by Washington's Senate on Friday, April 9. McCoy retired a year ago, shortly after winning re-election, because of health challenges. His sudden departure during such a turbulent time didn't allow for his colleagues to give him a proper send-off. That unsettled acknowledgement was remedied during April 9's legislative session when State Senators, both democrat and republican, passed SR 8623 – Recognizing Senator John McCoy. 
"It is my great honor to bring this resolution before the [Senate] today to honor my friend, mentor, and colleague Senator John McCoy," said Senator June Robinson (D-Everett), who succeeded McCoy in the House and now the Senate. "The words of the resolution talk about many of the wonderful qualities that Senator McCoy brought to the legislator and everything that he does.
"He is the ultimate long-game player," she continued. "In true Native American philosophy he always reminded me to think about the future and to think about the long game. You can make this decision now, but you can change later. Sage advice from a true visionary. Someone for whom this body and the state of Washington and the people of Washington are much better off because of his service."
After 17 years of service in the Washington State Legislature, McCoy announced his retirement after submitting a resignation letter to Governor Jay Inslee last April. The longtime Democratic lawmaker leaves behind a legacy of steady leadership and commitment to serving his community. He brought a career in military service and years as a computer technician to his work at the Legislature, culminating in a lawmaker who effectively advanced economic development and equality of opportunity for his district.
"John has been a good friend for many years. If you live in the Snohomish County area, then you've seen John at democratic events and all the community events. He is a rock within the community," described Senator Steve Hobbs (D-Lake Stevens). "Everyone talks about how he is a rock within the tribal community, which is true, but he's also a rock in the greater community of Snohomish County as well. He has been such a leader on issues regarding tribes, water and the environment. John is also a huge advocate for our veterans. On that note, as a fun fact, John has had that high and tight since the '60s."
During his five terms in the Washington State House of Representatives, McCoy fought for students, for the environment, for a healthy economy and for tribal communities. He sponsored policy that expanded support for students struggling with behavioral and emotional health needs, protected water rights and access, and integrated comprehensive tribal history and culture education into teacher preparation programs.
"Rising in strong support of this resolution honoring Senator McCoy," said Senator Ann Rivers (R- La Center). "My politician DNA is very different than John's, but that doesn't mean that there's a lack of respect there. While we may not fully agree on all things or have different approaches on where we want to be, there are some things we agreed on wholeheartedly, like his tireless efforts on behalf of children and making sure their cultural needs are met so they can adequately learn in schools. It was a real honor to be on the same side of policy with him."
McCoy's most notable political achievement may be Senate Bill 5433, which he authored and was subsequently signed into law in May 2015. Senate Bill 5433 made it mandatory for schools to educate students about the history and governance of northwest coastal tribes. Washington has since worked diligently with sovereign tribal nations to develop a first-of-its-kind curriculum, Since Time Immemorial: Tribal Sovereignty, which is taught in schools throughout the state.
"John is a quiet giant both on local and national affairs," explained Senator Steve Conway (D-Tacoma). "Acknowledging the role he played in bringing tribal issues to this legislature and creating a committee focused on Native Americans in this state. A leader in the Native American community, he's made an imprint on Washington State history and American history by bringing focus to Native American issues in our state and country."
The 77-year-old retiree's focus now shifts to spending time with his wife Jeannie, their three daughters, ten grandchildren, and two great-grandchildren His considerable contribution and service to public office is characterized by tireless advocacy for Native American communities, expanded access to high-quality education, and environmental sustainability.
Before McCoy became one of the longest serving Native American legislators in state history, he led efforts to bring better telecommunication infrastructure to the Tulalip Tribes. He was also instrumental in developing the economic powerhouse that is Quil Ceda Village. Quite the legacy. 
______________________________________________________________________
SENATE RESOLUTION 8623
By Senators Robinson, Billig, Brown, Braun, Carlyle, Cleveland, Conway, Darneille, Das, Dhingra, Fortunato, Frockt, Gildon, Hawkins, Hasegawa, Hobbs, Holy, Hunt, Keiser, King, Kuderer, Liias, Lovelett, Mullet, Nguyen, Nobles, Padden, Pedersen, Randall, Rivers, Rolfes, Saldaña, Sheldon, Short, Stanford, Wagoner, Warnick, Wellman, Wilson, C., and Wilson, L.
WHEREAS, John McCoy was first elected to the Washington State House of Representatives in 2003 and was elected to the State Senate 2in 2013;and
WHEREAS, John McCoy was a dedicated public servant, faithfully 4and tirelessly representing the people of the 38th legislative 5district for 17 years before retiring in 2020; and 
WHEREAS, John McCoy began his honorable service with a 20-year career in the Air Force, gaining experience that would inform his deep dedication to serving the good of the people; and
WHEREAS, John McCoy was a leader in the community through his work to diversify the economy of the Tulalip Tribes by establishing and managing Quil Ceda Village; and, was a leader in the Senate as Chair of the Senate Democratic Caucus, never wavering in his inclusive and supportive approach to leadership; and
WHEREAS, John McCoy worked on a wide breadth of issues, including advocating for disenfranchised communities, lifting the voices of sovereign tribes, and expanding access to quality education and health care, as well as internet access for every Washingtonian; and
WHEREAS, John McCoy was an unrelenting force for those with the least financial resources and political power in the state, giving a voice to those who did not have one in our political process; and
WHEREAS John McCoy championed the passage of the Native American Voting Rights Act that expanded voting rights access in tribal communities; and
WHEREAS, John McCoy passed legislation that ensured Native American history, culture, and government would be taught in all school districts; and
WHEREAS, John McCoy worked persistently for 12 years to pass legislation that would allow dental therapists to provide care on reservations; and
WHEREAS, John McCoy was a strong advocate for the environment, pushing for tougher rules on oil transportation and water quality, as well as expanding production of alternative energy; and
WHEREAS, John McCoy faced challenges that seemed insurmountable with tenacity and perseverance, offering the advice of "It's okay to make a mistake as long as you learn from it… and are sure not to make the same mistake again!"; and
WHEREAS, John McCoy will be missed for his steady leadership, strong moral compass, and his ability to find the perfect bolo tie for every occasion; and
WHEREAS, John McCoy is a loving husband to his wife Jeannie, a father to three daughters, and a grandfather of 10 grandchildren and two great grandchildren
NOW, THEREFORE, BE IT RESOLVED, That the Washington State Senate recognize Senator John McCoy and the contributions he made to the state and the people during his 17 years of service in the legislature.
I, Brad Hendrickson, Secretary of the Senate, do hereby certify that this is a true and correct copy of Senate Resolution 8623, adopted by the Senate April 9, 2021
BRAD HENDRICKSON
Secretary of the Senate