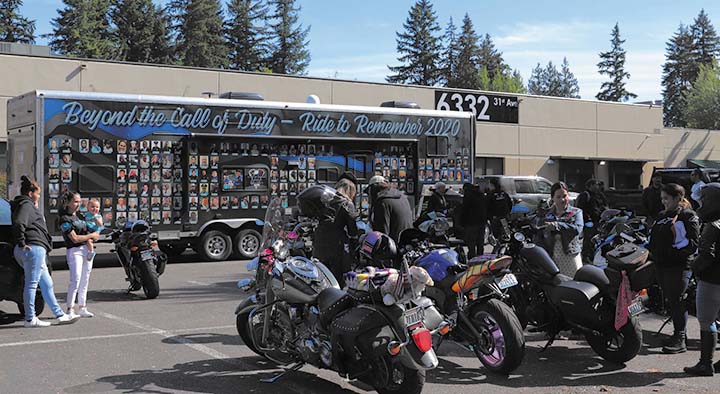 By Kalvin Valdillez, Tulalip News
Ducati's, Harley's and Suzuki's revved to life on the morning of May 30. They zoomed out of the parking lot of the Tulalip Justice Center, getting set in formation behind a cohort of Tulalip Police Department (TPD) Fish and Wildlife pickup trucks, leading a giant trailer which featured the photos of 338 police officers who died in the line of duty over the past year. A warm, loving bright smile, that many Tulalip community members knew so well, and will continue to fondly reminisce of, can be spotted on the trailer, on the passenger side near the front.
A community still hurting, many Tulalip tribal members and citizens were amongst the procession of about 100 motorcycles, ATVs, police vehicles, cars, trucks and vans, rallying behind the family of Fallen TPD Officer, Charlie Cortez. It's been over a-half-a-year since the tragic accident occurred on local waters, which claimed Charlie's life at the young age of 29. As Charlie's remains still have yet to be recovered, organizations and multiple police departments have reached out to his family, offering support and ensuring his legacy lives on for years to come. In the past few months, Charlie's name has been read aloud during roll call at virtual memorial tributes and etched into marble memorial walls. Charlie recently received a posthumous award, a medal of honor for his sacrifice to his people and community.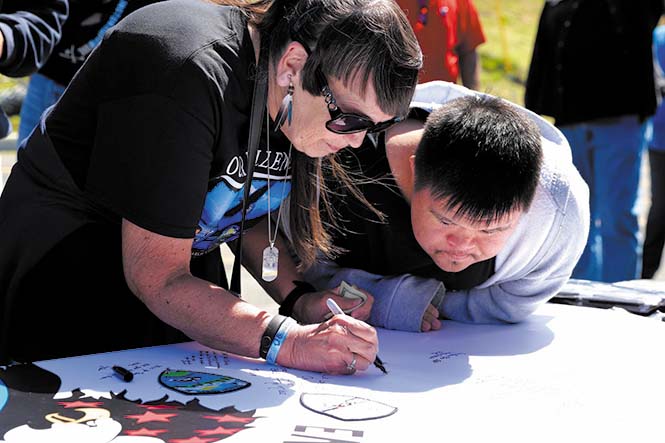 With everyone in position the motorcade was off. Sirens wailing and headlights flashing, the vehicular ensemble traveled the length of the reservation from the court house to the marina, receiving support from commuters along the way who honked, waved and pulled to the side of the road during the honoring parade.
The moving tribute to Officer Cortez is a project that spans across the Nation called End of Watch – A Ride to Remember, arranged by a non-profit known as Beyond the Call of Duty. The organization has one sole mission; to honor the legacy of all the fallen police officers throughout the country. Tulalip was just the second stop on an 84-day, 22,500-mile journey around the U.S.
"This is our second year, we have six motorcycles and we plan on keeping it going," said Beyond the Call of Duty Founder, Jagrut 'J.C.' Shah. "It was something I was thinking about for a number of years, and it's something that should be done as far as letting the Nation know versus just the state or local city. I wanted all the departments to know that we're all together in the same boat. I wanted the survivors to know that they aren't alone. That's really been our mission since last year and we're seeing it today. We we're able to bring a survivor from 2019 to talk to the Cortez's. He lost his son; it is difficult, but they speak the same language because we can't express that hurt, that loss."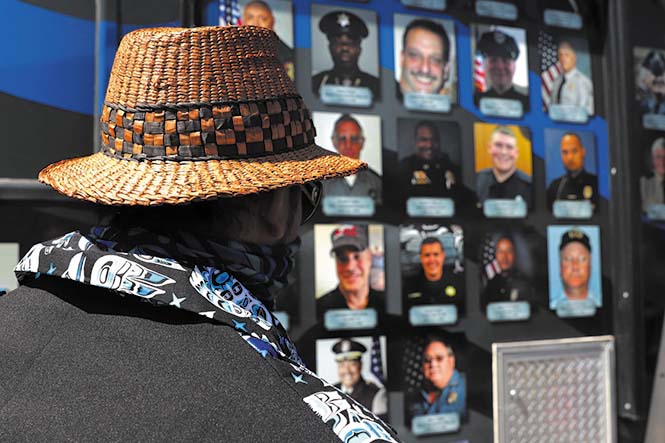 Upon arriving at the marina, a number of local leaders spoke about the Tulalip hero, about how he gave his life defending his Tribe's treaty rights as both a Fish & Wildlife officer as well as a tribal hunter and fisherman.
"Charlie was a peacemaker, he was a loving, wonderful young man who came to work to do his duty always with a smile," recalled TPD Chief of Police, Chris Sutter. "Charlie laid down his life for his tribe, protected treaty rights that were negotiated 150 years ago to preserve a way of life and a culture. He was out doing his duty as a fish and wildlife officer for the Tulalip Police Department and was taken in the line of duty. Charlie Joe Cortez will always be a hero in our community. Always remembered and never forgotten. We love you, we love the family."
Said Tulalip Vice-Chairman Glen Gobin, "Charlie became a part of each and every one of you in his walk. When Charlie lost his life that day in the line of active duty, he gave it all doing what he signed up to do, with the greatest honor and respect that he had for what he believed in when he put that badge on, what he stood for – to stand up and serve his community, his people. Charlie's birthday was yesterday, he would've been 30 years old today. Forever 29 in our hearts, forever 29 in our memories. In whatever way you walked in his life, whatever you shared in his life, you carry that with you."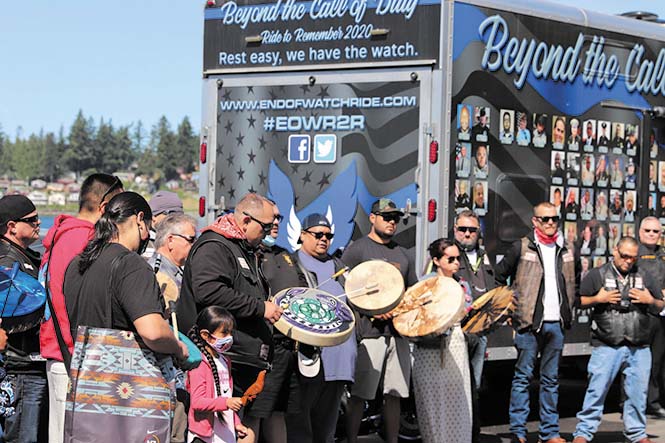 Charlie's parents, Paula and Alan Cortez also spoke, thanking those in attendance for their continued support.
"Seeing you guys all ride in and watching the Beyond the Call of Duty memorial come in was an amazing feeling that is helping us heal," expressed Paula while fighting back tears. "We still have yet to have our son's service. We've been active as parents to let the media know that we will not give up. We have had people volunteer. Our police department, while they're working on other fishery related matters out on the water they are keeping their eyes open. We have had people contact us who raced with him while he was in motocross and they are wanting to help, they are divers and have sonar equipment and they want to be here for us. I want to thank all the agencies that came that night on November 17, 2020, my hands go up to you, you were out there that night, the next night and beyond. I want to extend the deepest gratitude for the honor that you are giving to not only my son, but to my family, his children, our community members and the police department he served."
Alan then took a moment to gift a hand drum to J.C., which he made from elk hide that both he and Charlie harvested together. The ceremony ended with a song and blessing from a group of Tulalip singers, many of whom rode along in the convoy; some on their ATVs and in their everyday vehicles, some a part of the Tulalip motorcycle club, the Sacred Riders, who escorted the procession throughout Tulalip.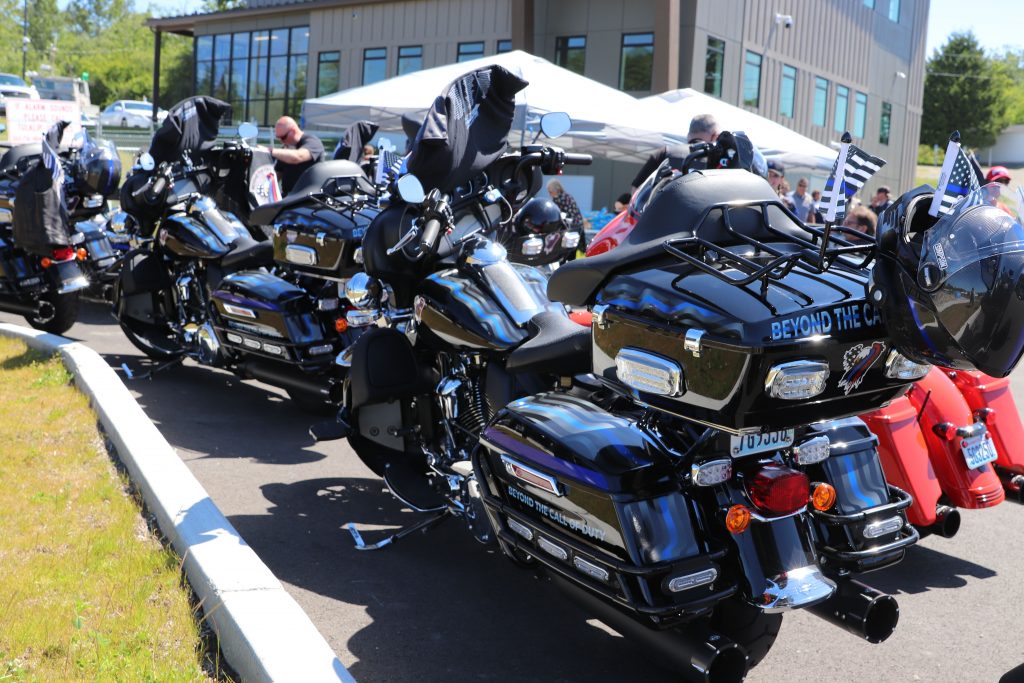 A belated BBQ birthday celebration was planned to coincide with the End of Watch ceremony, as May 29th would've been Charlie's 30th trip around the sun. While TPD officers worked the grill, the people wrote personal and heartfelt messages to Charlie on a large End of Watch banner, and took photos next to his picture on the memorial wall.
The Cortez family is determined to bring Charlie home and they believe that his return can bring some much-needed peace, healing and a closure to the Tribe, the law enforcement community and most importantly Charlie's loved ones.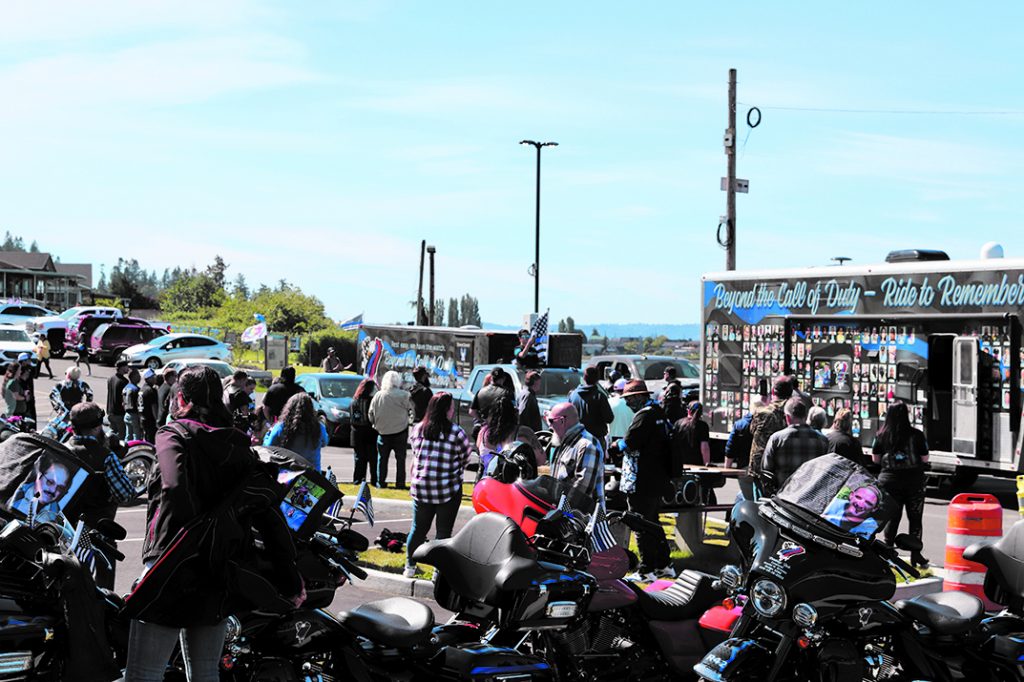 Thank you for keeping Charlie's family and the Tulalip Police Department in your prayers. As always, please send any potential evidence, information or your own informal searches to us by texting 360-926-5059, or emailing bringofficercortezhome@gmail.com, or leaving a voicemail at (909) 294-6356.
To keep up with the traveling memorial wall as it journeys across America, please visit the Beyond the Call of Duty Facebook page for nightly video recaps and photos of each of their stops.