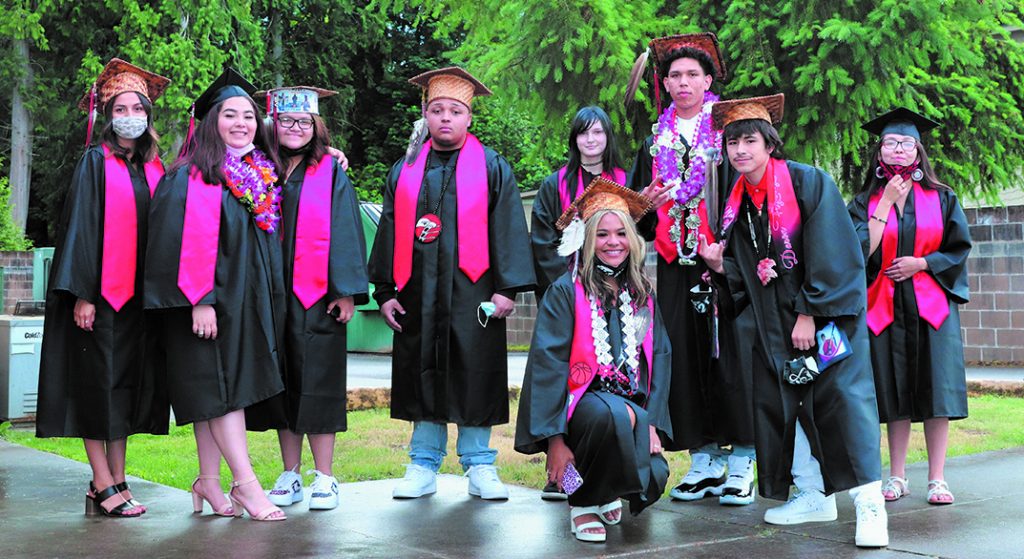 By Micheal Rios, Tulalip News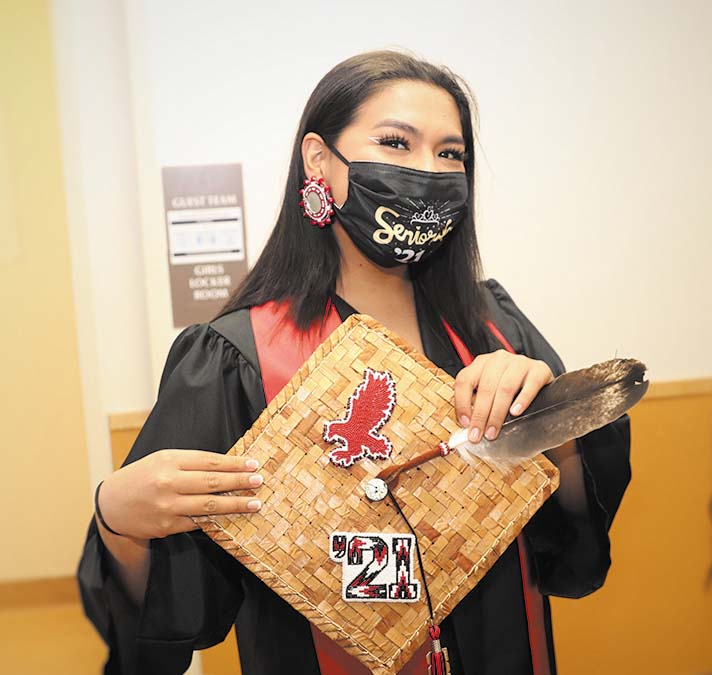 Dreams came true, legacies were continued, and history was rewritten on June 11 as thirty-one graduating seniors received their well-deserved diplomas at Tulalip Heritage's high school commencement. Thirteen years of dedicated K-12 schooling came to fruition in an astonishing way for Heritage's class of 2021 – the most graduates ever in a single academic year.
This particular group of graduates overcame a global pandemic, untold personal hardships, and a litany of other difficulties that came with a senior year unlike any other. Their determination to accumulate the twenty-four academic credits necessary to complete high school was bolstered in large part to by their steadfast support system at home and in the classroom.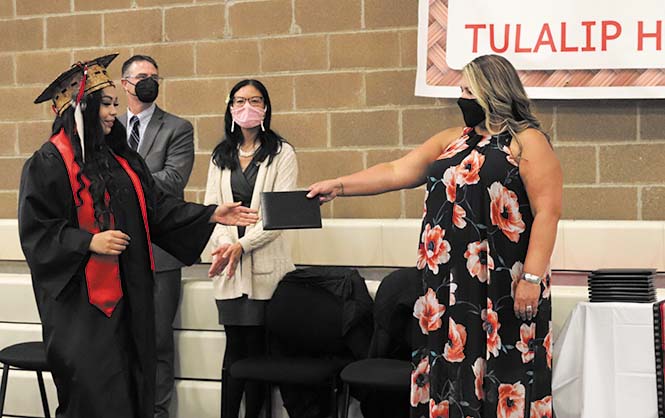 "These thirty-one graduates earned their way here through hard work, commitment and perseverance," explained Principal Kelli Miller. "This was not the senior year we planned and certainly not the one we hoped for. Maybe they needed additional support, extra do-overs, a gentle push or a nagging phone call, but nevertheless they did what was necessary to reach their graduation goal and they deserve a huge congratulations for that. They didn't get here because of Covid, they got here in spite of Covid. I couldn't be more proud of this graduating class.
"Thank you to the family, friends and countless community members who have walked this journey with our graduating seniors," she continued. "I congratulate each of you because I know these students wouldn't be here today without the time and energy you all invested in them. Most importantly, thank you for trusting us with your children. It's truly the highest honor and greatest gift that you can give us educators is the trust to educate and guide your children."
The thirty-one seniors rewrote the history books not just for managing to prioritize their schoolwork during a pandemic, but also for being the largest Tulalip Heritage High School graduating class ever. One after another the students, adorned with ceremonial garb like intricately woven Cedar caps and beaded medallions, proudly strutted across Francy J. Sheldon gymnasium for the last time to accept their coveted diploma. In doing so, they were fulfilling the legacy of the gym's namesake.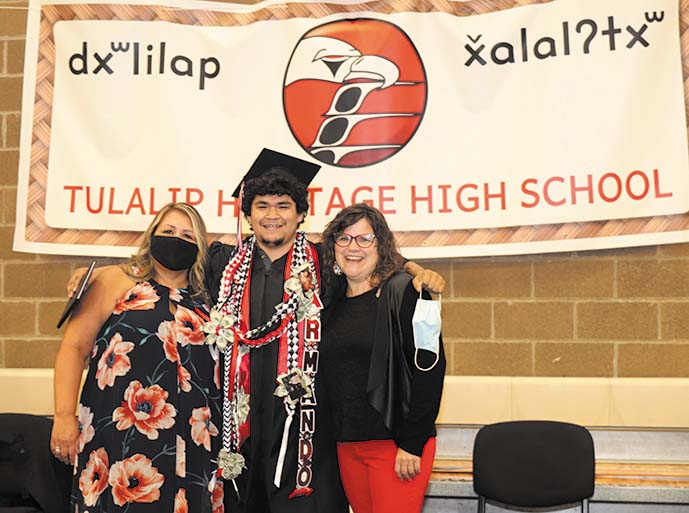 Sheldon, who passed away in 2002, was a revered leader best known for his life's mission to create opportunities for Native youth to excel in school and sports. According to his family, he wanted Tulalip children to always strive to be better and be given agency to fully embrace their culture. Even though he was not physically present to witness the historical Heritage commencement, there's no doubt he was there in spirit.
"Francy dreamed of having a school on the reservation where our children could get a quality education and learn their culture," said his wife of forty-three years, Anita 'Keeta' Sheldon. "He'd be so proud of these graduates for completing their high school education in Tulalip, and in the process bettering themselves, their families and our society. Seeing the kids wearing their Cedar caps, he'd have loved that."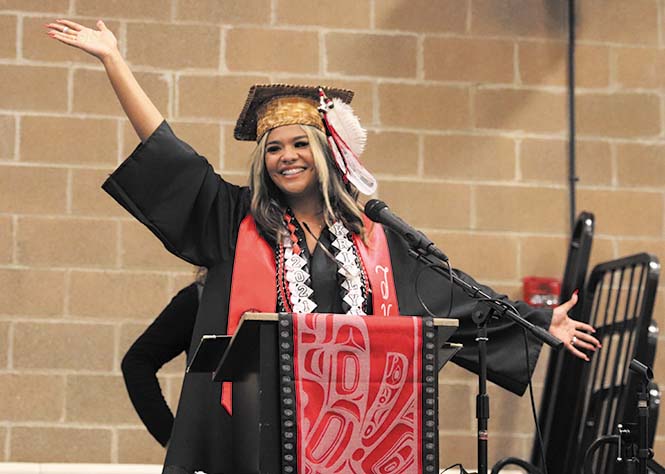 The end of high school usually means the end of free public education and free food. It's the end of sleeping in all summer and, for some, the end of living at home. Receiving a diploma signifies the beginning of adulthood. It's the beginning of true independence. It's the beginning of finding a career, finding a place to live and perhaps pursuing additional education. The future is now full of possibility and wonder for Heritage's latest graduates.
"This is the day we've all been waiting for since our first day of Kindergarten," shared class representative and student speaker Krislyn Parks. "We, the graduating class of 2021, want to give a special thanks to all the teachers that have helped us every step the way, even when we were too stubborn or hardheaded to accept it. You all never gave up on us and words can't explain how much we appreciate you because of that. Heritage is our home away from home. The teachers, office staff, lunch ladies, coaches and custodial workers took care of us in our best and worst moments. You all guided us, educated us, and showed us how to work together despite our differences, just like a loving family.
"Being a Heritage Hawk has changed my life forever," she added. "Everyone at Heritage is my family and all my fellow classmates hold a special place in my heart. Now, as I stand here thinking about the past four years, I'm already viewing my high school experience differently. I may not remember all the class periods and homework assignments nor the answers to every test, but I know we will always remember the amazing memories and friendships that we've made. We can always draw strength from knowing Heritage will always be our home. Whatever we do and wherever we go, we will always be Heritage Hawks!"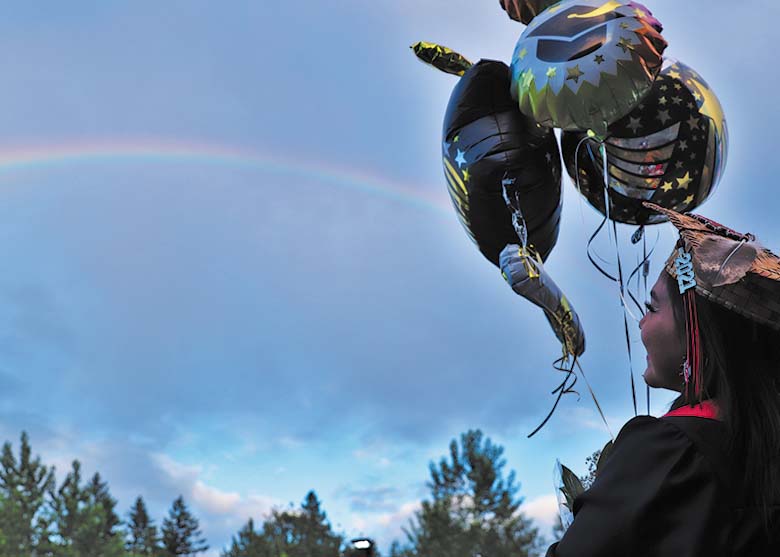 A roaring applause erupted when Krislyn instructed her classmates to move their tassels from right to left, indicating graduation. Upon exiting their home away from home, a stunning rainbow greeted them. The future is bright in Tulalip.