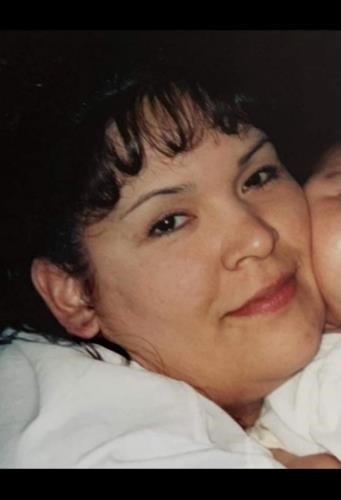 October 25, 1968 – July 22, 2021
Angie Teresa Moses was born October 25, 1968 and went to be with the lord July 22, 2021. Angie was born to her Father and Mother Victor H. Moses SR & Esther E. Moses.
Angie was a member of the Tulalip Smokehouse and was baptized Catholic as a child. She loved knitting, Dancing to her favorite music, karaoke, swimming at the rivers, camping in the mountains with her family, baking her Mother's famous rolls, and especially loved spending time with her Children & Grandchildren. Angie was a beautiful woman who was well loved and brought joy to those around her. Most of all she had a contagious laugh.
Angie is survived by her children Anthony (Skyla) Henry, Jasmin Henry, and Nathan Moses. Brothers Kelly R. Moses SR, Shane Moses SR, and Special sister in law Marcella Moses. Grandchildren Isaiah, Kracyn, Louella, Josephine, Anthony Henry Jr, and Ameyna Dupris. Special Cousins Stephanie Mc Manis, and Numerous Cousins, Nieces, Nephews, Family, and Friends.
Angie is proceeded in Death by her Mother and Father Victor H. Moses SR and Esther E. Moses. Brothers Victor H. Moses JR, Mark, Kim, and Raymond Moses. Grandparents William Grenier SR, Lillian Grenier, Walter Moses SR, and Marya Moses. Sister in law Denise "Neecie " Moses, and Special Nephew Kelly C. Moses Jr.
A celebration of her life will be held Thursday, July 29, 2021 at 10:00 AM at the Tulalip Gym with burial following at Mission Beach Cemetery. Arrangements entrusted to Schaefer-Shipman Funeral Home.