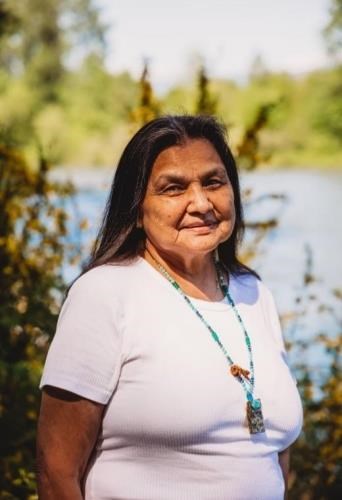 September 10, 1948 – August 25, 2021
Caroline Marie Glendale who resided on Tulalip Reservation passed on 8.25.2021, peacefully in her sleep with Guardian Angels around her in Everett, Washington. Caroline Marie Enick Glendale was born on September 10, 1948 in Mount Vernon, Washington. 

She went to school in Wapato Washington. During her earlier years in life she played league pool and won championship with many friends from the Tulalip area. She also did some cosmetology classes with Evergreen Beauty School, but later decided she was skilled enough and quit. Yes, a Beauty school drop out! Caroline worked many years at the Tulalip Resort & Snoqualmie Casino Food and Beverage Departments. As she progressed in her life she was always under a biblical teaching of her parents James and Evelyn Enick. At a very young age she was a born singer that turned into a ministry in the Pentecostal church. During her time of travelling with her parents she led worship service and her brothers Braddock and Johnny Enick would play guitar for her. The power of God would fall on her through her singing and many would feel the presence in the room. She would witness and minister on the streets of Wapato and their local radio station about the love of the lord with her dad. She would go to local prisons and minister to inmate of what the lord could do for them. She travelled to many states like Oregon, California, Montana, Idaho, New Mexico and Arizona, and into Canada spreading the good word of the Lord. On some of these revival travels she would bring the Sweet Melodies that was her nieces and nephew!

Through this life she has created many friends and grew her family whom she loved and always had prayer chains on her FB account or text messages. This will be missed.
Caroline is preceded in death by, her parents James & Evelyn Enick, her husband Isaac Glendale of Alert Bay, BC., sister Betty Jean Joe (Robert), brothers Jerry, Brad & John Enick, Brother in Law Adrian Henry, Sr., nephews Roger Enick, James M Enick, Robbie & Arron Garcia, niece Ami Pablo.

Caroline is survived by her Sisters Arlene (David) Ventura, Winifred Enick, Sandra (Percy) Phillips, Jr., Cheryl Enick-Tovar(Dan) Marilyn Henry eldest daughter Jolene (Steven) Williams, Son Brian K Jack, Sr., youngest daughter Melinda Enick, Granddaughters Rebecca Wadhams(Jon Stevens), Jaida Maltos (Jordan Wasko Sr.) Lachelle Tracy, Saige Williams, and Shylaya Jack, Grandsons Jordan Wadhams, Brian ER Jack Jr., Alva Damien, Steven & Michael Williams, Chaanc Guzman, Mannassah Losik, Michael Tracy Jr., Toren Jack, great grand children Janessa, Joshua, Justice, Jewels, Ariella, Camaya, Penelope, and Jordan Jr (Bubba) God daughters, Julia Bruce, Mary Wadhams, Elizabeth Joseph (Lil Bit). And the Sweet Melodies! Many nephews, nieces and cousins. 
Visitation will be held Thursday, Sept. 2, 2021 from 8:30 AM – 9:30 AM at Schaefer-Shipman Funeral Home in Marysville, WA. The funeral service will follow from 10:00 AM – Noon. Burial will be at Fall City Cemetery in Fall City, WA.