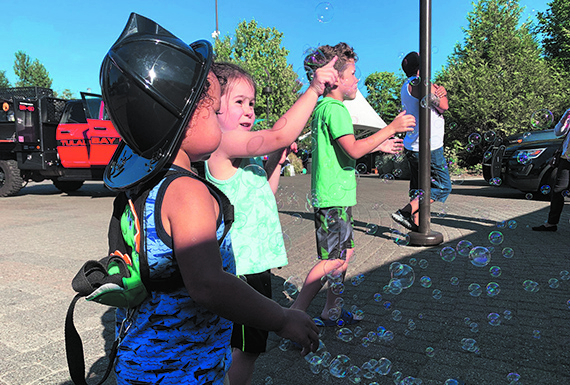 By Shaelyn Smead, Tulalip News
On August 2, the Tulalip Police Department gathered with Tulalip families and various Tulalip government departments for National Night Out (NNO) to connect with one another and bridge any gaps. The two-hour event was filled with community members conversing and laughing with one another, gaining information about available resources, and kids exploring the official Fire and Police department vehicles.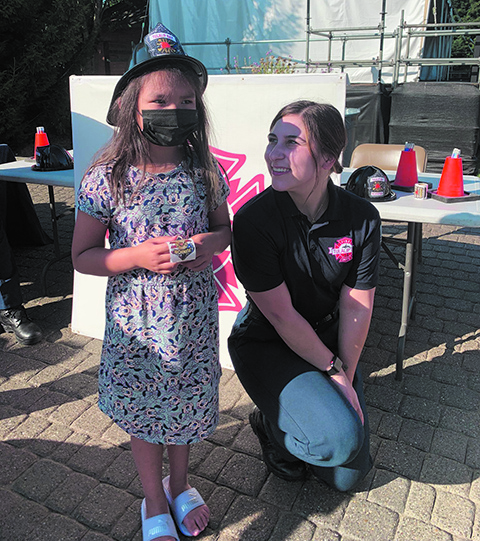 Though this is not a new event, across the nation, many police departments gather within their communities to enhance the relationships between neighbors and law enforcement. This effort is to ensure that some people's and children's first interactions with law enforcement is a positive one. What first started in 1984 has quickly trickled to over 16 thousand communities in the US, and takes place every year during the first Tuesday of August.
The Chief of Police Chris Sutter was in attendance and said, "My favorite part about National Night Out is connecting with the community and neighbors. People are meeting one another, and allowing our service providers the opportunity to know the people whom we serve. The police department loves that we get to help support this event, and we get to thank all the other tribal departments."
A lot of the departments that participated included Behavioral Health, Child Support Program, Family Wellness, Tulalip Office of Civil Legal Aid, Children's Advocacy, Beda Chelh, Family Haven, Higher Education, TERO, Gambling Treatment Services, and various others. Each department provided free swag for the attendees, toys and treats for the kids, and a plethora of information, cards, and pamphlets to help educate tribal members about the numerous services available to them. Many of the attendees were exposed to programs that they either haven't heard of before, or have been wanting to get into contact with.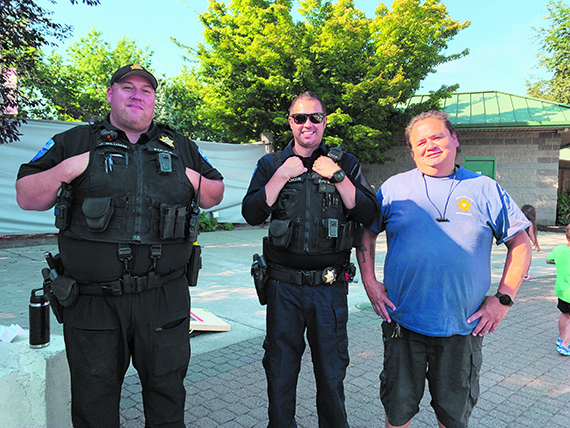 Chris also spoke about the importance of maintaining the relationships with the other departments because of how interdependent they all are, "We like being able to put a face to a name when we're emailing people or talking to them over the phone. There's not one department that our police department doesn't interact with. We are all interconnected and we impact the quality of life and the livability of our entire community," he said.
He continued by talking about how vital it is for tribal members and the police department to have that bond as well, "In just about every culture when you sit down, break bread, and eat together, it's a sign of coming not only together, but also creating a mutual respect and understanding. I think it's really important for us to see each other as human beings and let the community know that police office are humans too. We have strengths and weaknesses and at the end of the day, we're here to serve our people."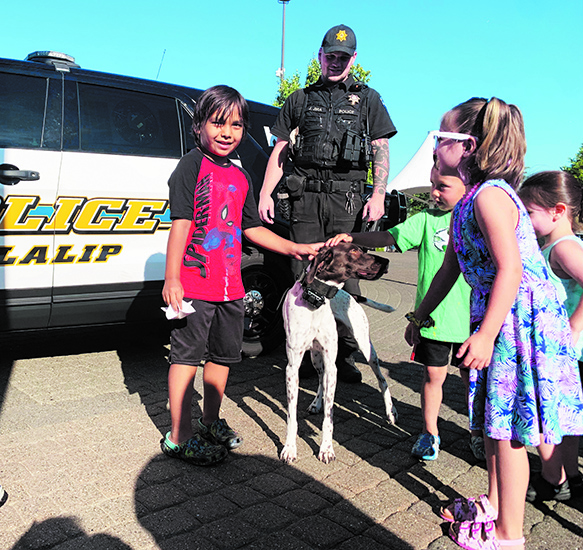 Kids all gathered to meet one of the Tulalip Police Department's newest member Buster, a German Shorthaired Pointer police dog that recently graduated from K9 school. Buster jumped around and loved meeting all the kids, as they asked his handler a mountain of K9 questions. Everyone's seemingly favorite question was, 'do you get to take him home?', in which Buster's handler said 'yes' with a smile on his face.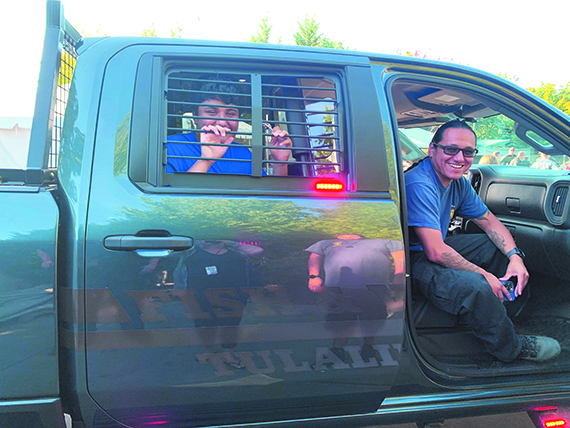 With red, white and blue lights spinning, the Fire vehicle's horn blaring, a child pointed at an officer and yelled, "I want to be like you!" It was another success event for the police department, the community and everyone in between. People left National Night Out with full stomachs, fuller hearts, and anticipation for next year's event.