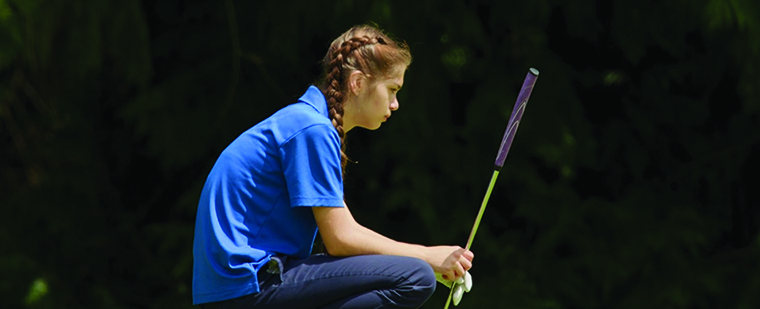 By Micheal Rios, Tulalip News
Early last month, Tulalip News detailed the exciting debut of Tulalip Heritage's golf team. The eight-person team was intently driving, chipping, and putting their way to success at the well-manicured Cedarcrest golf course, where they were matched up with rival school Grace Academy. While covering Tieriana McLean, the lone female golfer on Heritage's team, we learned she was routinely matched up with another girl golfer from Grace who also happens to be a Tulalip tribal member.
Emily Hegnes, the daughter of Belinda and Don Hegnes is a sophomore at the K-12 private Christian school in Marysville. And she recently etched her name among the lengthy list of Tulalip athletes to find great success in organized sports. She blew even the loftiest expectations out of the water with a stellar 2nd place finish at Tri-Districts and earned a spot at State.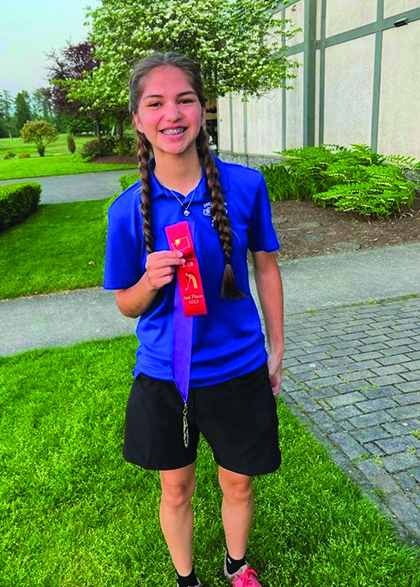 "I've been playing since I was young with my dad and my brother, so golf has always been around in the family. At first, I didn't really like it, but I've gotten really used to it and have fun playing with friends and family," admitted 16-year-old Emily. 
Her mom Belinda shared how her daughter started playing golf at five years old while on the course with her parents. They'd hand her a club between holes and watch her swing. Eventually, she grew increasingly competitive playing so often with her big brother that she could shoot even with him. That's when everyone around her realized she had an innate skill on the green.
Those skills and more were on full display during her recent sophomore season. Her coach Elizabeth Callaghan said, "Probably the thing that sums up her season more than anything is the impression that she's left on other golfers. I hear from other coaches and athletes what a joy she is to play with. She's a kind and compassionate girl, and really in the community of golf, that's something you want to develop in an athlete. The ability to be a lifelong player with whom others are excited to play is one of the highest compliments any golfer can get."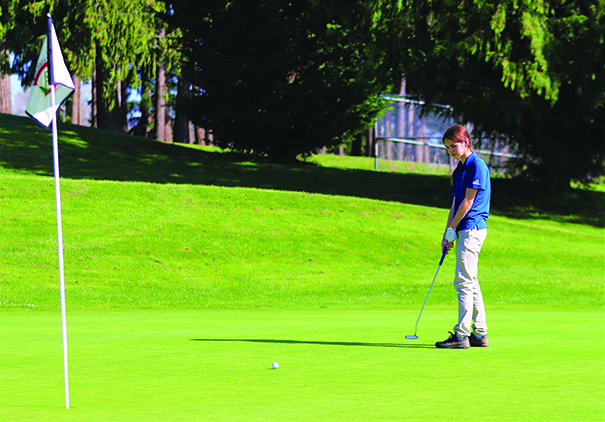 High school sports have been known to provide numerous benefits to student-athletes, including improved physical health, leadership skills, and teamwork abilities. While traditional sports such as football, basketball, and baseball have long been popular among high school athletes, golf is becoming increasingly popular. In fact, according to a study by Axios in 2022, golf has risen to the eighth most participated high school sport, with a whopping 143,000+ participants playing high school golf nationally.
Emily's consistently low scores at one golf course after another culminated with her Tri-District performance hosted at Loomis Trail golf course in Blaine at the end of May. With her sleeves rolled past her shoulders, she not only looked like she meant business but, performance-wise, was ensuring she had a complete range of motion on all her golf swings. Going into the final three holes, Emily was near the top of the leaderboard. Her clutch ball placement and patient putting earned her an impressive 2nd place finish.
"Districts and Tri-Districts were both pretty straightforward for me," said Emily. "I didn't feel much pressure. I was a little nervous, but I was pretty confident in my ability to get a good score. Usually, it's all about fun, but my coach provided some motivation and gave me a goal that I really wanted to accomplish."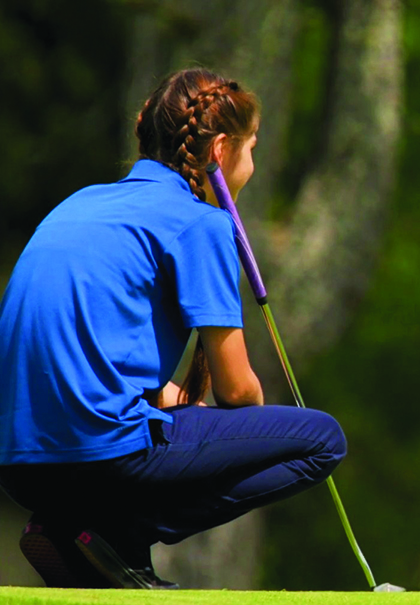 Golf is commonly considered a mentally challenging sport that requires players to stay focused and maintain a positive attitude. The game is often described as "90% mental and 10% physical," meaning that a player's mental state largely determines success on the course. High-achieving golfers like Emily routinely showcase unwavering concentration, mental discipline, and resilience. The ability to stay focused and composed under pressure translates into academic success and cultivates a strong work ethic.
"She has a calm confidence," described Emily's mom. "That mindset helps her to improve and keeps her motivated. I'm so proud as a mom and a Tulalip tribal member to have a daughter who took up the sport of golf, committed to improving one area at a time, set goals that she reached, and made it all the way to State."
After her State experience, Emily shared it only made her love golf more because she got to compete with the best girls around and realized how much better she could be.