October 26, 1984 – June 8, 2023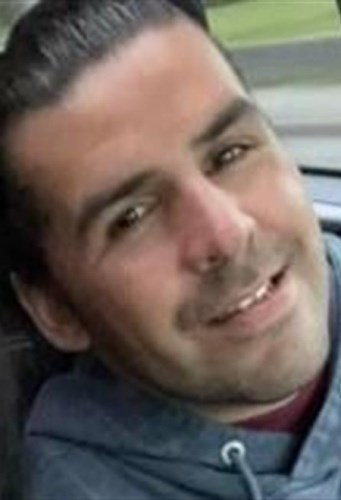 Blake Edward Moses born October 26, 1984 to Robert "Bebop" Moses Jr and Kimberly Bustamante. Went to the Lord June 8, 2023. He was a wonderful grandson, nephew, brother, cousin, son and father. He had a zest for life. He grew up and was raised by is grandmother Johanna Moses and Aunty Annie Moses, who spoiled him rotten. He enjoyed yearly camping and ocean trips with the whole family, and going to many Native sporting events. He loved fishing, crabbing and hunting with his uncles and cousins.
He learned to play the piano from his Aunty Annie and excelled, from that point on he could pick up any instrument and learn it. He loved all music and jammed with his brothers and bro's. Blake and fiancé Lucy recorded many songs together traveling and playing at many venues.
Young love brought five beautiful children into his life with Breanne. He leaves behind children, Kohen, Kaine, KamBrea, Kendalynn, Kwynn Moses; siblings, Lorne Moses, Athena Moses, Aimee Moses; mother Kimberly Bustamante; grandmother Johanna Moses; aunt Annie Moses; uncle Jon Moses Sr, Anthony Moses Sr. Aaron Moses Sr. Willie Moses, Benjamin Burchell; aunt Rachel Proper; uncles Marvin and Allen Burchell; nieces and nephews, Tianna, Kiera Moses, Desean Moses, Kathryn Elliott, Ira Moses-Snyder, Aaliyah Camaro Downing; and his fiance' and love of his life, Lucy T. He is also survived by great aunts, Rachel Hood, April Smith, Julie Russell, Vickie Tsoodle and Teresa Whitish; great uncle Danny Moses; and numerous cousins, other relatives and friends. He was preceded in death by his father, Robert "Be-Bop" Moses Jr; brother Warren Moses Sr.; grandfather Robert Moses Sr.; great grandparents Marya Jones Mosses, Walter Moses Sr., Albert and Annie Moses, Cherri Beirley; and special uncle Raymond "Teatmus" Moses. WE LOVE YOU and WILL MISS YOU!
An evening service will be held Wednesday, June14, 2023 at 6:00 PM at the Tulalip Gathering Hall. A celebration of his life will be held Thursday, June 15, 2023 at 10:00 AM the Tulalip Gathering Hall with burial to follow at Mission Beach Cemetery. Arrangements entrusted to Schaefer-Shipman Funeral Home.