April 17, 1971 – July 9, 2023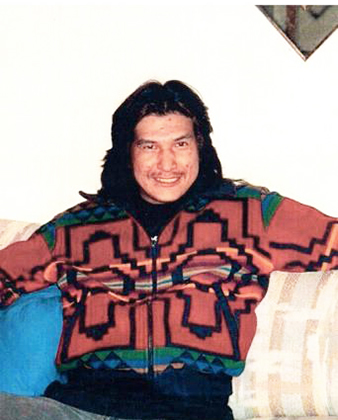 Ambrose "Fella" Alexander James Jr. passed away July 9, 2023 in Tulalip, Washington. Ambrose was born April 17, 1971 to Ambrose Sr. and Virginia "Gin" James, in Seattle, Washington.
He was a life-time resident of Tulalip. In his youth he was the best video game player and could spend hours at the arcade. He kept his cousins busy by building swings, riding bikes, & taking dare devil jumps. As an adult Ambrose worked at the Tulalip Casino as a Table Games Dealer and in the Maintenance Department. He use to stop in & enjoyed visiting with all of his family, he will deeply be missed.
He is survived by his aunts Clarissa Johnny, Mary Ann Espinoza, Elaida Charlie, Lucy and Lorraine Jimmy uncles Andy (Sharon) James, John and Leroy Jimmy. Cousins Tonina White, Clarence Adam's, Pamela, Edith (Rob), Merle, Albert Jr. Johnny. Marvin "Muff" (Jaclyn) Edwards and Jamie Sue Bagley & her children. Lots of cousins; Kesha, Kaylishus, Mandee, Darla, Kathi, Victoria, Alexis, Mileena, Toninia , Tahsheena, Jerry, Michael, Chris, Codeey, Anthony, Kayden, Sheldon, Lincoln, Araya, Brennen, Havier, Felipe, Phillip, Antonino, Alicia, Ava, Cyrus, Tyler, Elijah, Elizabeth, Frank Jr, and Andrew.
He was preceded in death by his parents, Ambrose Sr. & Virginia "Gin" James, grandparents Fillmore and Clara; Uncles Mike, Johnny, and Kermit James great-grandparents, John E. James and Madeline Kanim James; Great Uncle Cy and Margaret James, Auntie Pauline Badroad, Roberta Suppah, sister, Kathy James. Niece Chastity James. Cousins Krystal Cooper, Alfreda Johnny, Alberta Johnny, David James, Clarissa Williams, and Rose Buck.
An evening service will be held Tuesday, July 18, 2023 at 6:00 PM at the Tulalip Gathering Hall. Funeral services will be held Wednesday, July 19, 2023 at 10:00 AM at the Gathering Hall with burial to follow at Mission Beach Cemetery.