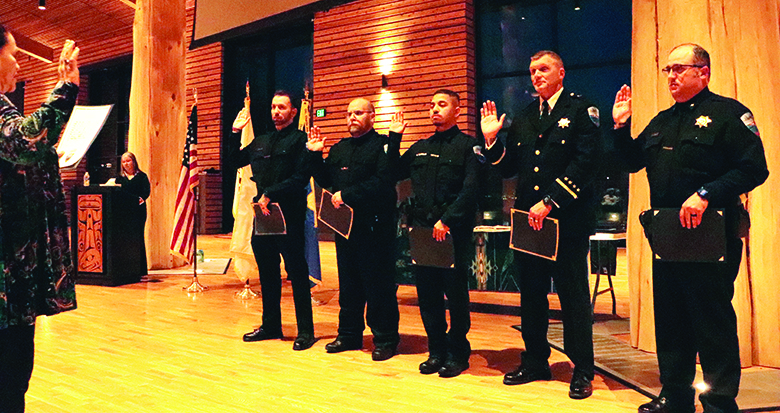 By Wade Sheldon, Tulalip News  
On Wednesday, October 25, the Tulalip Police Department (TPD) Awards Ceremony became a day filled with joy and gratitude as the TPD and the Tulalip tribal government joined hands to celebrate and honor the extraordinary efforts of our dedicated police officers, staff, and residents.
They have all played a vital role in transforming our neighborhoods into safer, more vibrant, and inviting places to live. This heartwarming event was part of the Tulalip Police Department's ongoing commitment to recognize the heroes in our community who go above and beyond to make our city a better place.
Sean Edge, 13 years with Tulalip Police Department, said, "I wouldn't want to be a police officer anywhere else. I come from a family of fishermen, and to work in fish and wildlife is a great honor. It's important for me to protect our rights so my children and my children's children can fish the waters of their ancestors."
When asked what working in the Tulalip community means after a year and a half, Nicholas Aldridge with the TPD said, "It means always doing what needs to be done no matter the cost. It's also just that community, the people come together and rally around the TPD. I love working here. It makes me feel good when I come to work, and people are happy to see me."
"I'm a Tulalip tribal member and I get to serve my Tulalip tribal community, and that's always something I wanted to do since I was younger," said Alyshia Ramon, TPD officer. "I come from a family of domestic violence and drug addicts, and I wanted to be a role model to others so that they don't have to go through what I went through. Also, know that there are other pathways to success. I had to do a lot to transform myself. I'm a mother of six, and I had to drop 100 pounds to get in shape. To be a police officer, it takes hard work, dedication, perseverance, getting through adversity, and being strong mentally and physically.
Alyshia continued, "There's a new generation coming in, and I support all the people that want to put on the badge. It's a different culture, a different vibe with social media and stuff like that. Times have changed, and I think new police officers coming in will bring a different perspective and possibly change how policing is done."