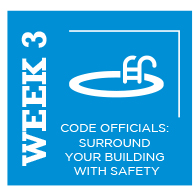 By Monica Brown, Tulalip News Writer

Tulalip,WA-The Farmer's Almanac is predicting a dryer and warmer summer than usual for the northwest area. With the days heating up people will be heading out side to cool off and for that reason week 3 of National Building Safety Month focuses on backyard safety when using decks, pools and outdoor barbeques.
Inspect your deck, swing sets, playhouses or other yard structures to confirm that they are secure and in good shape. Keep either a fire extinguisher or hose on hand when cooking on a BBQ. Most importantly, learn to perform CPR/First Aid.  According to a study by the Center for Disease Control, drowning is the leading cause of unintentional injury death worldwide, and the highest rates are among children; reports from 2005 to 2009 show an annual average of 3,880 people died from unintentional drowning in the United States.
CPR/First Aid is a useful skill to know year-round and children as young as 9yrs old can learn to perform CPR effectively. Check with your local fire district, American Red Cross or YMCA for when and where you can attend a CPR/First Aid class.
Another threat  found in pools are recreational water illnesses (RWIs), caused by germs and spread in contaminated water that is swallowed, or by simply having contact with contaminated water such as swimming pools. RWIs cause a variety of infections such as gastrointestinal, skin, ear, respiratory, eye, neurologic, and wound infections. The following RWI's can be passed through pool water; Cryptosporidium ("Crypto") causes diarrhea, Giardia also causes diarrhea, Hot Tub Rash causes itching and blisters, Legionella causes a type of pneumonia, after using a public pool area be sure to watch for symptoms.
Chlorine does not kill all germs instantly and can take anywhere from minutes to days for the chlorine to kill them. On the other hand, too many chemicals in the pool can cause eye, nose and breathing irritation. Purchase a test kit for your pool and test the water regularly.
National Building Safety Month information can be found at www.iccsafe.org. NBSM is being hosted by the Tulalip Tribes Community Development Department, for handouts, resources or other information please contact Orlando Raez at 360-716-4214.
10 important tips for Backyard Safety
Pool & Deck safety
Make sure all pedestrian gates in the barrier fence for your pool are self-closing and self-latching. Other gates should be padlocked.
Remove all chairs, tables, large toys or other objects that would allow a child to climb up to reach the gate latch or enable the child to climb over the pool isolation fence.
Reaching and throwing aids like poles should be kept on both sides of the pool. These items should remain stationary and not be misplaced through play activities.
All pool and hot tub drains (suction outlets) must have a cover or grate that meets industry standards for suction fittings marked to indicate compliance with ANSI/ASME A112.19.8 2007. Check to see that these covers are not broken or in disrepair, and that they are anchored firmly over the drain openings.
Install a pool alarm to detect accidental or unauthorized entrance into the water. While the alarm provides an immediate warning, it does not substitute for the barrier fences, door alarms and safety covers required by the code.
Install either an automatic or manually operated, approved safety cover to completely block access to water in the pool, spa or hot tub. Never allow anyone to stand or play on a pool cover.
Check for warning signs of an unsafe deck, including loose or wobbly railings or support beams, missing or loose screws that connect a deck to the house, corrosion, rot and cracks.
Grill Safety
Place the barbeque grill away from siding, deck railings and out from under eaves and overhanging branches. It is also unsafe to use grills in a garage, porch or enclosed area that could trap carbon monoxide. Never grill on top of anything that can catch on fire.
When grilling, have a fire extinguisher, a garden hose or at least 4 gallons of water close by in case of a fire.
Keep children away from fires and grills. Establish a safety zone around the grill and instruct the children to remain outside of the zone. A chalk line works great for this purpose. Never leave the grill unattended.