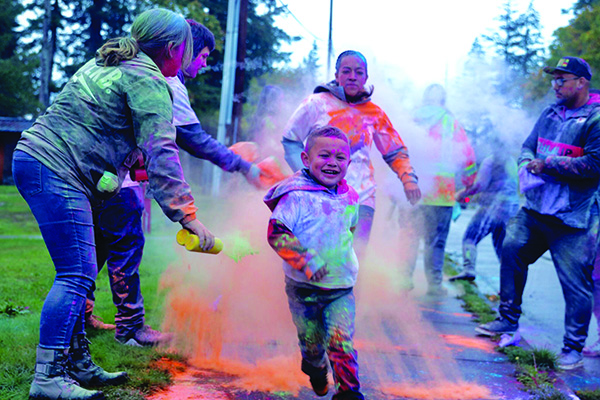 By Kalvin Valdillez, Tulalip News 
Three years ago, Tulalip Youth Services and the Marysville School District teamed up to bring Unity Month to the community during the month of October. Jam-packed with exciting activities like movie nights, field trips to the corn maze and the pumpkin patch, school assemblies and pumpkin carving, Unity Month successfully sparked a lot of community involvement which afforded Youth Services the opportunity to talk about serious issues that are prevalent in many modern day Native communities.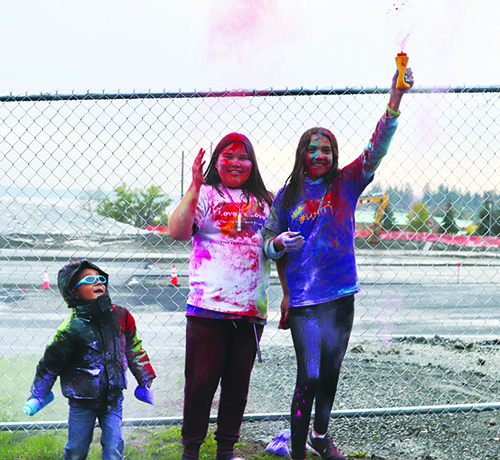 Youth Services and the school district decided to plan each week of the month with trainings and presentations focused on four issues that the youth of Native America are struggling with in today's society; suicide, bullying domestic violence and substance abuse. Due to tremendous success, Tulalip Youth Services continues to celebrate Unity Month annually, adding new improvements each year. 
While spreading awareness and providing prevention tools for serious topics, Youth Services also brings a positive outlook to each of these issues by celebrating life, promoting kindness and healthy relationships as well as participating in National Red Ribbon Week, an alcohol, drug and violence prevention campaign. With each week comes a new trendy hashtag for participants to use when posting photos and videos to social media while attending Unity Month events. 
This October began with #LifeisSacred week, kids learned that their lives matter and that they're needed here by their families and friends. Youth Services partnered once again with the Community Health Department to bring QPR trainings to the community. QPR is an acronym for question, persuade and refer, the three actions you must take if someone is showing suicidal tendencies. Question if they are planning to harm themselves, persuade them to seek help and refer them to the appropriate resource. The class also teaches participants how to recognize the warning signs a person contemplating suicide may be exemplifying. Tulalip leader, Verna Hill, also spoke to the kids at Quil Ceda Tulalip Elementary about how sacred they are to the future of Tulalip.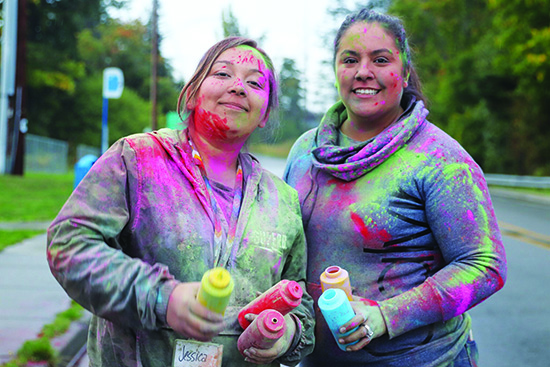 The suicide rate continues to escalate throughout Native communities every year. Eighteen states agreed to participate in a report conducted by the United States Centers of Disease Control and Prevention (CDC). That report showed that there are 21.5 suicides per every 1,000 Native Americans, over three and a half times higher than the national average. And according to the American Foundation for Suicide Prevention, suicide is the tenth leading cause of death in the US with 45,965 suicides each year. Suicide is also the eighth leading cause of death in the state of Washington where on average one person dies by suicie every eight hours. Native communities see significantly more lives taken by suicide than any other race in America which is why it's important to openly discuss this issue, especially with the youth.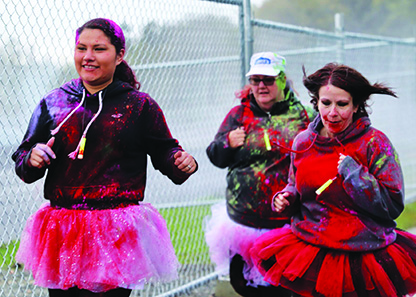 Tulalip Youth Services ended #LifeisSacred week in colorful fashion with the extremely popular annual Say Something Color Run. A little rain didn't stop the community from showing out and ending their Friday with a mile run from the Tulalip Community Health Department to the Kenny Moses Building on the afternoon of October 5. With stylish, protective eyewear and clothes they didn't mind getting dirty, the community ran through multiple checkpoints along Marine Drive where they were blasted with colorful chalk, resulting in tie-dyed runners reaching the finish line.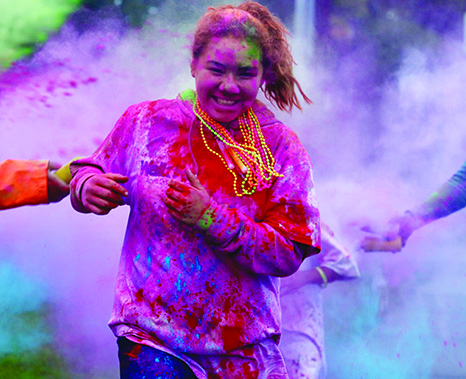 "It's a fun time to celebrate living and it's for a good cause," says Tulalip Youth Services Executive Assistant, Danielle Fryberg. "The Say Something Color Run is part of the Sandy Hook Promise, which is preventing gun violence, suicide and just bringing awareness. If you know someone whose struggling, we ask that you speak up and say something, even if you're just reaching out to say hello. We want to help our community, our youth and adults who are struggling and let them know there's always somewhere they can go and someone they can talk to."
Youth Services has more fun, educational events planned for the Tulalip community for the remainder of Unity Month, including cultural events each week and Halloween-inspired activities. To view the entire Unity Month events and activities schedule, be sure to check out the Tulalip Youth Services Facebook page.