Prime minister said issue of missing, murdered aboriginal women is not "sociological phenomenon"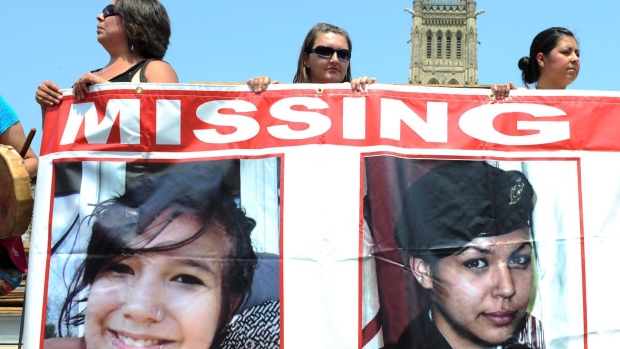 By Jennifer Ditchburn, The Canadian Press
Dozens of federal, provincial and community studies compiled by the Conservative government appear to contradict the prime minister's contention that the problem of missing and murdered aboriginal women isn't a "sociological phenomenon."
But some in the aboriginal community don't quibble with the government's other main response to calls for a public inquiry — that there has been more than enough research.
Officials point to a non-exhaustive list of 40 studies conducted on the issue between 1996 and 2013.
A closer look at the research shows that in nearly every case, the authors or participants highlight the "root" or systemic causes of violence against aboriginal women and their marginalization in society.
The legacy of colonization, including the displacement and dispossession linked with residential schools and other policies, are cited frequently in the reports. The impact of poverty and lack of housing are also cited as root causes of violence against aboriginal women.
"There are root causes of violence in the aboriginal communities that include things like poverty and racism and this is why it's incredibly important for us to work with organizations, aboriginal organizations, across the country…," Rona Ambrose, then status of women minister, told a parliamentary hearing in 2011.
Harper has offered a different perspective.
"I think we should not view this as sociological phenomenon. We should view it as crime," he said last month.
Canadian Prime Minister Stephen Harper rejected renewed calls for an inquiry into missing and murdered aboriginal women in Canada. (Adrian Wyld/Canadian Press)
"It is crime, against innocent people, and it needs to be addressed as such."
The government's related position has been that there have been enough studies — the focus needs to be on action.
"What we don't need, is yet another study on top of the some 40 studies and reports that have already been done, that made specific recommendations which are being pursued, to delay ongoing action," Justice Minister Peter MacKay said last week.
Some aboriginal advocates agree there is enough research
Some inside the aboriginal community agree there have been enough studies, but there are varying opinions on whether an inquiry would just go over the same ground.
One 2005 report prepared by three B.C. community groups, entitled "Researched to Death," pointed to the "striking similarities" in research and recommendations done up to that point.
"The only outstanding element is action," the authors wrote.
Dawn Harvard, president of the Ontario Native Women's Association, agrees there has already been substantial research on the sociological causes of violence against aboriginal women.
'I don't necessarily agree with just having more research for the sake of research.'– Kate Rexe, Sisters in Spirit
But she says a national inquiry wouldn't be about the sociology, but rather about determining what specific policies and initiatives are needed to address specific community problems — in-depth research that smaller groups don't have the resources to do.
"The sociological studies have identified that there is a problem, so your inquiry is going to get into the nitty-gritty nuts and bolts of what is this problem all about," said Harvard.
"And one would hope that therefore we would have a much more effective response when we come out of it."
For Michelle Audette, president of the Native Women's Association of Canada, an inquiry would be an accountability exercise in a non-partisan forum — akin to the Gomery commission on the sponsorship scandal or the current Charbonneau commission into corruption in Quebec's construction industry.
Aboriginal leaders agreed to a roundtable discussion to address the problem of missing and murdered aboriginal women and girls last month in Charlottetown, PEI. (Andrew Vaughan/Canadian Press)
"Do we do another research (report)? No," said Audette. "But this inquiry will bring us together and say, why didn't we implement those (prior) recommendations? Why are we not putting in place legislation that will force our police forces to automatically exchange data?"
Kate Rexe, who worked on the Sisters in Spirit research and policy initiative on missing and murdered aboriginal women, takes a different perspective.
She says that while an inquiry would provide public recognition for the victims' families, it won't necessarily reach the required level of detail.
"If we're looking at a 30-year time span over a number of different police services, in various communities that have had varying levels of response of police to the families and the communities, you're not going to get the answers that you would hopefully need," said Rexe.
"I don't necessarily agree with just having more research for the sake of research."