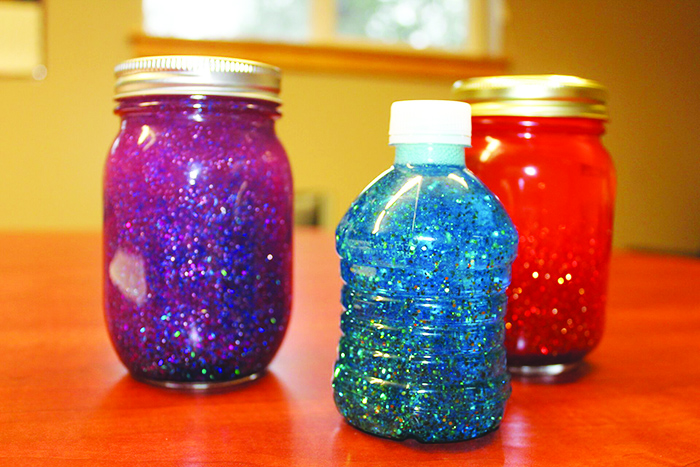 By Kalvin Valdillez, Tulalip News 
Imagine having your own personal galaxy that you can escape to when the world is too much to handle. Or when you've reached your boiling point and are on your last nerve, envision getting lost in colorful sparkles that slowly dissolve away the anger and stress after a meltdown. As a parent, imagine having a tool that helps calm your child and subconsciously focuses their breathing during a temper tantrum. Imagine having a portable device that helps reduce the anxieties of a child with autism or sensory processing difficulties, who feels over stimulated and upset in social settings. Now imagine that you're able to easily craft your own galaxy that even the kids can assist with. Sounds like a fun project, right?
Tulalip Family Haven has been implementing this fun do-it-yourself craft, known as calming jars, at the end of their eleven-session parenting classes. They have been so popular during the parenting classes that the program wants to share the secrets of the jars with the community.
"After ten sessions of our parenting classes, our eleventh is our final review. We do a final talk and then make calming jars," explains Family Voices Coordinator, Sasha Smith. "We give our families the tools to make a calming jar, which are plastic or glass jars that are filled with water, glue and glitter.  And when you shake it up, you're supposed to take deep breaths and watch the jar for a minute or so. It helps the child calm down and even us as adults too. Instead of putting your child into timeout or sending them to their room, you can give them a calming jar when they're upset."
Calming jars are visually appealing and often unique to their makers, varying in different colors, shapes and glitter. The jars are extremely popular amongst parents on Pinterest, where there are many different techniques and 'recipes' you can tryout during your next family craft night, including Disney and Lego themed bottles.
Family Haven recommends using plastic water bottles for kids, especially babies, as well as hot-gluing the lids shut so kids don't accidentally take a drink from the bottles. The mesmerizing calming jars are also great for adults and ought to come in handy when kept at your office desk.
"Calming jars are great and fun to make," says Sasha. "They help children with sensory issues and help relieve some of that stress when a kid is overwhelmed. It's a tool that we teach our parents and want to share with our community."
Family Haven encourages crafters to watch "Just Breathe" by Julie Bayer Salzman & Josh Salzman on YouTube and have fun crafting.
For more information, please contact Family Haven at (360) 716-4402.