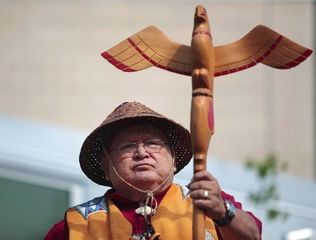 By Bill Sheets, The Hreald
TULALIP — Hank Gobin lived to see his dream come true: the creation of a museum to serve as the focal point of local tribal history and culture.
Gobin, 71, cultural resources director for the Tulalip Tribes, passed away Thursday — a little more than 1½ years after the Hibulb Cultural Center was dedicated in August 2011.
While the museum may be the most tangible testament to his legacy, his role in preserving tribal culture runs much deeper, tribal members say.
"Our community mourns the loss of a truly great man," Tulalip Chairman Mel Sheldon said in a written statement.
"He was a prolific artist, activist and traditional scholar, who worked in the areas of art, education, language revitalization, museum studies and traditional foods research."
Gobin was a force in starting the tribes' cultural resources program in the early 1990s. This included a program to teach Lushootseed, the Puget Sound tribes' unwritten native language, to help save it from extinction.
"He was one of the key advocates who pushed for the creation of the Lushootseed program," said Natosha Gobin, a language teacher for the Tulalips.
The language program has grown from its fledgling origins to a year-round course in Montessori school, along with kids camps in the summer and an annual eight-week workshop for families.
"He's always been a huge advocate for cultural preservation and bringing it all together," Natosha Gobin said.
Her father, the late Bernie Gobin, was Hank Gobin's first cousin.
"It was a hard loss," she said of Hank's passing.
Henry Delano Gobin was born in 1941 and raised on the Tulalip reservation. He left at age 21 to pursue an education and studied art at several colleges in the West, including the Institute of American Indian Arts in Santa Fe, N.M. and the San Francisco Art Institute. He received a master's degree in painting at Sacramento State University and later taught art and ethnic studies.
Gobin returned to Tulalip in 1989 and quickly began working on preserving tribal culture, including pushing for the museum. Finally, after a long haul, the tribal board in 2005 approved the building, which opened in 2011.
Gobin used his artistic talent and education to closely supervise the design of the cultural center. The day the $19 million building opened, Gobin recalled a conversation he'd had years earlier with the architects.
"One of the things I want you to do," he told them, "is to capture the light."
The 23,000-square-foot building's main corridor is equipped with skylights. The museum houses traditional tribal cedar baskets, tools, clothing, canoes, totem poles and other items, some of them hundreds of years old. Many of the items had sat stored away in people's homes on the reservation. Lectures and other programs are held at the cultural center as well.
The museum's grounds at 6410 23rd Ave. NE are home to a native plant cultivation and harvest program in which young people learn traditional tribal culinary ways.
"I think it's an exciting time for the Tulalip Tribes and Tulalip people," Gobin said shortly before the museum's opening.
Gobin also was instrumental in reviving the annual tribal family canoe journey and setting the traditional protocol for the event, according to an obituary issued by the tribes.
"His spiritual beliefs were a prominent aspect of who he was; and it was this spiritual way of life that enabled him to carry out his responsibilities to protect his people's cultural and environmental interests," the obituary read.
"Everything about Hank was genuine and his magnetic personality touched the lives of all those who he crossed paths."
Gobin is survived by his wife, Inez Bill-Gobin; two sisters and three sons. Services were held Monday.