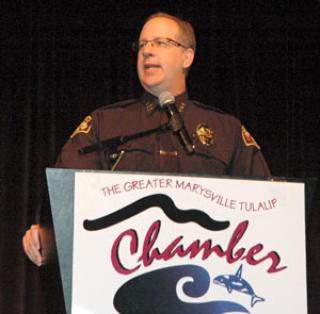 Kirk Boxleitner, The Marysville Globe
TULALIP — Members of the Marysville and Tulalip Tribal police departments introduced their "Business Watch" program to the Greater Marysville Tulalip Chamber of Commerce on Friday, May 31, but while they pledge to provide resources and consultation to the program, they made clear to the Chamber members that the "Business Watch" is the community's program more than it is the police departments' program.
"There's a lot of uncertainty in the world, between difficult fiscal times and manmade and natural disasters," Marysville Police Chief Rick Smith said. "We hope this will bring some certainty back to your lives."
"As the primary law enforcement for Quil Ceda Village, I understand the importance of business to the community as a whole," Tulalip Tribal Police Deputy Chief Carlos Echevarria said.
Recently promoted Marysville Police Lt. Mark Thomas, whom Smith touted as a creative people-person, presented the bulk of the program, which he compared to the Marysville Volunteers Program of the Marysville Police Department.
"Perfection is unattainable, but in its pursuit, we find excellence," Thomas said. "Every good police officer has the goal of driving crime down far enough to put himself out of a job. Realistically, that's not attainable, but we do excellent work by pursuing that goal."
To that end, the Business Watch program is designed to work by encouraging businesses to focus on ways they can safeguard themselves from being victimized by crime, with credit card fraud, forgery and shoplifting ranking along the primary illegal perils that they face.
"The Business Watch will never be made into a Hollywood action film," Thomas laughed. "It's a coalition of individuals who get together to take care of simple things that might make them vulnerable. Shoplifting alone costs retailers more than $13 billion a year."
Not only will Business Watches run on the partnerships between businesses, and between businesses and their respective police departments, but Thomas also encouraged Business Watches to forge partnerships with the school district and community service organizations.
"It's a platform to help teach merchants to crime-proof their own properties, watch over their neighbors' property, and report and document any suspicious behavior," Thomas said. "The Business Watch philosophy is straightforward; take control of what happens in your community, and lessen your chances of becoming a victim."
Among the habits that Thomas identified as contributing to successful groups, Thomas advised Business Watch members to promote communication between law enforcement and business, encourage cooperation among merchants and offer training to their employees.
Thomas broke down the process of creating a Business Watch into five steps, starting with forming a committee to list potential problems in their area, followed by involving law enforcement.
"We can provide training and data on what kinds of crimes are common to your areas, so that you can focus your resources properly," Thomas said. "From there, you should conduct a survey of your fellow businesses, to identify the issues that you face and establish your common interests."
According to Thomas, every Business Watch should be launched with a kickoff event, lasting about 45 minutes at a place and time that's convenient for everyone, after which the Business Watch's first official meeting should include plenty of questions and answers, to ensure that all of its participants are getting what they want out of the group.
"The difference between a good idea and a great idea is follow-through," Thomas said. "We can provide you with the tools, but it's not our place to go out and impose a Business Watch on you. You guys have to pull that together yourselves."
For more information, contact Thomas at 360-363-8321 or mthomas@marysvillewa.gov, Echevarria at 360-716-4608 or cechevarria@tulaliptribalpolice.org, or Business Watch Coordinator Bob Rise at 360-363-8325 or mvp@marysvillewa.gov.