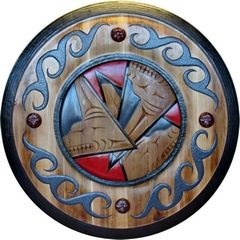 Source: The Herald
Tulalip artist James Madison is known for putting contemporary twists on traditional Salish and Tlingit Northwest Native Art.
For instance, Madison will create an aluminum sculpture depicting salmon in a fish ladder that represents the life of the Snohomish people, one of the Tulalip tribes.
Madison puts that modern twist on tradition in his upcoming exhibit, "Generations," at the Schack.
That exhibit will show Madison's commitment to sharing traditional native art using a contemporary approach and it also honors Madison as the Schack's pick for 2013 Artist of the Year.
In a prepared statement, Madison said that he strives to "create art with an open mind in the sense that I am always thinking of new ways to add a modern twist to a traditional piece. This allows for me to help keep my culture alive. As we move into the future, so does the teachings of my ancestors."
Madison was surrounded by art and the culture of the Tulalip Tribes as a child. At the age of 8, Madison learned how to carve at his grandfather's kitchen table. Madison's father, an abstract painter, encouraged Madison to try sculpting. And his uncle, a teacher, shared stories of American Indian culture.
Madison said these influences led to his intense interest in art and his native heritage.
Madison's work can be seen beyond the Schack.
He is best known for large-scale pieces, including a 24-foot story pole, at the Tulalip Resort and Casino. He has pieces displayed at many of Washington's state parks, as well as museums and galleries in New York, Alaska and Canada.
"Generations" opens with a catered reception from 5 to 8 p.m. Aug. 15 and is on view through Sept. 21 at Schack Art Center Main Gallery, 2921 Hoyt Ave., Everett. For more information, go to schack.org or call 425-259-5050.