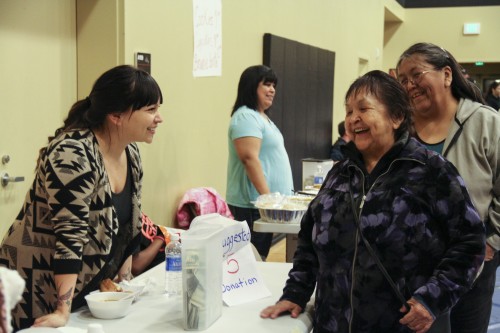 by Brandi N. Montreuil, Tulalip News

TULALIP, WA – "Two weeks ago, I think most of us, like 9/11, will remember exactly the moment where we were when we found out there was a slide in Oso," said Travis Hots, Fire Chief for the Snohomish County Fire District 21, to attendees at the Tulalip Jam Session Oso Fundraiser on Friday, April 4, that raised over $3,400 for the victims and rescue crews of the Oso Mudslide.
"At first we just thought it was just another slide like the one that occurred in Mukilteo on Camano Island. We didn't fully understand the magnitude of the disaster at first," Hots went onto say.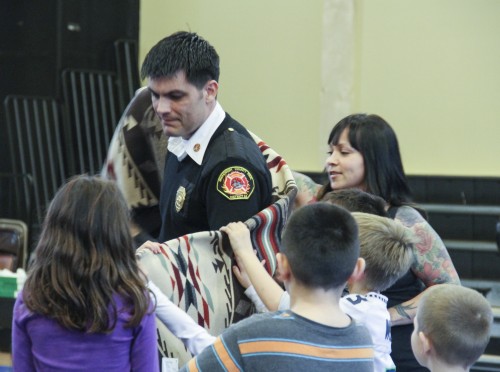 On March 22, 2014, a portion of an unstable hill collapsed, sending mud and debris across the North Fork of the Stillaguamish River, destroying the Steelhead Haven neighborhood and covering an area of 1 square mile including a section of Highway 530, cutting off the town of Darrington. As a result of the mudslide, 33 people were confirmed dead with 12 missing or unaccounted for, as of April 7. The mudslide is considered the deadliest single landslide event in U.S. history.
Hundreds of medical aid, search-and-rescue responders and volunteers sprang into action to help with rescue efforts. This included responders from the Tulalip community, such as a Tulalip tribal member spouse with the Snohomish County Swift Water Rescue, and responders from Tulalip Bay Fire Station.
To help ease the burden of rescue relief expenses, the Tulalip community organized the jam session to raise money.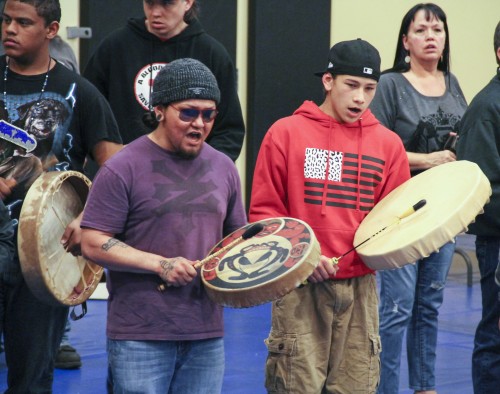 Tribal jam sessions are gatherings born out of the Coast Salish Canoe Journeys, where coastal tribes come together to share songs with one another. A charity jam session, like the one held to raise money for the victims and rescue workers of the Oso mudslide, incorporate traditional potlatching values, which include giving to those in need, praying together and sharing as a community.
The event, attended by nearly 200 people, includeding surrounding Coast Salish tribes, raised $3,486 to be donated to four organizations. The Snohomish County Swift Water Rescue will receive $870. Another $870 will be donated to Snohomish County Fire District 22, one of the stations that Fire Chief Travis Hots is stationed at to lead rescue efforts.  Cascade Valley Hospital Victims Fund will receive $870 and $870 will be donated to animal rescue and shelters.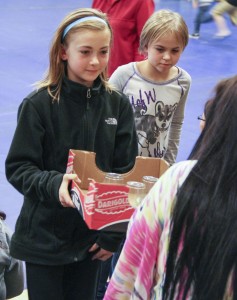 "The Oso mudslide is a tragedy that is not only close to our home, but we had tribal members grow up in the area, some still have homes close to the site of the mudslide," said Natosha Gobin, event creator and organizer. Since it is a custom of our people to stand up for our warriors and protect them for their work, we invited Travis to attend our fundraiser, so we could wrap him with a Pendleton for protection and thank him for his work."
The event, comprised of 10 core organizers and 25 volunteers, raised donations through concession stands selling food, water, and raffle tickets. Local Tulalip artists Jonny Dill and Sam Davis donated original art, along Essential Earth Organic Salon and Tulalip Resort Casino, who donated product packages for the raffle.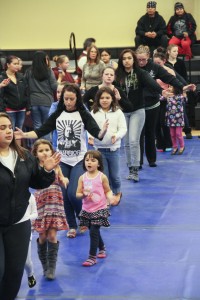 "We decided to go with a suggested donation at the door, concession stand, bake sale and raffle. Since this event was a community effort, we asked for donations of paper goods for the food and drinks. Those who stepped up to cook, donated items to cook spaghetti, hamburger soup, Frybread and a variety of desserts. There was a sense of unity, love and healing in the building that night. I felt truly blessed to have so many great team members who helped make an idea turn into a successful event for our neighbors in the Oso area," said Gobin.
"It was no surprise to see that the Tulalip Tribes were the first entities to make a large contribution and for that I am very grateful," said Hots before the jam session. "I want to express that gratitude on behalf of the fire fighters because those dollars are going to good use, thank you. I would also like to thank each of you for inviting myself, my wife and kids, and for accepting us into your community tonight, it is truly an honor and I say thank you."
Brandi N. Montreuil: 360-913-5402; bmontreuil@tulaliptribes-nsn.gov