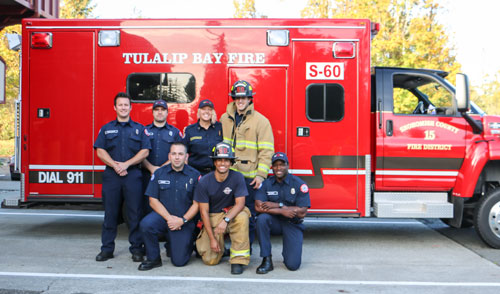 By Brandi N. Montreuil, Tulalip News
TULALIP – Firefighters at the Snohomish County Fire District #15, known as the Tulalip Bay Fire Department, are asking Tulalip tribal members to consider them when voting in this year's general election, held on November 4.
The fire department, which services 12,000 people living in an area of 22 square miles on the Tulalip Indian Reservation, is seeking permanent funding by way of an Emergency Services Property Tax levy. The levy will expand the department's services to include Basic Life Support ambulance transport and improve current emergency medical services if passed.
Tulalip Tribes Board of Directors supports the levy and has promised to match the requested $80,000 in the levy. This will provide funding for additional staff to transport patients to local area hospitals during medical emergencies.
The fire department receives 700 calls a year, with 90 percent requiring medical transport. If the levy passes, Tulalip Bay Fire Chief Teri Dodge states the funding will minimize the department's need for private ambulance services and provide essential training for staff.
"With the addition of the Tulalip Early Learning Academy in Tulalip, the need to have our own transport has increased," stated Dodge.
"We've never had a levy not pass, but we need a 60 percent majority for it to pass," said Fire Chief Dodge.
The station currently has a rotating shift of 32 volunteer firefighters, but due to a lack of funding the department has not been able to staff for their own ambulance transport.
If the levy passes it would eliminate wait times for ambulances and cut patient costs.
According to the Tulalip Bay Firefighter's Association, if the levy is passed, "the maximum tax increase per $200,000 assessed valuation will not exceed $50 per year or approximately $4.16 per month."
"This levy will help us help the people who are like family to us. We have a great history with the community. This department is different than any other fire department. Our staff goes through extensive cultural training and it is reflected in the diversity of our staff. If the levy passes the cost will be a third of what it is now for our community," said Dodge.
Brandi N. Montreuil: 360-913-5402; bmontreuil@tulalipnews.com