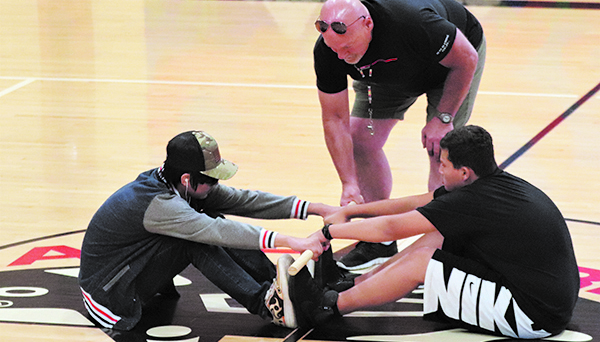 By Micheal Rios, Tulalip News
The Native American Fitness Council (NAFC) was established in 2004 with the mission of empowering Native Americans through exercise education. The NAFC cofounders recognized a need for knowledgeable, passionate, and experienced Native American fitness instructors, but their vision didn't stop there. These dedicated professionals developed programs that teach people to train other Natives in proper exercise and healthy lifestyles.
Today, NAFC has educated and inspired thousands of individuals to become positive role models in their communities. Tulalip was fortunate to receive their one-of-a-kind, culturally relevant approach to Native health during a two-day fitness camp hosted at our local youth center on August 4th and 5th.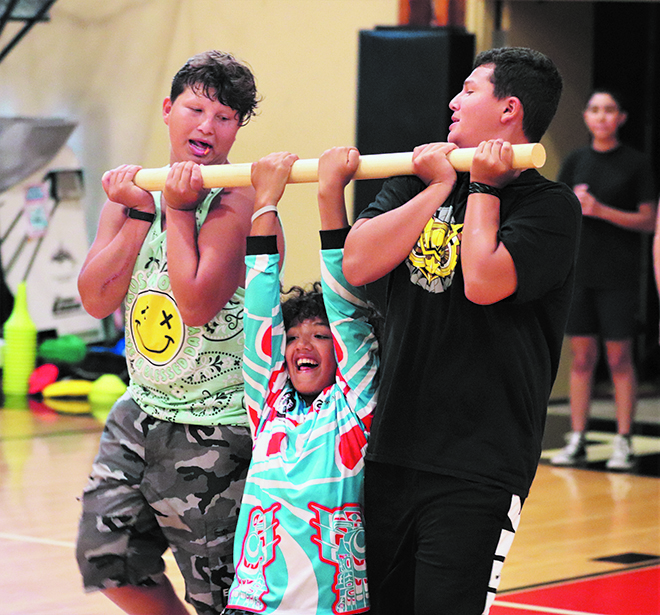 "The Fitness Council chose Tulalip as one of only four northwest tribes to help implement their vision of learning traditional games and exercises in an effort to ignite a spark for new fitness leaders within the local community," said Erik Kakuska (Zuni Pueblo), western tribal diabetes project specialist. "These traditional games ranged from Eskimo Olympics, like the seal pull and seal carry, to the plains version of field hockey, better known as shinny.
"Our goal is to incorporate a great deal of functionality into all our workouts, so the youth learn proper form and alignment when they're running, jumping, and really playing any popular sport," he added. "The last two days have been filled with all kinds of activities that encourage the kids to find the fun in the game. Visiting tribal communities across the nation, we recognize that a lot of our culture was lost. It's important to reteach that culture to the best of our abilities, and a part of that is teaching the value of keeping yourself healthy. Not only with your physical, but also with your mental."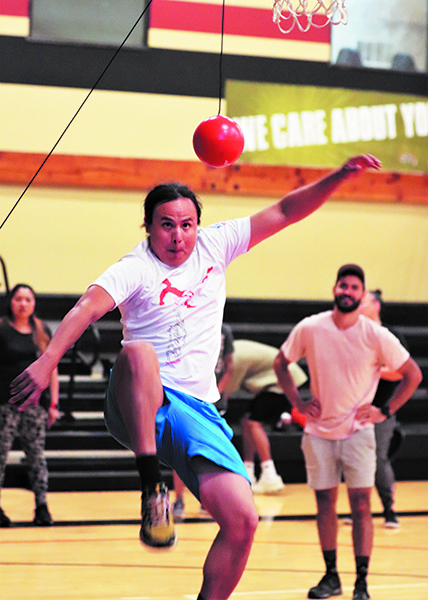 In true collaborative fashion, the NAFC worked side by side with Tulalip's own diabetes care and prevention teams and representatives from youth services to make the multi-day fitness camp run as smoothly as possible. The shear quality of garden-fresh breakfasts and nutrition filled lunches cooked up by chef Brit Reed was almost as impressive as the 30 or so adolescents who went back for plate after plate. Filling up on much needed fuel for their mind, body and spirits as they engaged in a variety of A/C chilled, indoor games and even more sun soaked outdoor exercises in 80+ degree temperature.
It's no secret that as an ethnic group, Native Americans are hit the hardest, per capita, by several life shortening risk factors, such as obesity, hypertension and diabetes. Then there's the recent engagement of our young people with that homicidal maniac Fentanyl. A dark topic that needs a brighter spotlight shed on it for sure, but we'll save that for another time.
Breaking news! All these debilitating diseases can come to a screeching halt by simply making healthier decision on a routine basis. Wild, right? Well, the even better news is that there are those among Gen Z who recognize this truth and desire to break the stereotypes that depict their people as unhealthy. Two such lean, mean fighting against the diabetes machine tribal members were willing to share their fitness camp experience.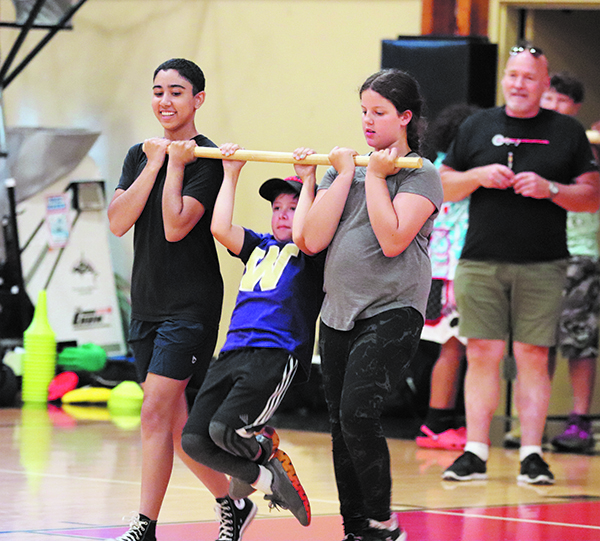 "What I've enjoyed is that all the activities we've done aren't really hard to do, like anyone can participate and still go at their own pace," said 16-year-old Ryelon Zackuse. "I've had some coaches who've been really rude or loud trying to make a point and that makes some people want to give up. But the coaches and instructors here were sensitive to our people's abilities and took it slow to make sure everyone understood the motions and rules of the games. Eating good foods and being active is important to me because I have goals I want to achieve through sports and I can't achieve those things if I'm eating junk food all the time. Its pretty simple really, if you stop treating your body well, then eventually your body will stop treating you well."
"My favorite parts of the camp were learning to play traditional games from other tribes across the country, like when we went onto the ball field and played shinny. Not only did we learn to play a new game, but they showed us some simple tips to make sure we were engaging our cores and keeping our hips in alignment while running," added 17-year-old Samara Davis. "I've really enjoyed the past couple days, being with so many of my peers and just having fun outside. It's important for all our people, the youngest to the elders, to know the importance of daily movement.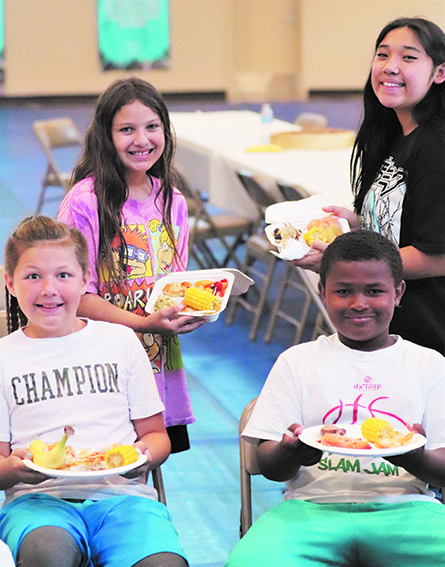 "Personally, I love the way fresh fruits and vegetables taste, so it was cool being in an environment where we were provided with good, nutritional foods," she continued while snacking on an apricot. "Healthy habits, whether its eating or exercise, is all about consistency. Once you've learned the habits, just keep doing them. That's how we become elders."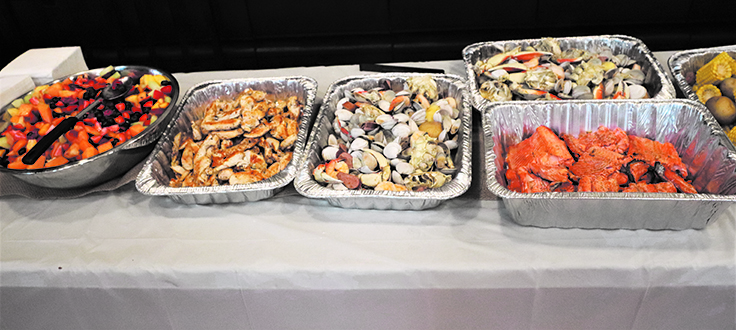 The showcase of Tulalip physical talent ranged from flexing agility and dexterity with a balloon tied around their ankles while attempting stomp the balloon of another player, to demonstrating nimbleness and light on their feet juke moves in a hybrid version of dodge ball, except they used water-soaked sponges on the hot summer day. Two days filled with exercise, education, an abundance of health and nutrition advice, traditional games from across Indian Country, and many memories made for the what the Native American Fitness Council are dubbing community fitness leaders.
"Our team believes if the kids see us as adults having a good time and doing our best to demonstrate good fun sportsmanship in winning and losing, while embracing simple traditions like coming together to share in wonderful meals where the kids can share their experiences, then we all benefit and win," explained Veronica 'Roni' Leahy, diabetes care and prevention manager
"Our health clinic wins in the sense our program engages with the youth of Tulalip by delivering the best we can offer, and gives us chances to build long-lasting, positive relationships. The youth of Tulalip wins by having opportunities to be trained by some of the best trainers in Indian Country, not to mention experience traditional foods and the making of traditional medicines, like sore muscle salves. It really was so amazing to witness all the joy and laughter from simple fun and games that brought us all together.
"We look forward to a time when we can offer this again, but on a larger scale," added Roni. "So many people of all ages could really learn and enjoy these expert trainers and have so much fun in the process. Definitely one of the best events our program has offered."