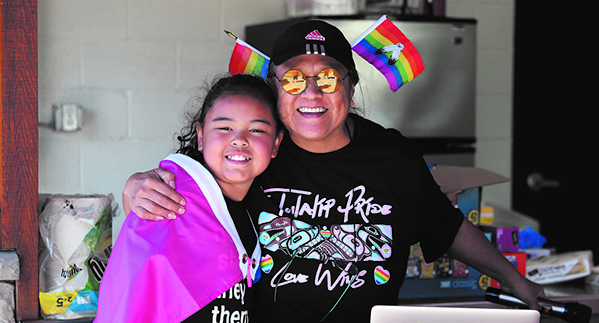 By Kalvin Valdillez, Tulalip News
"Love is love!" exclaimed Tulalip tribal member, Theresa Sheldon. Her words, amplified by large speakers, echoed triumphantly throughout the Don Hatch Youth Center campus, and were met with generous applause from a crowd of approximately fifty people.
A momentous occasion took place on the afternoon of August 13 on the Tulalip reservation, that was both beautiful and long overdue. The very first local Pride event was held at the picnic area of Youth Center to celebrate the tribal two-spirit and LGBTQ+ community.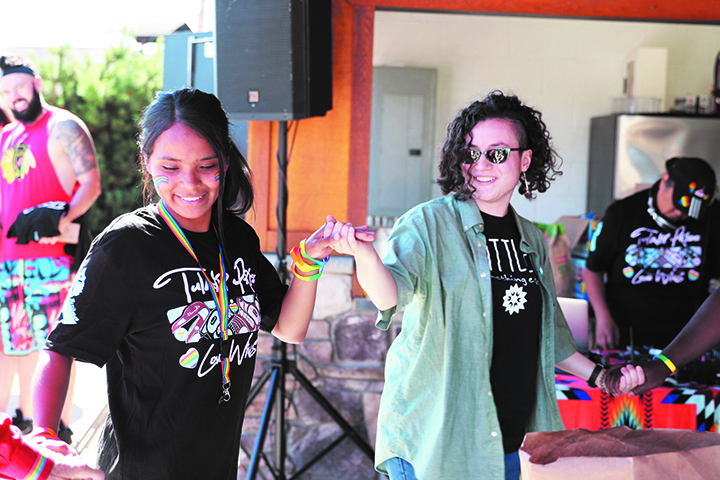 "The medicine wheel is made with the males on one side and the females on the other side, and it's the two-spirits who connect that circle together and makes it complete," said Tulalip community member and event organizer, Phoenix Two Spirit (Cree). "It is so very important for the two-spirit community to be included in all of Indian Country – in all the councils, education, youth, advisory committees. It brings a healing to the community, and that's what this is all about."
The BBQ gained much anticipation over the past two years, and was originally scheduled to happen in 2020, but was delayed twice due to the COVID-19 pandemic. The fact that it was postponed made the event all the more fun and exciting for the participants. Many were looking forward to the Pride BBQ over the years and they finally got the opportunity to interact with others from the LGBTQ+ community while celebrating their true selves in a safe environment.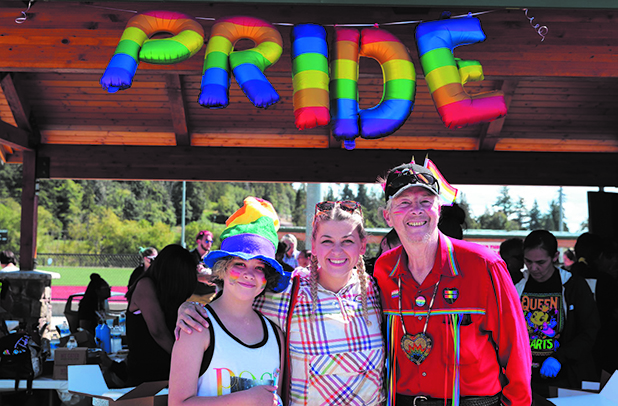 Sponsored by the Tulalip Problem Gambling program, the Tulalip Family Wellness Court, and the Tulalip Community Health's Youth Wellness Program, the event aimed to uplift, support, honor and recognize those individuals of our tribal community who identify as two-spirit, lesbian, gay, bisexual, transgender, questioning, queer, intersex, asexual, or allies.
"We are happy to host our first Pride Everyday event here at Tulalip in celebration of our 2SLGBTQI+ relatives," said Tulalip Problem Gambling's Sarah Sense-Wilson. "It was truly remarkable to see the joy, laughter, smiles, and festive energy collectively shared throughout the day. The collective work of decolonizing and undoing homophobic attitudes, behaviors and thinking starts with us as individuals, but is most impactful when tribal communities take strong positions in practicing inclusion and invest in one another authentically and with genuine commitment to healthy communities."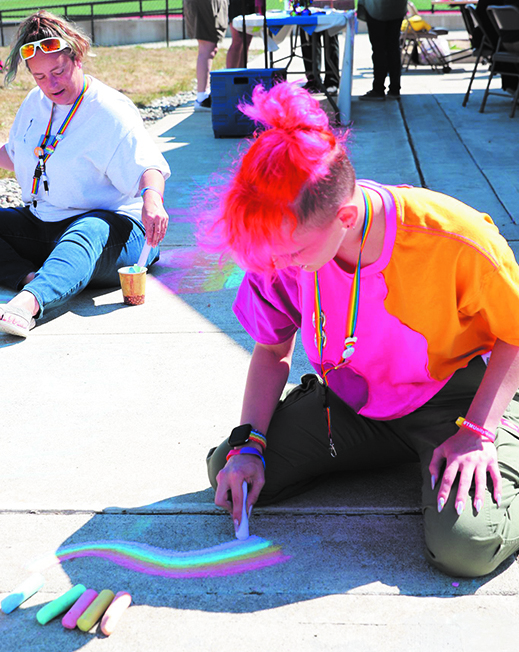 With gorgeous weather, tasty food catered by Dickie's BBQ, great tunes, and plenty of laughter, the Pride Everyday BBQ was the perfect way to cap off the summertime season. DJ Monie was on the ones and twos and provided great energy throughout the day. Making sure to play all the dance hits, the Tulalip disc jockey had everybody, from youth to elders, out of their seats and dancing to classic cuts such as the Cupid Shuffle, Cha Cha Slide, and the Macarena during various dance competitions.
"I consider myself an ally," said Erin Reyna in between dance sessions. "My daughter is bisexual, and my niece is a lesbian. I love supporting pride events, and I just wanted to bring my daughter here and enjoy the day together. I love being around the people, I love the energy and the music and the dancing. My daughter is eleven and it really means a lot to her. I think getting the message out there is cool, and I hope they do more events like this."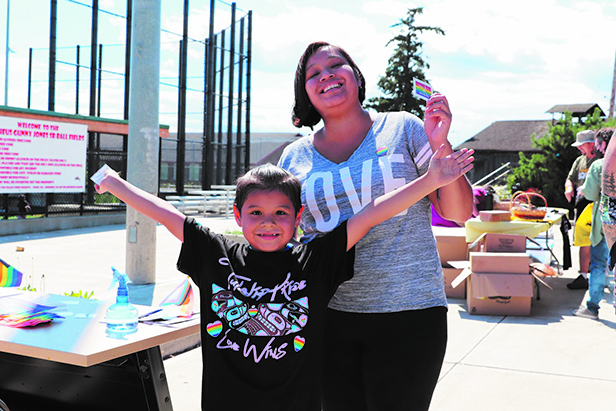 Phoenix and all the Pride BBQ sponsors wish to build off this celebration and create more Pride events in the near future, and help establish a strong presence for the LGTBQ+ members within the community. Throughout time, many tribal nations have held space for their two-spirit membership and after years of trauma and forced assimilation, those individuals have felt left out in their respective communities due to the adapted colonized way of thinking. By creating a foundation for the local two-spirits and LGBTQ+ community, Pride focused events helps reclaim the narrative and the true lifeways of many tribal societies, and also lets those individuals of the LGBTQ+ community know that it's more than okay to be who they truly are and to freely express themselves.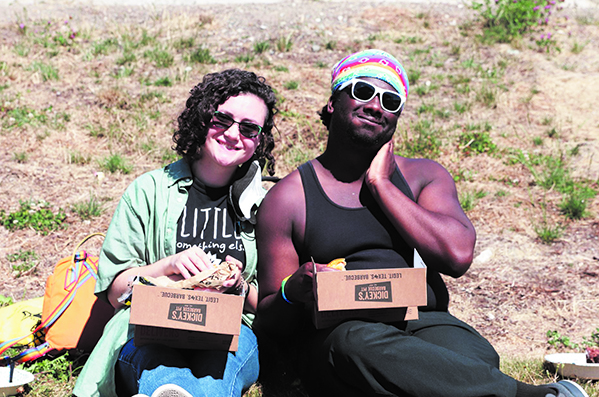 Said Phoenix, "I have talked with the people at the Youth Center about getting an ongoing support social group. I think it's important for the adults as well as the youth to be able to have a safe space where they can talk about what's important to them. I'm working with them to provide a space and a time and creating a group for 18 and younger, and also one for 19 and older. I look forward to seeing the inclusion more of the two-spirits in all tribal government and activities."
Sarah added, "We hope to continue to do these events throughout the year. We want to keep this momentum going and that idea of inclusion needs to be a common everyday practice. I am already looking forward to planning more 'Pride' events and supporting other programs and groups doing the critical work of dedicating resources for educating, decolonizing, and supporting 2SLGBTQI+ relatives."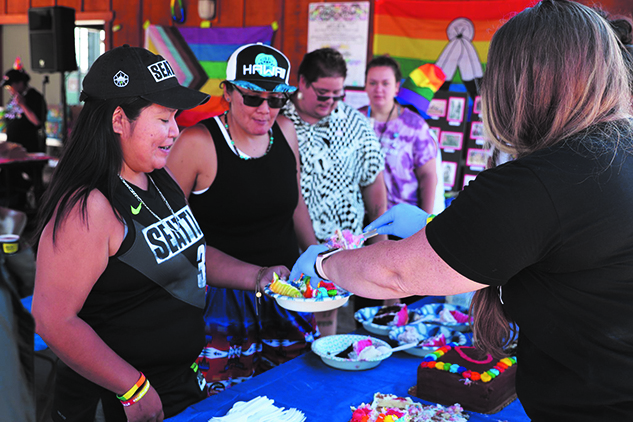 After much dancing and fun in the sun, the three-hour event came to a close in heartwarming fashion, as everyone in attendance joined hands and created a dance circle around the picnic area while the Sister Sledge classic, 'We Are Family', played over the speakers.
"I recently came out as a lesbian," expressed young Seria Ahlberg after receiving a first-place award in one of the many dance competitions held throughout the day. "Today I was able to talk to other girls and relate to their experience and tell them how I feel as a lesbian. Today was really good. I had a great time and lots of fun, and I loved all the dancing!"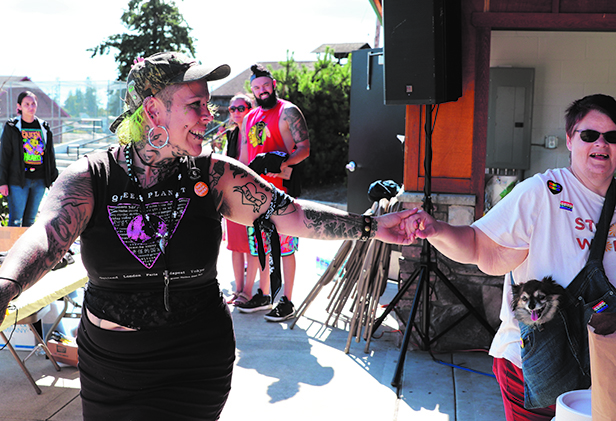 To stay updated on all the upcoming two-spirit and LGBTQ+ events, be sure to follow the Tulalip Two-Spirit Society Facebook page.