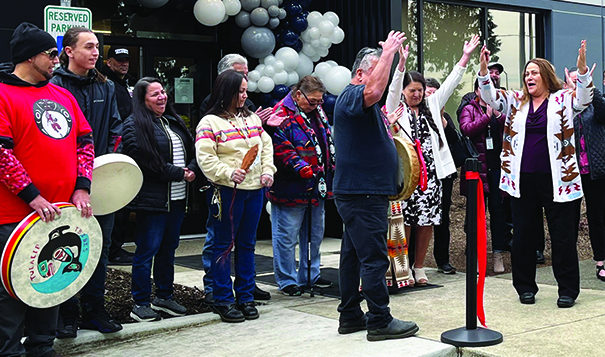 By Shaelyn Smead
On February 3rd, Quil Ceda Creek Counseling (QCCC) held its ribbon-cutting ceremony, welcoming everyone to tour the facility and view all the resources available to patients seeking recovery from opioid addiction.
At the opening, Tulalip Vice Chair Misty Napeahi said, "This project has taken about five years to complete. I want to thank former board members Les Parks and Jared Parks for bringing this to the table when the tribe was against methadone. With greater understanding and more learning about harm reduction, we are here today and get to save lives… Many of our tribal members and young people are falling into addiction, and because of this [QCCC], they have a way to get their life back. Our family, community and tribal members are suffering, and their lives matter."
Tulalip tribal member and QCCC Clinic Administrator Tanya Burns said, "This will be a drop in the bucket, but it is also necessary for this community and others. It takes a village, and we are blessed to have such wonderful staff members who are passionate and committed to helping save lives."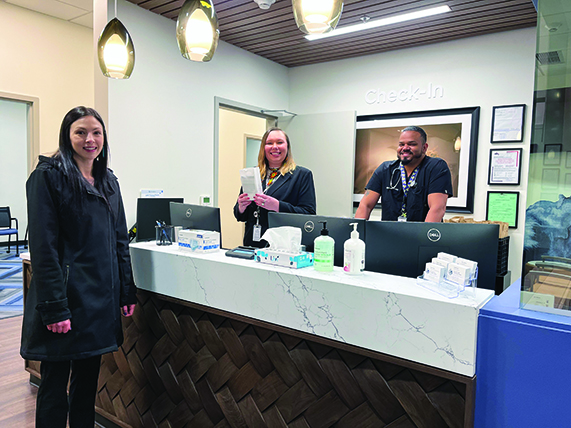 The QCCC is set to serve 150 patients at any given moment and provides various services, including substance use disorder (SUD) consultations, SUD assessments, individual SUD appointments, individual treatment planning, SUD outpatient groups, medical and mental health assessments, and referrals to other community resources. The program's three phases are induction, stabilization, and maintenance, a system designed to mitigate a patient's chemical dependency and help them regain control of their life. While using these resources, patients must maintain confidentiality, follow their treatment plan's urinalysis and breathalyzer guidelines, and obey the treatment team contract.
The purpose of group treatment and mental health assessments is to help pinpoint any possible traumas that may have influenced their life and snowballed into their addiction. Group treatment also provides information to patients new in recovery, allowing them to build a community within the program and facilitate personal growth.
In a media release Tanya stated "A lot of the folks that will come in here will have co-occurring disorders. They may have a substance use disorder which can be fairly obvious on the outside. However, they may also have a mental health disorder or something else. We want to treat the whole person."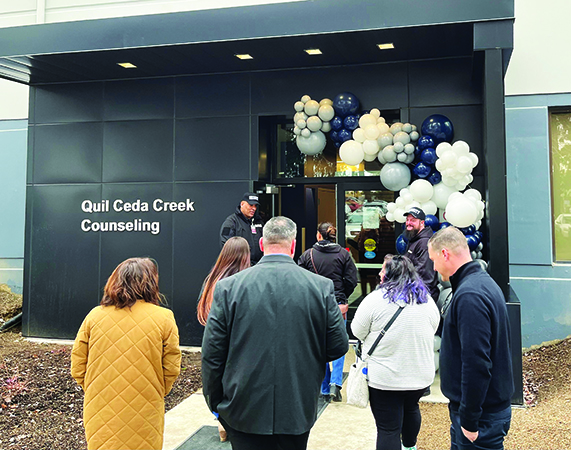 QCCC did receive their DEA approval and will also provide medication for SUD, such as methadone, Suboxone, and Vivitrol starting February 27th, 2023. However, clinic staff advises that any prospective patients begin their intake sooner rather than later to avoid pushing out their treatment plan. SUD professional Elissa Jules stated that intake can take around three weeks to process and approve a patient. She added that patients can still use the other program resources and courtesy dose while they wait for their medications through QCCC.
While receiving services or dosing, patients can leave their children in the playroom area, where they will be taken care of until the patient is finished. The facility does contain robust security and procedures ensuring the safety of its clients, children, and staff.
Even though addiction treatments like methadone, Suboxone, and Vivitrol have remained quite a controversial topic amongst many, staff on the ground argue that this is the most effective path for recovering patients. Elissa said, "When I first started, I wasn't big on [patients using] methadone either. I know there is a stigma towards it, and people believe that methadone is replacing heroin or fentanyl, but that couldn't be more false. Methadone doesn't get you high, it blocks patients from the euphoric effects of opioid use. It is a harm reduction program, and we administer these medications and techniques to debilitate opioid use. I've seen it be successful for many people."
The opioid epidemic has affected many communities and families across America. In our area alone, according to Snohomish County, in 2022, over 345 Snohomish County residents overdosed. And drug-related overdoses remain the leading cause of death within Tulalip Tribes. With many health professionals and community leaders working together to fight this epidemic, medications like methadone and Suboxone have made strides in these efforts.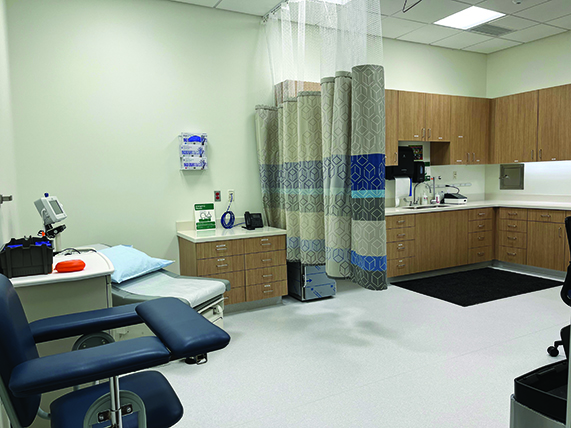 Elissa previously worked at Lummi and the didgwalic Wellness Center of Swinomish before coming to Tulalip. She has seen the effects of opioid addiction within Native communities firsthand. "I've seen opioid addiction spread heavily across tribes. Overdoses have increased tremendously in the last ten years of working in this field. We're losing a lot of our Native people, and every time someone is an addict, they lose their connection to their culture, whether in the church or the longhouse. The more addicts and deaths we have in our community, the harder it is the hold on to our culture. Sometimes I see patients as young as 12 years old using methamphetamines or have tried opioids, and it's scary."
The QCCC is an excellent resource for addicts ready to take that next step. It is open to tribal and non-tribal members, and referrals are not required. Operating hours for the facility will be M-F 6:00 a.m. to 2:00 p.m., Saturday 6:00 a.m. -10:00 a.m., and closed on Sundays. It solely serves on a first-come-first-serve basis to avoid long waiting periods and adhere to the needs of patients more quickly. However, tribal members and pregnant women do take priority. For more information about the services, please call 360-716-2200 or drop in at 6330 31st Ave NE, Suite 101, Tulalip, WA 98271.